AOC: The Fearless Rise and Powerful Resonance of Alexandria Ocasio-Cortez (Hardcover)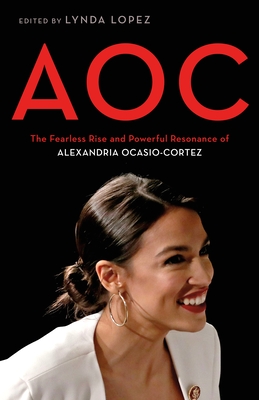 $26.99
Email orders@greenlightbookstore.com for information about this item.
Description
---
NAMED ONE OF AUGUST'S BEST NEW BOOKS BY CNN | ON Cosmo's LIST OF 12 BOOKS YOU'LL BE DESPERATE TO READ THIS SUMMER | ONE OF Autostraddle's 60 QUEER & FEMINIST BOOKS COMING YOUR WAY THIS SUMMER | A 2020 TITLE TO WATCH BY Library Journal | LISTED ON Marie Claire's POLITICAL BOOKS TO READ


With a preface by Keegan-Michael Key

In the vein of Notorious RBG, seventeen writers explore the multiple meanings of a young Latina politician who has already made history.

From the moment Alexandria Ocasio-Cortez beat a ten-term incumbent in the primary election for New York's 14th, her journey to the national, if not world, stage, was fast-tracked. Six months later, as the youngest Congresswoman ever elected, AOC became one of a handful of Latina politicians in Washington, D.C. Just thirty, she represents her generation, the millennials, in many groundbreaking ways: proudly working class, Democratic Socialist, of Puerto Rican descent, master of social media, not to mention of the Bronx, feminist—and a great dancer.

AOC investigates her symbolic and personal significance for so many, from her willingness to use her imperfect bi-lingualism, to why men are so threatened by her power, to the long history of Puerto Rican activism that she joins. Contributors span a wide range of voices and ages, from media to the arts and politics:

Keegan-Michael Key
— Preface
Lynda Lopez
— Introduction: "The Meaning of AOC"
Jennine Capó Crucet
— "An Open Letter to Congresswoman Ocasio-Cortez"
Andrea González-Ramírez
— "Women Like Me Aren't Supposed to Run for Office"
Patricia Reynoso
— "'The First Latina to . . .'"
Pedro Regalado
— "'Pa'lante!': The Long History of Puerto Rican Activism in New York City"
Rebecca Traister
— "The Imagined Threat of a Woman Who Governs Like a Man"
Natalia Sylvester
— "In No Uncertain Terms"
Erin Aubry Kaplan
— "The Center Will Not Hold. Alexandria Ocasio-Cortez Is Counting on It"
Tracey Ross
— "A Just Society"
Carmen Rita Wong
— "Latinas Are So Money"
Mariana Atencio
— "AOC the Influencer"
Wendy Carrillo
— "What AOC and I Learned at Standing Rock"
Nathan J. Robinson
— "The Democratic Socialism of AOC"
Prisca Dorcas Mojica Rodriguez
— "On Being an Indignant Brown Girl"
Elizabeth Yeampierre
— "Making the Green New Deal the Real Deal"
María Cristina "MC" González Noguera
— "The Hustle"
About the Author
---
Lynda Lopez is an Emmy-award winning journalist who has anchored and reported for ABC News, WCBS-TV and NewsRadio 880. Prior to joining 880, Lynda anchored for Fox 5 and My9 in New York and was a correspondent on VH-1. She was Mistress of Ceremonies for the 100 Hispanic Women organization's gala and for the Orphaned Starfish Foundation's annual fundraising galas. She is a former columnist for Latina Magazine and contributor to Glamour and Glam Belleza Latina. Lopez lives in New York City.
Praise For…
---
"AOC is a force to be reckoned with, and her story is one that will leave you inspired." —Kami Phillips, CNN

"As the book's editor, Lopez has collected smart, briskly written and often inspiring essays about the Bronx-born Boricua phenom." —The Washington Post

"Urgent and timely... holds power by demonstrating the path that AOC has carved for so many of us who rarely saw ourselves in the leaders around us growing up...I recommend this book to anyone feeling downtrodden or weary with the state of the world." —Medium

"This anthology of essays explores everything about the living legend Alexandia Ocasio-Cortez—from her symbolic significance as a political figure to her contributions to a history of Puerto Rican activism." —Cosmo

"This book dives deep into [AOC's] background, image, and ideas, and comes up with important insights." —Library Journal

"These essays not only emphasise what an important figure she is, but just how important it is to continue to follow her journey. Please read this book, especially if you want to understand why AOC is so relevant and meaningful to the communities she's a champion for." —The Nerd Daily

"[N]ovelist Natalia Sylvester looks at Ocasio-Cortez in perhaps the most relatable light of them all: As a Latinx person navigating her relationship to the Spanish language." —Oprah Magazine