When Brooklyn Was Queer: A History (Hardcover)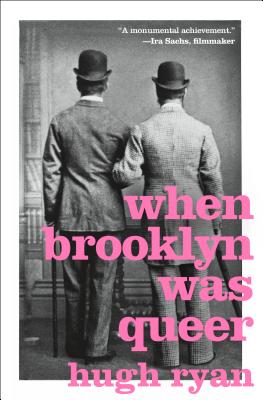 Email orders@greenlightbookstore.com for information about this item.
Out of Print / Unavailable
Description
---
The never-before-told story of Brooklyn's vibrant and forgotten queer history, from the mid-1850s up to the present day.

***An ALA GLBT Round Table Over the Rainbow 2019 Top Ten Selection***
***NAMED ONE OF THE BEST LGBTQ BOOKS OF 2019 by Harper's Bazaar***

"A romantic, exquisite history of gay culture." —Kirkus Reviews, starred

"[A] boisterous, motley new history...entertaining and insightful." —The New York Times Book Review

Hugh Ryan's When Brooklyn Was Queer is a groundbreaking exploration of the LGBT history of Brooklyn, from the early days of Walt Whitman in the 1850s up through the queer women who worked at the Brooklyn Navy Yard during World War II, and beyond. No other book, movie, or exhibition has ever told this sweeping story. Not only has Brooklyn always lived in the shadow of queer Manhattan neighborhoods like Greenwich Village and Harlem, but there has also been a systematic erasure of its queer history—a great forgetting.

Ryan is here to unearth that history for the first time. In intimate, evocative, moving prose he discusses in new light the fundamental questions of what history is, who tells it, and how we can only make sense of ourselves through its retelling; and shows how the formation of the Brooklyn we know today is inextricably linked to the stories of the incredible people who created its diverse neighborhoods and cultures. Through them, When Brooklyn Was Queer brings Brooklyn's queer past to life, and claims its place as a modern classic.
About the Author
---
Hugh Ryan is a writer and curator based in Brooklyn. He is the Founder of the Pop-Up Museum of Queer History, and sits on the Boards of QED: A Journal in LGBTQ Worldmaking, and the Museum of Transgender Hirstory and Art. His writing has appeared in The New York Times, Tin House, Buzzfeed, the LA Review of Books, Out, and many other venues. The author of When Brooklyn Was Queer, he is the recipient of the 2016-2017 Martin Duberman Fellowship at the New York Public Library, a 2017 New York Foundation for the Arts Fellowship in Nonfiction Literature, and a 2018 residency at The Watermill Center.
Praise For…
---
"[A] boisterous, motley new history...an entertaining and insightful chronicle, building on earlier histories by George Chauncey, Sherill Tippins and Charles Kaiser, among others, and enhanced by original research in newspaper archives, unpublished letters and collections of ephemera." —The New York Times Book Review

"A chronicle for the ages." —Harper's Bazaar

"A funny, tender and disturbing history of LGBTQ life." —The Guardian

"A hungry archivist, Hugh Ryan unearths vivid material to populate this story [of queer Brooklyn]….The archival discoveries that Ryan has made evoke a world of affection and pleasure." —The New Republic

"An exquisite, strange, and beautiful book." —Out.com

"A dynamic combination of meticulous research and impassioned prose.... A romantic, exquisite history of gay culture." —Kirkus Reviews, starred

"This evocative and nostalgic love song to the borough and its flamboyant past offers a valuable broadening of historical perspective." —Publishers Weekly

"When Brooklyn Was Queer achieves everything one could want in a history.... Thorough research, engaging storytelling, fascinating stories and a history of obscurity make this investigation of queer Brooklyn a compelling, essential read." —Shelf Awareness

"Fascinating.... A number of celebrated creative types figure prominently.... Greater attention is given, however, to those who, once influential, have now been forgotten. Bringing them alive again is one of the valuable services Ryan's fine work contributes to queer history." —Book Riot

"You think Brooklyn is queer now? When Brooklyn Was Queer (St. Martin's Press) by Hugh Ryan traces the borough's vibrant, forgotten queer history beginning in the mid-1850s and continuing to the present day, essentially replacing the 'systematic erasure' of its longtime LGBTQ community and restoring its rightful place in the saga of Brooklyn." —The Bay Area Reporter

~~~

"A monumental achievement of queer social history, Hugh Ryan's When Brooklyn Was Queer animates a time not so dissimilar to our own in which desire and loneliness fuel a need for intimacy and community. Ryan's book is an important new addition to the work of pioneers such as Joan Nestle and George Chauncey, a story told in vivid prose that's filled with small moments both heartbreaking and beautiful." —Ira Sachs, filmmaker

"A delicious, fun, and moving study, cohered and popularized from generations of queer historians and deepened with new and exciting primary research. Hugh Ryan's love for queer Brooklyn is page-turning, intersectional and an engrossing read." —Sarah Schulman, Stonewall Book Award-winning novelist and AIDS historian

"Meticulous research and wonderfully skillful storytelling make Hugh Ryan's book a revelation of queer history as well as a joy to read." —Cleve Jones, Lambda Award-winning author of When We Rise

"Hugh Ryan's When Brooklyn Was Queer is a real eye opener. So much of our history seems to focus on the bars in the West Village and the activism that sprung forth from them 50 years ago that we have nearly forgotten there was a vast trove of rich and diverse queer stories that pre-dated the Stonewall riots happening just across the river. From the beginning radical Brooklyn was intellectual, sexy, and dangerous! Who knew?" —Mx. Justin Vivian Bond, singer-songwriter, actor, and Lambda Literary Award-winning author of Tango: My Childhood, Backwards and in High Heels

"With meticulous research and fierce compassion, Hugh Ryan brings stories and communities almost lost to history to vivid life. Ryan's brilliant work is a thrilling portrait of the endurance, resourcefulness, and indefatigable joy queer people brought to bear upon the challenge of their own survival. This is an essential book, and I'm more grateful to it than I can say." —Garth Greenwell, author of What Belongs to You

"Tender, compelling, fascinating—Hugh Ryan is doing essential work here, bringing us stories of the lives we almost lost to time and gentrification, stories we need urgently, of the queer life that thrived before this moment. Ryan brings us back to a time before we had even the expectation of legal acceptance, and the lives people made as they could, and his interlocutor's eye for where to look is, as ever, brave and unstinting." —Alexander Chee, author of the Los Angeles Times bestselling The Queen of the Night

"Ryan does an amazing job of finding fascinating and surprising stories.... This book is a remarkable investigation into 19th and 20th century history that vividly opens up an entire field of study that will only grow in importance in the decades ahead.... Exquisite....Ryan's When Brooklyn Was Queer fills an incredible gap in our knowledge, both about the history of Brooklyn, and about the history of sexuality." —Deborah Schwartz, President of the Brooklyn Historical Society

"When Brooklyn Was Queer is a treasure for anyone who wants to look deeper, who wishes to better understand the city and its history, for anyone who walks through Brooklyn and sometimes feels the ghost of history. Spanning centuries, neighborhoods, races and classes, this is an ever fascinating story of the inventive, fascinating, striving, hustling and romantic queers who made and make Brooklyn the magical, heartbreaking place of promise." —Kaitlyn Greenidge, author of We Love You, Charlie Freeman, a New York Times Critics' Top 10 Books pick; New York Times contributing writer; Radcliffe Institute of Advanced Study Fellow

"Layer by layer, American queer historians have been filling in the portrait of our complex and compelling past. In this enthralling journey through the vibrant borough of Brooklyn, covering over a 100 years, Hugh Ryan combines his excellent story telling with his passionate quest to throw open the doors of Brooklyn bedrooms and government files, of Naval Yard beats and Coney Island adventures, recovering the queer lives of those Brooklynites who came before. An American story, of desire, surveillance, resistance, and creation within the shadow of that great bridge. Ryan is immensely readable." —Joan Nestle, co-founder of the Lesbian Herstory Archives