Eloquent Rage: A Black Feminist Discovers Her Superpower (Hardcover)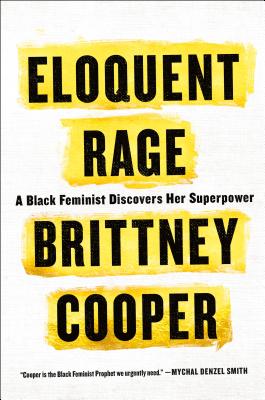 $26.99
Email orders@greenlightbookstore.com for information about this item.
Description
---
An Emma Watson "Our Shared Shelf" Selection for November/December 2018 • NAMED A BEST BOOK OF 2018/ MENTIONED BY: The New York Public Library • Mashable • The Atlantic • Bustle • The Root • Politico Magazine ("What the 2020 Candidates Are Reading This Summer") • NPR • Fast Company ("10 Best Books for Battling Your Sexist Workplace") • The Guardian ("Top 10 Books About Angry Women")


Rebecca Solnit, The New Republic: "Funny, wrenching, pithy, and pointed."

Roxane Gay: "I encourage you to check out Eloquent Rage out now."

Joy Reid, Cosmopolitan: "A dissertation on black women's pain and possibility."

America Ferrera: "Razor sharp and hilarious. There is so much about her analysis that I relate to and grapple with on a daily basis as a Latina feminist."

Damon Young: "Like watching the world's best Baptist preacher but with sermons about intersectionality and Beyoncé instead of Ecclesiastes."

Melissa Harris Perry: "I was waiting for an author who wouldn't forget, ignore, or erase us black girls...I was waiting and she has come in Brittney Cooper."

Michael Eric Dyson: "Cooper may be the boldest young feminist writing today...and she will make you laugh out loud."

So what if it's true that Black women are mad as hell? They have the right to be. In the Black feminist tradition of Audre Lorde, Brittney Cooper reminds us that anger is a powerful source of energy that can give us the strength to keep on fighting.

Far too often, Black women's anger has been caricatured into an ugly and destructive force that threatens the civility and social fabric of American democracy. But Cooper shows us that there is more to the story than that. Black women's eloquent rage is what makes Serena Williams such a powerful tennis player. It's what makes Beyoncé's girl power anthems resonate so hard. It's what makes Michelle Obama an icon.

Eloquent rage keeps us all honest and accountable. It reminds women that they don't have to settle for less. When Cooper learned of her grandmother's eloquent rage about love, sex, and marriage in an epic and hilarious front-porch confrontation, her life was changed. And it took another intervention, this time staged by one of her homegirls, to turn Brittney into the fierce feminist she is today. In Brittney Cooper's world, neither mean girls nor fuckboys ever win. But homegirls emerge as heroes. This book argues that ultimately feminism, friendship, and faith in one's own superpowers are all we really need to turn things right side up again.

A BEST/MOST ANTICIPATED BOOK OF 2018 BY: Glamour • Chicago Reader • Bustle • Autostraddle
About the Author
---
Brittney Cooper writes a popular monthly column on race, gender, and politics for Cosmopolitan. A professor of Women's and Gender Studies and Africana Studies at Rutgers University, she co-founded the Crunk Feminist Collective, and her work has appeared in the New York Times, the Washington Post, the Los Angeles Times, Ebony.com, and The Root.com, among many others. In 2017, she was named to The Root 100 List, and in 2018, to the Essence Woke 100 List.
Praise For…
---
One of Signature's "5 Books that Bring Intersectional Feminism to the Forefront"

"Eloquent Rage follows in the line of classics in the genre..." —The New York Times

"[A] proud, energetic reclamation of anger, via memoir and pop cultural analysis... forceful and smart and joyous all at once...It was an inspiration to me." —Rebecca Traister, The Cut

"Razor sharp and hilarious. There is so much about her analysis that I relate to and grapple with on a daily basis as a Latina feminist." —America Ferrera

"[Eloquent Rage] is distinct both for its telling as the author's own journey and for its—yes—eloquent personal voice, which, between her erudition (she is a professor at Rutgers) and her command of vernacular, is funny, wrenching, pithy, and pointed." —Rebecca Solnit, The New Republic

"A dissertation on black women's pain and possibility; an autobiography of a black woman's complicated dance with feminism, overcoming otherness as a big black girl in a skinny-white-girl world, her mother's triumph over violence, and her own journey from disappointment to black joy." —Joy Reid, Cosmopolitan

"A powerful examination of Black women's anger, the cost for Black women who choose to be angry, and how all of this is rooted in misogynoir – or, racist and sexist oppression. Cooper gives us hope, reminding us that we can be powerful and we don't have to settle for less." —Signature

"Cooper's Eloquent Rage is a fearless, phenomenal memoir of finding her voice as a black woman." —The Root

"A breakthrough... this force of nature is becoming one of our fiercest voices in the new generation of African-American thinkers." —Essence

"With straight-up vulnerability and humor sprinkled in, Cooper reminds readers that feminism, in essence, is about loving women...a for-us-by-us handbook tailor made to obliterate the idea of post-racialism in the Trump era." —Bust Magazine

"[Cooper's] ardent book reminds us that what you build is infinitely more important than what you tear down—and that rage makes great mortar." —Ms. Magazine

"Cooper says there's power in being mad as hell." —Cosmopolitan

"An ambitious, electrifying memoir. Recommended for readers seeking contemporary social commentary that's unrelenting yet humorous." —Library Journal (Starred Review)

"Sharp and always humane, Cooper's book suggests important ways in which feminism needs to evolve for the betterment not just of black women, but society as a whole. A timely and provocative book that shows 'what you build is infinitely more important than what you tear down.'" —Kirkus Reviews

"Cooper is both candid and vulnerable, and unwilling to suffer fools." —Publisher's Weekly

"[Cooper's] words resonate beyond the limit of the page; her call carries forth indefinitely." —Mark Anthony Neal, NewBlackMan (in Exile)

"In 2015, [Cooper and I] were part of a panel at Harvard on race and the media (Panama Jackson and Kimberly Foster from For Harriet were also there). Within the first five minutes of the conversation, I wanted to get up and take a seat in the audience. That's how long it took for me to realize that everything I planned to say and every point I'd try to make, Brittney could say better and more powerfully, and somehow more succinctly and more descriptively." —Damon Young, The Root

"Written with grace mixed with blunt honesty...readable, accessible, entertaining, brave, and important." —Corvus Strigiform, The Weightless State Between Here and There

"Cooper personifies what Sonia Sanchez called "homegirl and hand-grenade" -- here, like the homegirl she is, Cooper gives us the uncensored truth about how America has become what it is today, and reminds us in no uncertain terms that Black people, and particularly Black women, have the brilliance, foresight, and vision to bring a different America to fruition, should we choose to use our powers for good rather than evil." —Alicia Garza, Special Projects Director, National Domestic Workers Alliance and Co-Founder, Black Lives Matter

"Brittney Cooper is a national treasure. Eloquent Rage is as exhilarating as it is vulnerable, a crucial book that tackles friendship and feminism, Hillary Clinton and Sandra Bland, violence and family, sex and faith and race and gender, all with vibrant grace and honesty. Cooper is a generous writer, affording even those she rages against good humored compassion, but never letting any of us fully off the hook. This book is just so good." —Rebecca Traister, New York Times bestselling author of All the Single Ladies

"Brittney Cooper is not just one of the leading black feminist public intellectuals of the day, she is the Black Feminist Prophet we urgently need. Her work is the most rigorous, honest, heartfelt, compassionate, and challenging of any cultural critic out there because she does not shy away from the areas of black life too long considered taboo. In taking the lives of black women and girls seriously, Eloquent Rage succeeds where too many have failed. For those still searching for ways to discuss black women's lives with nuance and love, Brittney Cooper's fiery brilliance is ready to light your path." —Mychal Denzel Smith, New York Times bestselling author of Invisible Man, Got the Whole World Watching

"I was waiting for an Ida Wells, an Anna Julia Cooper, a bell hooks, a Patricia Hill Collins—an author who wouldn't forget, ignore, or erase us black girls as they told their own story and that of the race and the nation. I was waiting and she has come—in Brittney Cooper." —Melissa Harris Perry

"Cooper may be the boldest young feminist writing today. Her critique is sharp, her love of Black people and Black culture is deep, and she will make you laugh out loud even as she kicks the clay feet out from under your cherished idols." —Michael Eric Dyson