Famous Nathan: A Family Saga of Coney Island, the American Dream, and the Search for the Perfect Hot Dog (Hardcover)
* Is the book you're looking for not currently on the shelves at our stores? Consider placing your order for shipping rather than in-store pickup; orders are currently being fulfilled FASTER via our warehouse's direct-to-home shipping option than for store pickup (and shipping is free for orders over $125)!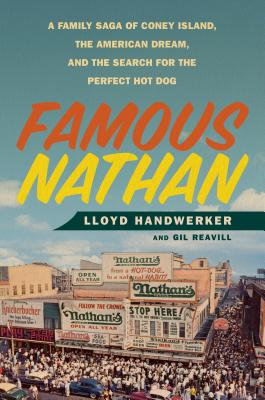 Description
---
From a Nickel to an Empire

Before the gut-busting eating contests and franchise stores across the country, there was a single man, Nathan Handwerker. An Eastern European Jewish immigrant who left the small provincial world he knew for a fresh start in America, Nathan arrived at Ellis Island speaking not a word of English, unable to read or write, and with twenty-five dollars hidden in his shoes. He had a simple goal: work hard and carve out a piece of the American dream. But history had bigger plans for Nathan.

Beginning in 1916, with just five feet of counter space on Coney Island's Surf Avenue, Nathan sells his frankfurters for five cents. As New York booms, bringing trains and patrons to the seashore, so too does Nathan's humble frankfurter stand. Soon Nathan's Famous takes over the whole block, and Nathan gathers around him a dedicated core of workers (many who stay for decades) who help launch the hot dog as an American food staple.

Even as the business soars, Nathan remains fiercely loyal to what matters most: his customers, workers, and family. There's Ida, the wife he fell in love with because no one could peel an onion faster; Sammy, the counterman who could serve an astonishing sixty franks per minute; and then there are the heirs to the empire, Murray and Sol, whose differing visions for the future lead to clashes with their eternally demanding father. Success brings difficulties, and as the two sons vie over control of the family business, a universal story of success and ambition plays out, mirroring the corporatization of the American food industry.

Written by Nathan's own grandson, and at once a portrait of a man, a family, and the changing face of a nation through a century of promise and progress, Famous Nathan is a dog's tale that snaps and satisfies with every page.
About the Author
---
Lloyd Handwerker is the grandson of Nathan Handwerker. He lives in New York and works as a documentary filmmaker.

GIL REAVILL is an author, screenwriter, and playwright. His work has been widely featured in magazines and he is the author of Aftermath, Inc.: Cleaning Up After CSI Goes Home. Reavill co-authored Beyond All Reason: My Life With Susan Smith and the screenplay that became the 2006 film Dirty, starring Cuba Gooding, Jr. He lives in Westchester County, New York with his wife, Jean Zimmerman, and their daughter.
Praise For…
---
"A nostalgic, truly American journey from impoverished immigrant to the eponymous owner of one of the country's most iconic restaurants, Nathan's Famous Hot Dogs. Handwerker relates every knowable detail about Nathan's Famous: employee tensions, how the potatoes were sourced, even who painted the signed. He also nestles his grandfather's story in the greater context of family struggles, Coney Island, the history of hot dogs, and the evolving American landscape...Even though Nathan is gone and his business has been corporatized, his commitment and character still live on in the heart of the American dream." —Publishers Weekly

"A flavorful paean to his grandfather topped with heartwarming anecdotes about Nathan's Famous and Coney Island in its heyday as the proletarian Riviera." - The Wall Street Journal

"Famous Nathan captures the tender and funny story of the man and the immigrant family behind the Coney Island hot dog stand that generations of New Yorkers will instantly recognize as an American icon. The American Dream lives on in Grandpa Nathan." —Tilar Mazzeo, New York Times bestselling author of The Widow Clicquot: The Story of a Champagne Empire and the Woman Who Ruled It and The Hotel on Place Vendome: Life, Death, and Betrayal at the Hotel Ritz in Paris

"Handwerker's book about Nathan's is an entertaining, anecdote-filled romp through the ups and downs of the Coney Island food icon. The book is chock-full of colorful stories and quotes. I recommend it for anyone who is interested in the gastronomic history of New York." —Ted Merwin, author of Pastrami on Rye: An Overstuffed History of the Jewish Deli

"From Eastern Europe to the Lower East Side. From immigrant to icon. Our stories are similar. Only the food is different: theirs, the hot dog; our's, bagels and lox. This is a tale often told, but here told exceedingly well. A must-read for lovers of food and food history." —Mark Russ Federman, author of Russ & Daughters: Reflections and Recipes From the House That Herring Built

"Everyone's a wiener in this frank account by a scion of hot dog nobility... A well-made, evenhanded, sometimes cautionary story of business, told with the affection and exasperation of an insider." - Kirkus

"[Famous Nathan] is more than just a business case study or a rosy-colored family portrait." - The Daily Beast