The Little Bookstore of Big Stone Gap: A Memoir of Friendship, Community, and the Uncommon Pleasure of a Good Book (Paperback)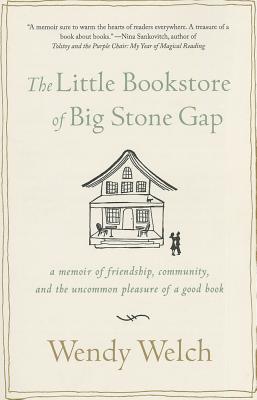 $19.99

Not In Store / Available To Order (allow for shipping time to bookstore or direct-to-home)
Description
---
An inspiring true story about losing your place, finding your purpose, and building a community one book at a time.

Wendy Welch and her husband had always dreamed of owning a bookstore, so when they left their high-octane jobs for a simpler life in an Appalachian coal town, they seized an unexpected opportunity to pursue their dream. The only problems? A declining U.S. economy, a small town with no industry, and the advent of the e-book. They also had no idea how to run a bookstore. Against all odds, but with optimism, the help of their Virginian mountain community, and an abiding love for books, they succeeded in establishing more than a thriving business - they built a community.

The Little Bookstore of Big Stone Gap is the story of the little bookstore that could: how two people, two cats, two dogs, and thirty-eight thousand books helped a small town find its heart. It is a tale of people and books, and how together they create community.
About the Author
---
WENDY WELCH and her husband (Scottish folksinger Jack Beck) own and operate Tales of the Lonesome Pine Used Books in Big Stone Gap, Virginia. An Ethnography PhD, she rescues shelter animals (SPAY and NEUTER, thanks!) and is one of the world's fastest crocheters. This is a good thing because between her day job teaching college courses on culture and public health, running special events at the shop, writing about stuff, and chasing kittens out of roads, she doesn't have a lot of spare time.
Praise For…
---
"In a time when brick and mortar bookstores around the country are literally imperiled, The Little Bookstore of Big Stone Gap comes along like a cool compress on a nagging wound; with humor, compassion, and a bold leap of spirit, Wendy Welch leads us back to this nearly forgotten truth, that bookstores are not simply distribution hubs for books, they are the warm living rooms of our culture, the portal to our dream worlds, the anchors for our hungry, drifting souls. Buy this book!" —Andre Dubus III, author of Townie and The House of Sand and Fog

"The Little Bookstore of Big Stone Gap confirms what I've long suspected, that book lovers are good people and that bookstores are the best places on earth. Add in the elements of pre-loved books, in-love bookstore owners, and to-fall-in-love with local characters, and you have The Little Bookstore of Big Stone Gap, a story to thrill anyone who has ever dreamed of owning a bookstore (and which book lover hasn't?) and a memoir sure to warm the cockles of the hearts of readers everywhere. A treasure of a book about books." —Nina Sankovitch, author of Tolstoy and the Purple Chair: My Year of Magical Reading

"Wendy Welch's memoir, The Little Bookstore of Big Stone Gap, is a delight. Starting a used bookstore in a small Appalachian town during the decline-of-the-book era may seem like rank folly, but the project-and the book-turn out to be anything but foolish. With warmth and humor, Welch details the small successes and large missteps along the path to finding a place in a community. She shows that, even in the age of the e-reader, there is hope for books and those who love them, and that reading and bookstores still perform an important function in civic life. Her clear prose sparkles with personality in this heartening tale of the perils and rewards of following one's dream." —Thomas C. Foster, author of How to Read Literature Like a Professor

"Wendy Welch's memoir is entertaining, informative, and - best of all - big-hearted and wise. A perfect pick-me-up for people discouraged by talk of the death of the book." —Sam Savage, author of Firmin and Glass

"Charming, lively, bubbling with anecdote, incident and insight, Wendy Welch's animated memoir is any reader's perfect companion. You read this book and feel you've made a friend. By turns comic, and thoughtful, The Little Bookstore at Big Stone Gap brims with joie de livre." —Laura Kalpakian, author of American Cookery and The Memoir Club

"Amusing, engaging, astute, and perceptive, Welch's buoyant memoir of an endangered way of life is a fervent affirmation of the power of books to bring people together." —Booklist

"The whole narrative exudes enormous charm and the value of dreams and lives truly lived." —Publishers Weekly

"An entertaining book with a full cast of eccentric characters." —Kirkus

"Candid and endearing tale . . . Wendy brings a sense of humor and compassion to her story, sharing the trials and tribulations on opening and running a new bookstore. It is a joy to see the transitions that Wendy and Jack experience, and how a bookstore can be a magnet for heartbreaking stories and a hub of community spirit. This books is such a warm and engaging journey, best enjoyed with a cup of tea or three." —Beyond the Margins

"A heartwarming, cheerleading affirmation of indie bookstores everywhere. Don't fly those flags at half-staff yet." —Cleveland Plain Dealer