Corporal Punishment: A Philosophical Assessment (Routledge Research in Applied Ethics) (Hardcover)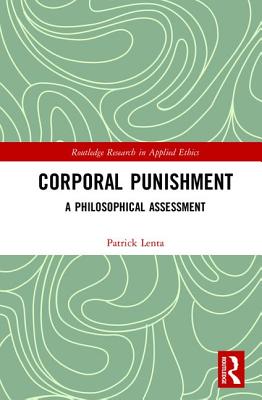 $170.00
Email orders@greenlightbookstore.com for information about this item.
Description
---
The aim of this book is to assess the moral permissibility of corporal punishment and to enquire into whether or not it ought to be legally prohibited. Against the widespread view that corporal punishment is morally legitimate and should be legally permitted provided it falls short of abuse, Patrick Lenta argues that all corporal punishment, even parental spanking, is morally impermissible and ought to be legally proscribed. The advantages claimed for corporal punishment over alternative disciplinary techniques, he contends, are slight or speculative and are far outweighed by its disadvantages. He presents, in addition, a rights-based case against corporal punishment, arguing that children possess certain fundamental rights that all corporal punishment of them violates, namely the right to security of the person and the right not to be subjected to degrading punishment. Lenta's approach is unique in that it engages with empirical literature in the social sciences in order to fully examine the emotional and psychological effects of corporal punishment on children. Corporal Punishment: A Philosophical Assessment is a philosophically rigorous and engaging treatment of a hitherto neglected topic in applied ethics and social philosophy.
About the Author
---
Patrick Lenta is an Associate Professor in the Philosophy Department at the University of Kwazulu-Natal, South Africa. He has published papers in journals including Criminal Law and Philosophy, Criminal Justice Ethics, Ratio Juris, Social Theory and Practice, Journal of Applied Philosophy, and Journal of the Philosophy of Sport.