Psychoeducational Groups: Process and Practice (Paperback)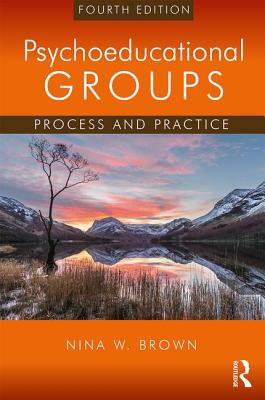 Click on "Ask A Bookseller" to contact us via email for more information about this title.
Description
---
With this 4th edition, Psychoeducational Groups remains the only comprehensive, user-friendly guide to planning, implementing, facilitating, and evaluating psychoeducational groups. The 4th edition expands the discussions about group leaders' knowledge base, self-development, and techniques; best practices for group facilitation; and effective uses for group therapeutic factors. Substantial new material includes templates, scripts, and sample forms; suggestions for leader interventions for group and individual issues and difficulties; a social media policy; and the effectiveness of manualized and cyber/virtual groups.
About the Author
---
Nina W. Brown, PhD, is a professor and eminent scholar at Old Dominion University in Norfolk, VA. She received her doctorate from The College of William and Mary, is a member of the American Counseling Association and the Society of Group Psychology and Group Psychotherapy (APA Division 49), and a Fellow of the American Group Psychotherapy Association. Some of her 29 books include Teaching Group Dynamics; Expressive Processes for Group Counseling; Group Counseling for Middle and Elementary School Children; Psychoeducational Groups (now in its 4th edition); Becoming a Group Leader; Creative Activities for Group Therapy; The Destructive Narcissistic Pattern; Children of the Self-Absorbed (two editions); Loving the Self-Absorbed; and Coping with Infuriating, Mean, Critical People.