Sakura's Cherry Blossoms (Hardcover)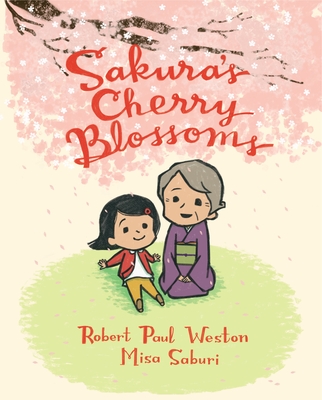 $17.99

Available In Store Now (while supplies last)
Description
---
A warm, gorgeous exploration of a little girl's experience immigrating to a new country and missing her home and her grandmother, who still lives far away.

Sakura's dad gets a new job in America, so she and her parents make the move from their home in Japan. When she arrives in the States, most of all she misses her grandmother and the cherry blossom trees, under which she and her grandmother used to play and picnic. She wonders how she'll ever feel at home in this new place, with its unfamiliar language and landscape. One day, she meets her neighbor, a boy named Luke, and begins to feel a little more settled. When her grandmother becomes ill, though, her family takes a trip back to Japan. Sakura is sad when she returns to the States and once again reflects on all she misses. Luke does his best to cheer her up -- and tells her about a surprise he knows she'll love, but she'll have to wait till spring. In the meantime, Sakura and Luke's friendship blooms and finally, when spring comes, Luke takes her to see the cherry blossom trees flowering right there in her new neighborhood.

Sakura's Cherry Blossoms captures the beauty of the healing power of friendship through Weston's Japanese poetry-inspired text and Saburi's breathtaking illustrations.
About the Author
---
ROBERT PAUL WESTON was born in Dover, England, but did most of his growing up in the small town of Georgetown, Ontario. Since then, he's also spent time living in the US, Japan, Switzerland and the UK. He holds an MFA in creative writing from the University of British Columbia and has been nominated for the Journey Prize and the Fountain Award for Speculative Fiction. He has written several novels for young readers, including Zorgamazoo, Dust City and Blues for Zoey. Sakura's Cherry Blossoms is his first picture book. He currently lives in London, England.

MISA SABURI was born in Sleepy Hollow, New York, and raised in Tokyo, Japan. She makes illustrations using Photoshop, sometimes while watching soccer and silly Japanese TV shows. She illustrated the Cantata Learning Sing-Along Books series, as well as the upcoming picture book Snow White, an adaptation of the classic tale. She currently lives and works in Brooklyn, New York.
Praise For…
---
SELECTION - Evanston Public Library 101 Great Books for Kids 2018

PRAISE FOR Sakura's Cherry Blossoms:

"[A] heartwarming story of the ephemeral, the eternal nature of love, friendship, cherry blossoms, and stars." --starred review, Booklist

"Weston combines a look at Japanese customs, a meditation on loss, and observations on adjusting to a new country in this wistful, low-key tale." --Publishers Weekly

"Weston addresses the difficulty of moving to a new country and the loss of a loved one with warmth and compassion." --Kirkus