A Cure for Suicide: A Novel (Vintage Contemporaries) (Paperback)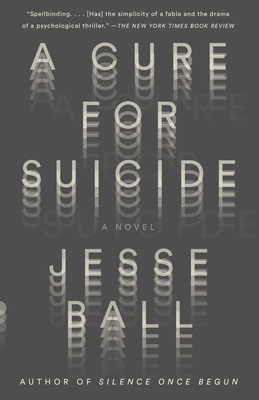 July 2015 Greenlight First Editions Club Selection
Description
---
***LONG-LISTED FOR THE NATIONAL BOOK AWARD***

A man and a woman have moved into a small house in a small village. The woman is an "examiner," charged with teaching the man a series of simple functions—this is a chair, this is a fork, this is how you meet people. Still, the man is haunted by strange dreams, and when he meets a charismatic, volatile young woman named Hilda at a party, it throws everything he has learned into question. What is this village? And why is he here?

A fascinating novel of love, illness, despair, and betrayal, A Cure for Suicide is the most captivating novel yet from one of our most audacious and original young writers.
About the Author
---
Born in New York in 1978, Jesse Ball is the author of fourteen books, including the novels Samedi the Deafness and How to Set a Fire and Why.  His prizewinning works of absurdity have been published to acclaim in many parts of the world and translated into more than a dozen languages. He is on the faculty at the School of the Art Institute of Chicago.
Praise For…
---
"Spellbinding . . . [Has] the simplicity of a fable and the drama of a psychological thriller." —The New York Times Book Review  
  
"One of the finest things Ball has ever written, a magical, gripping burst of emotional history." —Chicago Tribune 
 
"War doesn't exist anymore, and neither do prisons, in the seemingly not-so-distant future where Jesse Ball's magnetic, suspenseful, occasionally heart-rending fifth novel, A Cure for Suicide, unfolds…. Hypnotic." —The Boston Globe
 
"[A Cure for Suicide's] tone and soft, murky edges make me think of the Gilead of Margaret Atwood's The Handmaid's Tale—a place where it's the quiet that haunts you, the incredibly short distances between the real and the fictional." —Jason Sheehan, NPR

 "Captivating. . . . Ball's lean, clinical prose puts us in mind of Samuel Beckett, and his heady concoction of unsettling atmosphere, sterile environments and authorial obfuscations and distortions is redolent of the potent brew that powered recent dark fables from Chang-rae Lee and Howard Jacobson. . . . Refreshingly unconventional, the novel sees a highly original writer take another left-field leap in a daring and rewarding direction." —Minneapolis Star Tribune 

"Ball deftly explores questions with the eye of a poet and the logic of a philosopher, revealing new facets with perfect timing and acuity." —The New York Times Book Review

"A rich, tragic love story . . . . An enthralling thought experiment that considers the value of memory versus the pain of grief." —The Huffington Post

"The juxtaposition of the commonplace and the darkly bizarre has become something of a specialty of [Ball's], as has his books' skill at reflecting the ongoing struggle of the individual in a society based on conformity." —Chicago Tribune 

"Both a puzzle box and a haunting love story . . . Whatever the source of this book's elusive magic, it should cement Ball's reputation as a technical innovator whose work delivers a powerful emotional impact." —Publishers Weekly (starred review)

"Profound. . . . Ball performs the remarkable task of pruning away layers of readerly skepticism in order to find the inherent beauty of small moments." —Flavorwire

"A vision of a society that flees from hurt, numbing the tormented in order to save them." —The Atlantic

 "Prompts a conversation about life—how we enter it, how we navigate its shoals, and how we exit it." —The New York Journal of Books 

"A spare, spooky, muffled realm of continual surveillance and absolute control . . . Ball slyly exposes the survival-focused aspects of human interactions, from small talk to shared meals." —Booklist

 "Elegant and spooky, dystopian and poetic." —The Millions

"A Cure for Suicide ponders memory, identity, love, desire and choice. The question that remains is a heavy one indeed: Would you choose to start over?" —Paste