Last Things (Vintage Contemporaries) (Paperback)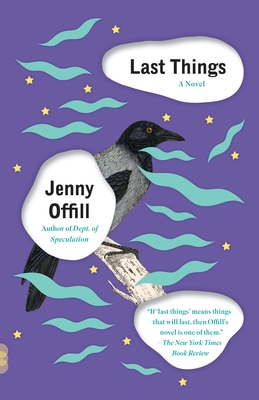 One of the most striking, impressive, haunting books I've ever read. Jenny Offill pulls off an incredible feat: a complex book told by an 8-year-old narrator watching the deterioration of her parents' marriage and her mother's mental health. The tension and beauty of the novel lies in the disparity between what the narrator sees but is too young to interpret. This is the sort of book that you can't put down until you finish, and it will linger a long time after it's done.
Picked by Katie in Fort Greene
Description
---
To eight-year-old Grace Davitt, the world is full of strange wonders. Through the eyes of her mother, Anna—an ornithologist who speaks five languages—their small lakeside town in Vermont becomes a glittering mystery filled with secret tongues, monsters in the lake, and birthday parties for the Earth. Anna's untamed spirit stands in sharp contrast to that of Grace's father, a chemistry teacher who examines his surroundings through the lens of rationalism and order. As Grace's family begins to fall apart and she finds that she must choose between her parents, her conflicting loyalties take her on a remarkable journey that spans all corners of the country—and of her own boundless imagination.
About the Author
---
Jenny Offill is the author of two novels, Dept. of Speculation, which was chosen as one of the ten best books of the year by The New York Times, and Last Things, which was a New York Times Notable Book and a finalist for the Los Angeles Times First Book Award. She teaches in the writing programs at Queens University, Brooklyn College, and Columbia University. 
Praise For…
---
"Remarkable. . . . If 'last things' means things that will last, then Offill's novel is one of them." —The New York Times Book Review

"Beautiful. . . . A gently funny tragedy about childhood and madness. . . . Pokes at the boundaries between reason and imagination." —Newsday

"Sparse, elegant, and inviting. . . . Jenny Offill . . . has created a fantastical family, at times loving and sweet, sorrowful and dangerous." —The Boston Globe
 
"Offill's deceptively simple prose, her exquisite sense of metaphor and her ear for humor capture the subtle perceptions of this wise child so that we feel to the bone her burgeoning awareness." —Chicago Tribune

"Last Things mines an interval of childhood before the division of intellectual labor. In this state of innocence, science, philosophy, mythology, bunk, wonder, and sorrow are all one. Jenny Offill's complicated and arresting farewell to this dangerous time is compelling as few recent novels on the subject have been." —Rick Moody

"Truly delightful." —The Baltimore Sun

"Stunning. . . . Dazzling. . . . A delightful novel, rich for its voracious eye onto real and imaginary moments of quandary in the lives of its characters and in the larger life of the universe." —Ploughshares

"[A] gem of a first novel." —Los Angeles Times

"Mesmerizing. . . . Pitch-perfect. . . . [Offill] writes with a heartbreaking clarity." —The Times (London)

"Offill's debut is a rare feat of remarkable constraint and nearly miraculous construction of a most unique family." —Publishers Weekly (starred)