I would, but MY DAMN MIND won't let me!: A Guide for Teen Girls: How to Understand and Control Your Thoughts and Feelings (Words of Wisdom for Teens #2) (Paperback)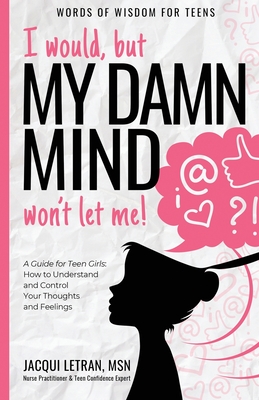 $19.97

Not In Store / Available To Order (allow for shipping time to bookstore or direct-to-home)
Description
---
Do you believe that life is unfair or that change is impossible? Are you unhappy and frustrated with your life? If you answered yes, you're not alone Teen Confidence Expert, Jacqui Letran, is here to show you a quick and easy path to a happier, healthier life. You can learn to create permanent changes for the better
Your past can cause you to believe that making positive improvements requires a miracle. In Letran's award-winning book, I would, but my DAMN MIND won't let me , you will learn the simple steps to overcome your obstacles and struggles. Once you understand how your mind works, you will have the knowledge and power to take control of your thoughts and feelings. The power to challenge your old negative patterns and create the exact life you want is in your hands.
In this book, you will discover:
- How to challenge old negative beliefs and create positive new patterns
- How to stay calm and in control of even the most difficult situations
- How to keep unhealthy thoughts at bay and replace them with positive ones
- How to use the power of your mind to create the success you deserve
- How to create positive life experiences and much, much more
I would, but my DAMN MIND won't let me is a groundbreaking guide to help you take control of your life. If you like real-life advice that works fast and doesn't talk down to you, then you will love Jacqui Letran's game-changing book for teens and young adults. This book is recommended for teens, parents of teens, professionals working with teens, and anyone who is interested in learning how to take control of their mind.
Get the award-winning book today to give yourself an unfair advantage in life
About the Author
---
Jacqui Letran is a passionate and energetic leader who is truly gifted at helping teens transform into confident, happy and successful young adults. Jacqui teaches teens that success and happiness are possible, regardless of their current struggles or circumstances. Jacqui is an International Best Selling Author, National Speaker, and Founder of Teen Confidence Academy. She has 16-years of experience in Adolescent Health as a Nurse Practitioner, Success Coach and Teen Confidence Expert. Jacqui is passionate and committed to guiding teens to achieve remarkable success in their academic and personal lives. She is also the winner of the: 2016 Literary Classics Lumen Award and Gold Medal for Young Adult Non-Fiction 2016 Readers' Favorite Gold Medal Award for Young Adult Non-Fiction When not working with teens or writing, you can find her traveling in her RV, hiking with her dog or spoiling her two cats. She now lives in Asheville, North Carolina.
Praise For…
---
From Literacy Classics:

"Literary Classics is pleased to announce that the book, I Would, but My Damn Mind Won't Let Me!, by Jacqui Letran, has been selected to receive the Literary Classics Lumen Award for Literary Excellence in Young Adult Non-Ficiton and the Gold Medal Award for Young Adult Non-Fiction.

I Would, but My Damn Mind Won't Let Me!, by Jacqui Letran, is a book written to help young girls unlock the tools to overcome many of the mental hurdles which frequently present challenges for teens. Letran helps readers understand how the mind can often send confusing (and sometimes detrimental) signals as a means of protecting one's-self from pain. The author breaks down the root causes of many mental obstacles which can often seem insurmountable while providing solutions for long-term stability and happiness. Topics such as fear and self-doubt are addressed in a way which is profound in its simplicity.

While written for a young female audience, this book will appeal to readers of all ages and genders. I Would, but My Damn Mind Won't Let Me! is recommended for home, school and public libraries and for use in clinical settings."

From Readers' Favorite:

"Readers' Favorite is proud to announce that "I would, but My DAMN MIND won't let me" by Jacqui Letran is a Gold Medal Winner in the Young Adult - Non-Fiction category in our 2016 International Book Award Contest."

Jacqui Letran's self-help guide for young adults is an engrossing and highly accessible guide for anyone who'd like to understand why they react to stress and stressors the way they do. I was impressed by the way the author introduces the complex and complicated processes that go on in the human mind and especially appreciated how she's adapted her findings and techniques to work with young women. Her case studies were fascinating and clearly demonstrated how depression and other mental health issues can sometimes be resolved without the use of medicines and traditional therapeutic methods. This is a well-written and informative work that is neither condescending nor patronizing of its target audience, and it is highly recommended. Reviewed By Jack Magnus for Readers' Favorite

"This book needs to be on every teen's bookshelf! Jacqui uses teen-friendly language, analogies and real-life portrayals to engage with and speak directly to a teen's struggles. Kim Restivo, MA, Pediatric Psychotherapist.

"I heartily recommend Jacqui's book, I would, but my DAMN MIND won't let me!" This book should be required reading for every teen. It does a superb job of breaking down the conscious vs. the subconscious mind, explaining common negative belief patterns, and sharing how to unleash the power of your mind within to be, do, and have anything in life. This book in one word: Empowering." Tandy R. Elisala, Author, Speaker, and Mindset Coach

"Being a teen can be a roller coaster of emotions and definitely has a huge learning curve. Jacqui, however, guides teens through turbulent waters of adolescence with digestible information about building self-esteem, managing emotions, developing positive decision-making skills, and overall, being a healthy and thriving teen! Every teen needs this on their bookshelf!" Mercedes Samudio, LCSW, Family/Parent Coach

"Jacqui Letran has crafted a book that is not only practical for teenagers; it's an empowering tool for teens. This book lays out the mechanics of the brain, as we know it in a way that relates to teens. It's an easy and speedy read. The different skills Jacqui shares in the book are supported with client experiences. These stories are explained in such way that anyone can easily relate to. Anyone involved in working with teenagers will appreciate this book as a great referral resource that they will use time and time again." Kyria Kylata, Entrepreneur Parenting Coach

"This book does an amazing job of painting a clear picture of how your mind works, with great tips, stories, and powerful examples! After reading this book, you'll find yourself sharing what you learned with your friends and family - having gained clear ways to change your thinking - and see things differently. By the end of his book, you will have learned as Jacqui once did, "Change Your Thoughts, and Change Your Life!"
L.J. Jackson, M.S Women's Empowerment Expert