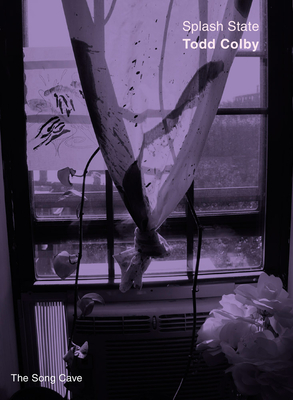 Click on "Ask A Bookseller" to contact us via email for more information about this title.
Not In Store / May Not Be Available To Order (email orders@greenlightbookstore.com for details)
Description
---
Poetry. An extended love letter, Todd Colby's sixth collection SPLASH STATE is filled with humor and charm. These poems are as concerned with aging, time, being, and death as they are with eliminating the need for anxious circumstances with facts, instructions, and advice. From extolling the uses of Shark's Paw and Fink Leaf to how to look like everything is okay in photographs, Colby's poems opt for the personal and generous, even when his tongue is firmly planted in cheek. If melancholy is just around the corner, these poems will walk with you in the opposite direction.

Todd Colby's poetry radiates the joy of receiving a long-awaited letter. He ends an early poem, 'Sweetie, ' with the line 'Let me let me know let me know soon let me know soon Sweetie.' It now seems that Sweetie has replied. In his new collection, SPLASH STATE, he tells us 'You will no longer need a hushed, barely audible tone / to confess your inadequacies because you will no longer have any / to confess'--the ideal state that Auden hoped would 'make us well / without confession of the ill.' With this pleasure comes responsibility, but it's the responsibility to remain in joy.' There won't be a need / for codes or inane principles, because you'll always / be too radiant and purposeful for that.' In SPLASH STATE, a perfect title for the state of calm eagerness he writes out of, Colby discovers that 'There are mornings, and then there are / golden glimpses of something totally / amazing like awe or coffee, ' and then that 'Morning will never be called off / due to budgetary constraints, or even heartbreak. / By afternoon, there will be plush green pillows, / strewn on the lawn waiting for my body. / I can hardly wait.' The rest of us no longer have to wait. This dazzling collection confirms Colby's status as one of the finest and funniest poets of his generation.--John Ashbery

I read Todd Colby's SPLASH STATE and I'm here to say that it makes the world better. I mean this because this is a monumental book and in this book, in this stack of love poems, we see that the Romantic has a place again in the everyday, like the 'courtyard' that 'sparkles puppy yellow' with sunlight, the 'Simple Times' when 'bones softened the cars, ' and an I that 'blooms out over Brooklyn' are all part of what we do this whole thing for: life. If you like Frank O'Hara, Eileen Myles, John Ashbery, William Blake, and Wallace Stevens, then you are going to like this book. Or I mean to say, that this book is a spell, a love spell. And if you want a book to carry with you when no one seems to care, when no one seems to be your friend, well then, you've found it, it's this book, this book is your love spell, this book is your friend.--Dorothea Lasky.