The Universe in Miniature in Miniature (Paperback)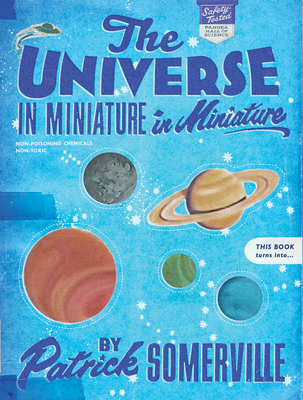 $14.95
Email orders@greenlightbookstore.com for information about this item.
Description
---

In this genre-busting book from award-winning novelist Patrick Somerville characters, stories, and stray thoughts revolve around the "The Machine of Understanding Other People," the story of a Chicago man who is bequeathed a supernatural helmet that allows him to experience the inner worlds of those around him. Through his lonely lens we peer into the mind of an art student grappling with ennui, ethics and empathy as she comes to terms with her own beliefs in a godless world. We telescope out to the story of idiot extraterrestrials struggling to pilot a complicated spaceship. We follow a retired mercenary as he tries to save his marriage and questions his life abroad. Mind-bending and cracklingly new, Somerville's broadly appealing and uniquely imaginative constructions probe the outer reaches of sympathy, death, and love in a world seen from the inside out.

Praise For…
---
After the restraint of his well-received first novel, The Cradle (2009), Somerville returns to the short story and unleashes the full force of his mischievous imagination. In this inventive and robust collection loosely anchored to the Midwest town of Grayson, and the mysterious School of Surreal Thought and Design, straight-ahead stories that take new slants on familiar themesfamily dysfunction, a high-school student's crush on a teacherare yoked to bold tales that deliver psychological realism to the outskirts of speculative and science fiction. There's a hilarious vignette about a catastrophically inept spaceship admiral and a terrifying story about how people behave when the earth stops spinning. The spooky title story portrays a trio of rogue students embroiled in disturbing projects, while The Machine of Understanding Other People" is a comic yet wrenching adventure story about a strange inheritance and a dangerous dream of preventing the destruction of the world." Attuned to the apocalyptic, Somerville, like Jim Shepard and Joe Meno, creates ensnaring plots involving characters in stories of melancholy and absurdity, failure and out-of-the-box heroics. — Booklist

The Universe in Miniature in Miniature is that rare thing, a formally inventive and profound book of ideas that also manages to stir the emotions. —KGB Book Review

Somerville has vast talent for invention and a flair for writing in a variety of voices, whether his character is a young female, a middle-aged male, or an alien. —The Boston Globe