The Acadia Files: Autumn Science (Acadia Science Series #2) (Paperback)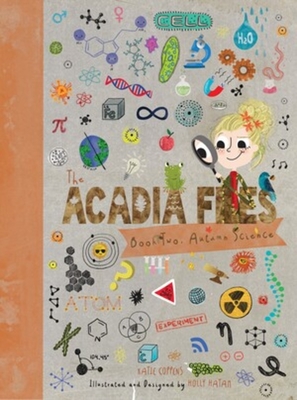 $7.95

Not In Store / Available To Order (allow for shipping time to bookstore or direct-to-home)
Other Books in Series
This is book number 2 in the Acadia Science Series series.
Description
---
Books that explore science through adventure
The Acadia Files: Book Two, Autumn Science presents five stories of fall, each one followed by Acadia's science notebook pages with her simple explanations and lively, whimsical drawings of natural phenomena. The Acadia Files is a fun introduction to the wonders of science, using real-world scenarios to make scientific inquiry relatable and understandable. Parents and educators can use The Acadia Files to let kids discover for themselves what it's like to be curious about the world and to satisfy that curiosity with scientific thinking.
Acadia Greene wants answers. What happened to the frogs she used to see at her favorite local pond? Why do leaves change color in the fall, and why don't evergreen needles do the same? What is the water cycle, and what is transpiration? How do time zones work, and why does the sun set at different times in different places within a single zone? How do germs infect us? Acadia doesn't mean to do science, but she has questions and her parents refuse to simply give her the answers. "Conduct an experiment," they tell her. "Use the scientific method." So Acadia makes hypotheses, designs experiments, analyzes data, and draws conclusions. Acadia does science.
The author, Katie Coppens writes a recurring column for NSTA's middle school magazine Science Scope on science and literacy called "The Integrated Classroom."
About the Author
---
KATIE COPPENS lives in Freeport, Maine, with her husband and two children. She is an award-winning middle-school teacher of science and language arts, and her books include a teacher's guide for the National Science Teachers Association entitled Creative Writing in Science.

Children's book illustrator and graphic designer HOLLY HATAM loves to combine line drawings, photography, and texture to create illustrations that pack energy and personality. Her picture books include What Matters (SONWA children's awards honorable mention), Bear is Not Scared, The Boy in the Box, and the forthcoming picture book series Maxine the Maker (Dial, 2018).
Praise For…
---
 I want to be ten years old again, so I can read (and learn from) the series of books  called The Acadia Files . They are joyful small books  about a 10-yearold girl, Acadia, and her science teacher parents. The author, Katie Coppens, uses the parents as the guiding forces in helping Acadia find the answers to her questions: Who ate my blueberries? Why do I have curly hair? Where  does sand come from? Why do the leaves change colors? She uses  a science journal (with amazing illustrations by Holly Hatam) to write her hypotheses, results, ideas, and other considerations. The stories are short enough to hold your attention, and the illustrations add fun and whimsy to each subject.  Appropriate for Grades 2  through 6.
— Stacey Widenhofer - Green Teacher

My girls recently finished reading Book One and Book Two in the Acadia Files series, which is a STEM-Inspired chapter book series from Katie Coppens. These books read like a chapter book and lab notebook, which makes it not only fun for kids to read, but also educational.  I first learned about these books from fellow homeschool friends who stumbled upon them .  They loved how the author was a teacher, and how she shared science topics in an easy to understand and follow along format. And, at the end of each chapter, there are a few pages filled with illustrations and notes, that will read like a lab notebook.  This is the part that I really liked.  In addition to each chapter (about a different science topic) and the laboratory pages that follow. there is a also a glossary page featuring new scientific terms shared in the text for review.  There are also questions posed at the end of each chapter that Acadia wonders about.  I really like these questions as it had my girls thinking about the questions and coming up with a hypothesis for each, and ways to test their hypothesis in order to help Acadia answer these questions posed.
Even though my girls love science and STEM learning, I know many kids who struggle to get about science.  After reading these books with my girls, I could see why homeschooling friends loved and  recommended these new chapter books.  They said their children found themselves getting excited about science and things like water cycle, time zones, immune system, genetics and tides and gravity -- all of which are covered in the first two books in The Acadia Files series.  With summer fast approaching, now would be a great time to pick up The Acadia Files to share with your kids as part of their summer reading.  I can't wait to  check out the different links shared at the end of each book in the "Further Exploration" section. This includes links about useful websites for readers to remain active in learning about science topics in the book.  They are also great for educators and homeschool parents to review and share with students for those looking to dive deeper into each science topic covered.
— Inspired by Savanah