Words Without Music: A Memoir (Hardcover)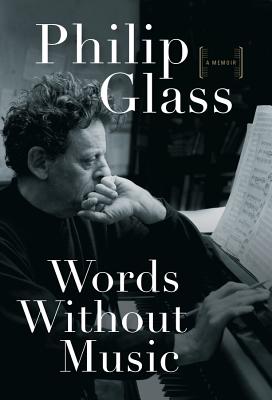 $29.95
Email orders@greenlightbookstore.com for information about this item.
Description
---
The long-awaited memoir by "the most prolific and popular of all contemporary composers" (New York Times).
A world-renowned composer of symphonies, operas, and film scores, Philip Glass has, almost single-handedly, crafted the dominant sound of late-twentieth-century classical music. Yet here in Words Without Music, he creates an entirely new and unexpected voice, that of a born storyteller and an acutely insightful chronicler, whose behind-the-scenes recollections allow readers to experience those moments of creative fusion when life so magically merged with art.
"If you go to New York City to study music, you'll end up like your uncle Henry," Glass's mother warned her incautious and curious nineteen-year-old son. It was the early summer of 1956, and Ida Glass was concerned that her precocious Philip, already a graduate of the University of Chicago, would end up an itinerant musician, playing in vaudeville houses and dance halls all over the country, just like his cigar-smoking, bantamweight uncle. One could hardly blame Mrs. Glass for worrying that her teenage son would end up as a musical vagabond after initially failing to get into Juilliard. Yet, the transformation of a young man from budding musical prodigy to world-renowned composer is the story of this commanding memoir.
From his childhood in post–World War II Baltimore to his student days in Chicago, at Juilliard, and his first journey to Paris, where he studied under the formidable Nadia Boulanger, Glass movingly recalls his early mentors, while reconstructing the places that helped shape his artistic consciousness. From a life-changing trip to India, where he met with gurus and first learned of Gandhi's Salt March, to the gritty streets of New York in the 1970s, where the composer returned, working day jobs as a furniture mover, cabbie, and an unlicensed plumber, Glass leads the life of a Parisian bohemian artist, only now transported to late-twentieth-century America.
Yet even after Glass's talent was first widely recognized with the sensational premiere of Einstein on the Beach in 1976, even after he stopped renewing his hack license and gained international recognition for operatic works like Satyagraha, Orphée, and Akhnaten, the son of a Baltimore record store owner never abandoned his earliest universal ideals throughout his memorable collaborations with Allen Ginsberg, Ravi Shankar, Robert Wilson, Doris Lessing, Martin Scorsese, and many others, all of the highest artistic order.
Few major composers are celebrated as writers, but Philip Glass, in this loving and slyly humorous autobiography, breaks across genres and re-creates, here in words, the thrill that results from artistic creation. Words Without Music ultimately affirms the power of music to change the world.
About the Author
---
Born in Baltimore in 1937, Philip Glass studied at the University of Chicago and the Juilliard School. The composer of operas, film scores, and symphonies, he performs regularly with the Philip Glass Ensemble and lives in New York.
Praise For…
---
Warm, low-key and often delightful…. A portrait of a composer who rose to prominence almost entirely outside of the usual institutions…. Words Without Music reads the way Mr. Glass's compositions sound at their best: propulsive, with a surreptitious emotional undertow.

— Corinna da Fonseca-Wollheim - New York Times

Lively and colorful…. Glass is one of the most articulate composers around. Insight and practical common sense pervade his new book…. With a composer's sense of form, Glass returns, in the final pages, to his youth, the subject that elicits his most evocative writing.
— Kyle Gann - New York Times Book Review

Glass, a key figure of musical minimalism, was one of the first composers to reject a distinction between "ethnic" music and Western classical music, and in this memoir he explains how he came to view a composition not as a linear narrative but as progressive rhythmic sequences.
— The New Yorker

Philip Glass's place in musical history is secure.
— The New Yorker

America's most significant symphonist.
— Los Angeles Times

An icon of the avant-garde.
— Fader

The most prolific and popular of all contemporary composers.
— New York Times

An engaging memoir of an adventuresome, iconoclastic career…Writing with warmth and candor, Glass portrays himself as driven, self-confident and tenaciously determined to invent his own, radically new musical language.
— Kirkus Reviews

No matter your opinion of Glass' music, you will like Glass the man….Aspiring musicians and artists will learn much from Glass, as will general readers, musical or not, who will discover an artistic life exceptionally well lived.
— Booklist, Starred Review

Philip Glass has written a fascinating account of his life with recollections of family, teachers, and friends. From his childhood in Baltimore to his studies with Ravi Shankar and Nadia Boulanger and the collaborations with Robert Wilson, Allen Ginsburg, Godfrey Reggio, and Martin Scorsese, among others, Glass offers insights to his music and personal life. Words Without Music will be a pleasure to read, not only for musicians (although they will particularly enjoy it) but for anyone interested in the world of art.

— Paul Simon

I came to Philip Glass's music very simply, without any critical prodding or guidance. I listened and was transfixed. I was excited to work with Philip on Kundun, and he exceeded my wildest expectations giving us a score that was genuinely transcendent. He's exceeded my expectations again with this rich and beautifully written memoir. Who knew that he was as good a writer as he is a composer?

— Martin Scorsese

Words Without Music is one of the most inspiring books I've ever read. The book overflows with love and enthusiasm for life and art. Philip Glass's vision of human culture as the transmission of ideas through time is transcendent. Hilarious, touching and profound, this book should be read by everyone interested in music and great writing.

— Laurie Anderson

[Glass has] fascinated several generations of listeners, demonstrating mesmeric properties that are as palpable as they are inexplicable.
— Alex Ross - New Yorker

An appealing memoir from one of the foremost creative geniuses of the last fifty years, Philip Glass's homespun reminiscences are as accessible as his entrancing musical compositions. In his epic quest to discover 'where the music comes from,' Glass chronicles his transformative, lifelong journey across four continents, including his musical epiphany with Ravi Shankar, which had a dramatic impact on contemporary instrumental music and opera.
— Peter Gelb

At its core, Glass's story is about work…he worked as a mover, a plumber, and a taxi driver to keep his family fed during his decades of obscurity, and since then he has immersed himself in the craft of composing. Glass is raptly alive to the aesthetic epiphanies, philosophy, spirituality, and magnetic personalities he has encountered, yet his prose is conversational and free of pretense. The result is a lively, absorbing read that makes Glass's rarefied cultural sphere wonderfully accessible.
— Publishers Weekly

[A]n engaging, even charming book, one of the most readable autobiographies ever written by a classical composer.
— Terry Teachout - Commentary Magazine

Essential reading for anyone remotely interested in the evolution of the avant-garde during the past half-century…. Words Without Music [is] an important contribution to cultural history.

— Steven G. Kellman - Dallas Morning News

An absorbing, graceful, and humane window into the interior life of one of our most important and arguably most famous composers…. For everyone who has been fascinated and moved by his music, the book will be full of deep insights into how Glass the man became Glass the composer.
— George Grella - The Brooklyn Rail

Long overdue… [Words Without Music] rightly touches on only the major works of his early and middle periods, gracefully leaving the reader to conclude how much the 78-year-old Glass… has changed the cutting-edge music world, how that world is run, how pieces are made and disseminated, and the value of his having saved serious music from the hegemony of modernism.

— David Patrick Stearns - Philadelphia Inquirer

Well-supplied with droll observations and plainspoken assessments regarding the details of a career that has been as remarkable and noteworthy as any in American music—indeed, in American culture…. Honest and candid.
— Steve Smith - Boston Globe

A joy to read… Considering the insight he provides into the various works he does discuss (particularly the operas and early minimalist pieces), anyone with a passing interest in Glass will come away with a better understanding of this musical giant's creative process and influence.
— Noah Cruickshank - Shelf Awareness, Starred Review

Illuminating… Words Without Music offers Glass plenty of opportunities to take aim at [his] critics… He is always vigorous in defending his artistic choices and aesthetics. Glass's music may sound simple, but it revels in subtle complexity.

— Sudip Bose - Washington Post

Readers don't have to like Glass's music to find pleasure in this warm, unaffected, and deeply human book, but they may come away with an improved understanding of and a greater appreciation for both the music and its composer…. If a listener's view of a composer is one of the things that shapes his or her perception of the music, an autobiography that alters the composer's image should have the potential to change the way the music comes across. Words Without Music has done precisely that for me.

— David Hajdu - The Nation

So bursting with culture and anecdote that names and stories virtually explode out of it… Gloriously readable.
— Jeff Simon - Buffalo News

Fascinating…. Glass's wry observations of those he has worked with—alongside memories of those he has loved and lost—remind us of the human scale of his achievement over the years, and of how the years are numbered.
— Nick Shave - BBC Music Magazine

Words Without Music is a sustained performance with fascinating scenes and a lucid text. If there is a 'music' to this book, it is the regular rhythm that being in the presence of someone humble and kind allows—it is a comfort and a constancy.

— Michael Coffey - BOMB Magazine
Coverage from NPR