What Are People For? (Paperback)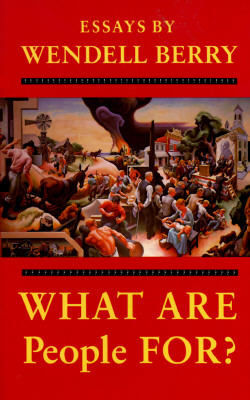 Email or call us for information about purchasing this item.
Special Order; please call or email to confirm availability
Staff Reviews
---
There are few writers who capture middle America so beautifully. A poet and farmer, Berry writes with scathing clarity about American culture's detachment from Earth. Honestly, reading anything by him will make you think differently, but this collection includes an essay about what culture has in common with decaying soil that is unforgettable. If you enjoyed Hillbilly Elegy, it's the natural next step to consider What Are People For? 
Picked by Jackie in Fort Greene
Description
---
In the twenty-two essays collected here, Wendell Berry, whom The Christian Science Monitor called "the prophetic American voice of our day," conveys a deep concern for the American economic system and the gluttonous American consumer. Berry talks to the reader as one would talk to a next-door neighbor: never preachy, he comes across as someone offering sound advice. He speaks with sadness of the greedy consumption of this country's natural resources and the grim consequences Americans must face if current economic practices do not change drastically. In the end, these essays offer rays of hope in an otherwise bleak forecast of America's future. Berry's program presents convincing steps for America's agricultural and cultural survival.
Praise For…
---
"Wherever we live, however we do so, we desperately need a prophet of responsibility; and although the days of the prophets seem past to many of us, Berry may be the closest to one we have. But, fortunately, he is also a poet of responsibility. He makes one believe that the good life may not only be harder than what we're used to but sweeter as well."--The New York Review of Books

"A London doctor on television recently defined an eccentric as one who tries to make people happy and wants the world to be a better place. By this measure Well Berry is a born eccentric who, faced with an ailing world, offers his services to help people be happy in it."--The New York Times Book Review