He Did This Just for You (Paperback)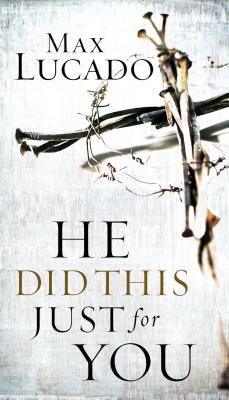 $3.99
Email orders@greenlightbookstore.com for information about this item.
Description
---
Building on stories and illustrations from He Chose the Nails by bestselling author Max Lucado, He Did This Just for You is a booklet designed to lead you through God's plan of sacrifice and salvation.
When you think of the cross, what thoughts come to mind? Steeples? Gold necklaces? Churches? Or do your thoughts go deeper? Do words like these come to mind: Jesus. Nails. Blood. Pain. Death. Tomb. Empty. Joy. Promise. Life. Savior
The words of the cross are so full of pain. So full of passion. So full of promise--God's promise to each and every one of us. His promise to do whatever it takes to save your soul. He did this just for you.
He Did This Just for You shares the story of salvation in a new light, taking you through three distinct pieces of the puzzle:
The Parable--God's longing for us
The Promise--God's gift for us
The Privilege--God's invitation to us
He Did This Just for You is the perfect way to introduce the gospel to friends and acquaintances through Max Lucado's warm and easy-to-understand writing style. Experience God's grace and plan of salvation for the first time or use this booklet to share the message of hope with someone you know.