Swimming in God: Daily Poems of Longing, Joy, and Love (Paperback)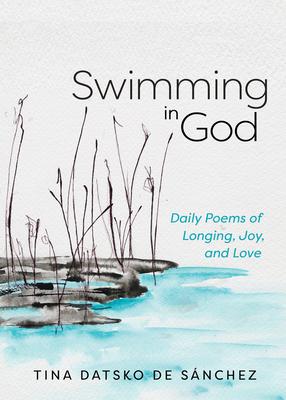 $14.95

Not In Store / Available To Order (allow for shipping time to bookstore or direct-to-home)
Description
---
Inspired by Rumi and Hafiz
A daily pause.
A moment of wonder.
A simple invitation to insight.
With deep understanding of the human spirit, each poem by Tina Datsko de S nchez touches the reader's core with its rich imagery and holy metaphors.
I stop for inspiration, when it beckons me
like a lover to taste its rich flesh.
There is no moment but this one
and there never will be.
--Tina Datsko de S nchez
Datsko de S nchez writes with the spiritual intuition of such poets as Hafiz and Rumi, and the ecumenical mysticism of such theologians as Meister Eckhart and Mirabai.
Come swim with me in God--
where else to be one than in God's oneness,
leaping like dolphins in the deep. laughing ocean?
--Tina Datsko de S nchez
Swimming in God: Daily Poems of Longing, Joy, and Love is a life-giving, hope-planting collection of poetry for daily reading. Swimming in God is the first book of four books forthcoming by The Pilgrim Press written by Tina Datsko de S nchez.
From the Foreword
"Tina Datsko de S nchez invites her reader to a life-changing intentionality of pausing each day. She opens the possibility for each of us to recognize what in our lives are the brief, the few, the beautiful. ... She gathers her] poems into a sequence of days of the month, and the months into themes and seasons. Longing. Joy. Love. Every reader wanders those seasons..."
--excerpted from the Foreword by Maren Tirabassi