A Fort on the Moon (Hardcover)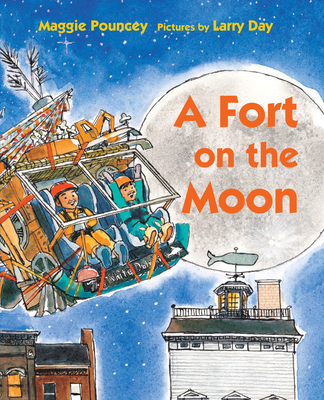 $18.99

Not In Store / Available To Order (allow for shipping time to bookstore or direct-to-home)
Description
---
A boy and his older brother hatch a plan to return to the moon for the fourth time in their homemade rocket. This time, they're going to build something extra-special.

Using a bunch of "junk" their mom left in a heap by the back door, brothers Fox and Dodge Wilder blast off by night for their fifth trip to the moon. They strap into their old car-seats and put on their protective bike helmets and winter coats. Ready for lift off!

When they land, they set to work on a magnificent fort. It's hard work, and sometimes they face setbacks, but Dodge knows he can always turn to his older brother for inspiration. When they're done, they return to the comfort of home and breakfast

Did the trip really take place, or was it only in the kids' imagination?

A Fort on the Moon will resonate with any child with a passion for fantasy, adventure, and invention, and parents are sure to love the heartwarming bond of two brothers in a world of their own.
About the Author
---
Maggie Pouncey was born in New York City and grew up there and in Amherst, Massachusetts, and New Haven, Connecticut. She received her B.A. and M.F.A. from Columbia University and has taught writing workshops in many contexts, from poetry workshops for third graders in Long Island, to essay writing for women at a medium security prison through the Bard Prison Initiative. She is the Co-Founder of Stories Bookshop + Storytelling Lab, a children's only bookshop in Brooklyn (now virtual), where she lives with her husband and two sons. Maggie is the author of the novel Perfect Reader.

Larry Day is the award-winning illustrator of fiction and non-fiction picture books. He is the recipient of 3 Gold medals from the Society of Illustrators, and the SCBWI Golden Kite Award for Not Afraid of Dogs. He illustrated My Fourth of July, by Jerry Spinelli.
Praise For…
---
"Watercolor and gouache pictures by Day (Found) have an immediacy that matches the brothers' confidence and unalloyed affection. Pouncey, making her picture book debut, contributes an astute, tender portrayal of the siblings' bond"—Publishers Weekly

"The illustrations' blend of realism and fantasy may prove irresistible enough to some children that they may even need to be warned against taking the imaginative trip too literally and attempting a launch of their own. Great fun."—Booklist

"Day's illustrations ('pencil, pen, and ink with watercolor and gouache'), starring a family with subtly varying skin tones, skillfully alternate spot art, panels, single pages, and double-page spreads. An appealingly textured warm blue serves as stand-in for the inky darkness of night and outer space—fitting the narrative's upbeat spirit." —The Horn Book

"A Fort on the Moon is filled with authentic—never patronizing—details that capture how children perceive the world. . . . Children will delight at the boys' lunar antics and may even be touched by the brotherly bonding that occurs when Dodge realizes that, if it weren't for his brother, he would have given up. A Fort on the Moon marries art and story for a combination that's truly out of this world."—BookPage

"There's lots of warm, child-friendly character . . .  the luscious watercolors that capture snug domestic scenes, the frantic, tumultuous fort-building sequence, and, most especially, the sweeping double-page spreads of the velvety, star-filled night sky are worth a look." —Kirkus Reviews

"Pouncey pitches this at an audience just beginning to negotiate unreliable narrators and trickster authors, with a narrative that could supply a sophisticated reading that attributes the boys' activities to imagination or dreams yet requires reconsideration when Mom mentions that the junk stored on the roof has gone missing. Day encourages this head scratching with lively mixed media artwork that revels in the cobbled-together spaceship and fort—wondrously inviting to build and to occupy—immersing viewers in make-believe play as prelude to Pouncey's reveal that this might all have been the real deal."—Bulletin of the Center for Children's Books