Spilled and Gone: Poems (Pitt Poetry Series) (Paperback)
* Is the book you're looking for not currently on the shelves at our stores? Consider placing your order for shipping rather than in-store pickup; orders are currently being fulfilled FASTER via our warehouse's direct-to-home shipping option than for store pickup (and shipping is free for orders over $125)!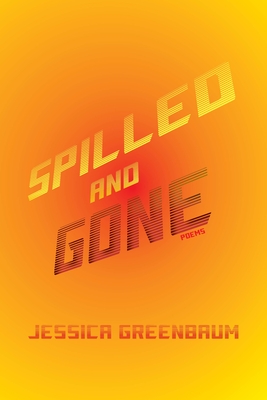 $17.00
On Our Shelves Now (while supplies last)
About the Author
---
Jessica Greenbaum is the author of Inventing Difficulty, winner of the Gerald Cable Prize, and The Two Yvonnes, chosen by Paul Muldoon for The Princeton Series of Contemporary Poets. She is the recipient of a fellowship from the NEA, and of the Alice Fay Di Castagnola Prize from the Poetry Society of America for the poems in Spilled and Gone. She teaches inside and outside academia, and lives in her native Brooklyn.
 
Praise For…
---
"Jessica's Greenbaum's poetry has the joie de vivre of New York School poetics, tempered by the griefs and reflectiveness of an experientially tested soul. Confident in craft, substantial of heart, Spilled and Gone is the dexterous voice of a poet calling out to her earthly company of people and things, claiming and praising them. When I read it, I feel myself open and relax into the world . . .  This is deeply satisfying work."—Tony Hoagland
 
"In Spilled and Gone, her new collection of poems, Jessica Greenbaum envisions a Brooklyn that is real and a Brooklyn that is everywhere. She achieves this by a brilliant use of metaphor: her seagulls 'wheel like immigrating thoughts,' and a half-moon at dawn is 'stuck like a dime in the coin slot.' So, too, her exuberant odes to a potato masher and a stove-top espresso maker raise those mundane objects until they rise off the page, Whatever she entertains—a storm-struck tree, an outdoor concert, her immigrant grandparents, a food truck in Grand Army Plaza—her subject is enlivened by keen observation, a fresh mind, and a vivid sense of place that makes me want to be there, with her, in her world." —Grace Schulman
"In her stunning new collection Spilled and Gone, Jessica Greenbaum transcends the limits of ordinary experiences, making of them indelible moments of human boundedness. We feel ourselves breaking in each heartrending line here, as houses crash down next door and lupines are all we have left – and when it seems our very souls might leak away, we are ultimately repaired by the poet's abiding faith in life and love, like 'the trees/themselves, how we depend on them to keep standing around us.' Such is the astonishing healing power of Greenbaum's poetry, to admit freely our impermanence, and yet always to restore us." —Rafael Campo