In the Wake: On Blackness and Being (Paperback)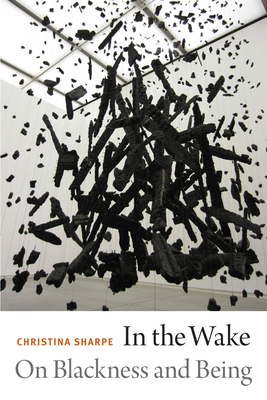 $24.95

Available In Store Now (while supplies last)
Staff Reviews
---
In the Wake deals with temporality, memory, and haunting in the aftermath of slavery in America. Sharpe coins the term "wake work" to address the absences in the official record that bleed meaning; to remember what was forgotten. Similar to Saidiya Hartman's work, as well as Marianne Hirsh's The Generation of Postmemory and Avery F. Gordon's Ghostly Matters, Sharpe is looking at intergenerational trauma through the gaps, fissures, and silences in the archives. Wake work is enfleshed work; our bodies understand that the past is not really the past. 
— Alicia
Description
---
In this original and trenchant work, Christina Sharpe interrogates literary, visual, cinematic, and quotidian representations of Black life that comprise what she calls the "orthography of the wake." Activating multiple registers of "wake"--the path behind a ship, keeping watch with the dead, coming to consciousness--Sharpe illustrates how Black lives are swept up and animated by the afterlives of slavery, and she delineates what survives despite such insistent violence and negation. Initiating and describing a theory and method of reading the metaphors and materiality of "the wake," "the ship," "the hold," and "the weather," Sharpe shows how the sign of the slave ship marks and haunts contemporary Black life in the diaspora and how the specter of the hold produces conditions of containment, regulation, and punishment, but also something in excess of them. In the weather, Sharpe situates anti-Blackness and white supremacy as the total climate that produces premature Black death as normative. Formulating the wake and "wake work" as sites of artistic production, resistance, consciousness, and possibility for living in diaspora, In the Wake offers a way forward.
About the Author
---
Christina Sharpe is Associate Professor of English at Tufts University and the author of Monstrous Intimacies: Making Post-Slavery Subjects, also published by Duke University Press.