Ancestor Trouble: A Reckoning and a Reconciliation (Hardcover)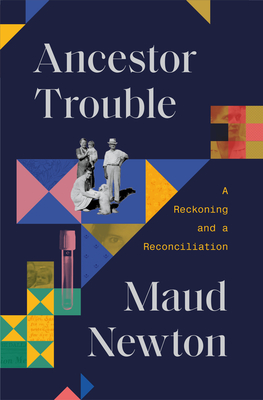 $28.99
Email orders@greenlightbookstore.com for information about this item.
Greenlight is delighted to partner with  Maud Newton to offer signed or personalized copies of the book Ancestor Trouble: A Reckoning and a Reconciliation.
In order to secure a signed copy, you MUST indicate in the Order Comments section at checkout that you'd like your book signed or personalized, otherwise, you may receive an unsigned book.
Description
---
"Extraordinary and wide-ranging . . . a literary feat that simultaneously builds and excavates identity."—The New York Times Book Review (Editors' Choice)
 
Roxane Gay's Audacious Book Club Pick • Finalist for the National Book Critics Circle's John Leonard Prize • An acclaimed writer goes searching for the truth about her complicated Southern family—and finds that our obsession with ancestors opens up new ways of seeing ourselves—in this "brilliant mix of personal memoir and cultural observation" (The Boston Globe).

ONE OF THE BEST BOOKS OF THE YEAR: The New Yorker, NPR, Time, Entertainment Weekly, The Washington Post, The Boston Globe, The Atlanta Journal-Constitution, Esquire, Garden & Gun

Maud Newton's ancestors have fascinated her since she was a girl. Her mother's father was said to have married thirteen times. Her mother's grandfather killed a man with a hay hook. Mental illness and religious fanaticism percolated Maud's maternal lines back to an ancestor accused of being a witch in Puritan-era Massachusetts.

Newton's family inspired in her a desire to understand family patterns: what we are destined to replicate and what we can leave behind. She set out to research her genealogy—her grandfather's marriages, the accused witch, her ancestors' roles in slavery and other harms. Her journey took her into the realms of genetics, epigenetics, and debates over intergenerational trauma. She mulled over modernity's dismissal of ancestors along with psychoanalytic and spiritual traditions that center them. 

Searching and inspiring, Ancestor Trouble is one writer's attempt to use genealogy—a once-niche hobby that has grown into a multi-billion-dollar industry—to make peace with the secrets and contradictions of her family's past and face its reverberations in the present, and to argue for the transformational possibilities that reckoning with our ancestors offers all of us.
About the Author
---
Maud Newton has written for The New York Times Magazine, Harper's, The New York Times Book Review, and Oxford American. She grew up in Miami and graduated from the University of Florida with degrees in English and law.
Praise For…
---
"Extraordinary and wide-ranging . . . a literary feat."—New York Times Book Review

"A rigorous wrestling with the anxieties of ancestry that is as deep as it is broad."—NPR

"Riveting and timely."—Washington Post

"Wide-ranging yet intimate."—Vanity Fair

"[A] powerful debut."—Oprah Daily

"In grappling with her history, Newton explores intergenerational trauma, genetics and epigenetics, considering all the ways in which getting to know our ancestors can help us gain perspective on ourselves."—Time

"At a moment of reckoning over America's violent history, her book is a salutary call for an 'acknowledgment genealogy' of the harms that are hidden in many family trees."—The Economist

"A guide to the pitfalls and lessons one might encounter on a quest to reconcile the complicated terrain of familial relationships with the simple fact of descendancy."—Wired

"Newton's great openness to and evocations of all the journeys she took turn into Ancestor Trouble's great beauty, poignancy, and power."—Los Angeles Review of Books

"Ancestor Trouble does what all truly great memoirs do: It takes an intensely personal and at times idiosyncratic story and uses it to frame larger, more complex questions about how identity is formed."—The New Republic

"Newton is a logical thinker and a hyperacute observer, with a prodigious memory and a lacerating honesty. She's a transparent and at times lyrical writer."—LA Times

"With the rigor of a historian and the voice of a mystery writer, Newton pulls the reader into a philosophical exploration of trauma and heritage.  . . .  A magisterial memoir."—The Observer

"From a grandfather known to have had 13 marriages to ancestors with mental illnesses to a relative accused of being a witch in Puritanical Massachusetts, her research will keep you hooked (and have you planning your own family tree analysis)."—CNN

"Riveting . . . Masterfully blending memoir and cultural criticism, Newton explores the cultural, scientific, and spiritual dimensions of ancestry, arguing for the transformational power of grappling with our inheritances."—Esquire

"Captivating . . . Wide learning and roving speculation distinguish Ancestor Trouble."—Atlanta Journal-Constitution

"A passionate memoir and investigation of inheritance and bloodlines . . . . [A] fascinating, well written book."—Minneapolis Star Tribune