The Sleepwalker's Guide to Dancing (Hardcover)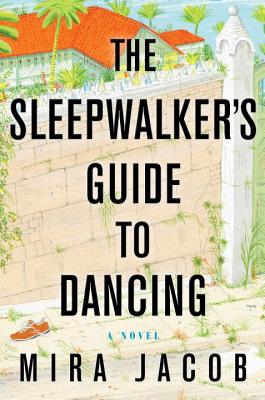 Click on "Ask A Bookseller" to contact us via email for more information about this title.
Description
---
NAMED ONE OF THE BEST BOOKS OF THE YEAR BY "THE BOSTON GLOBE, KIRKUS REVIEWS, BUSTLE, "AND EMILY GOULD, "THE MILLIONS"
For fans of J. Courtney Sullivan, Meg Wolitzer, Mona Simpson, and Jhumpa Lahiri comes a winning, irreverent debut novel about a family wrestling with its future and its past.
With depth, heart, and agility, debut novelist Mira Jacob takes us on a deftly plotted journey that ranges from 1970s India to suburban 1980s New Mexico to Seattle during the dot.com boom. "The Sleepwalker's Guide to Dancing "is an epic, irreverent testimony to the bonds of love, the pull of hope, and the power of making peace with life's uncertainties.
Celebrated brain surgeon Thomas Eapen has been sitting on his porch, talking to dead relatives. At least that is the story his wife, Kamala, prone to exaggeration, tells their daughter, Amina, a photographer living in Seattle.
Reluctantly Amina returns home and finds a situation that is far more complicated than her mother let on, with roots in a trip the family, including Amina's rebellious brother Akhil, took to India twenty years earlier. Confronted by Thomas's unwillingness to explain himself, strange looks from the hospital staff, and a series of puzzling items buried in her mother's garden, Amina soon realizes that the only way she can help her father is by coming to terms with her family's painful past. In doing so, she must reckon with the ghosts that haunt all of the Eapens.
Praise for "The Sleepwalker's Guide to Dancing"
With wit and a rich understanding of human foibles, Jacob unspools a story that will touch your heart. " People "
""
Optimistic, unpretentious and refreshingly witty. Associated Press
By turns hilarious and tender and always attuned to shifts of emotion . . . Jacob s] characters shimmer with life. "Entertainment Weekly"
A rich, engrossing debut told with lightness and care. "The Kansas City Star"
""
A] sprawling, poignant, often humorous novel . . . Told with humor and sympathy for its characters, the book serves as a bittersweet lesson in the binding power of family, even when we seek to break out from it. "O: The Oprah Magazine"
Moving forward and back in time, Jacob balances comedy and romance with indelible sorrow. . . . When her plot springs surprises, she lets them happen just as they do in life: blindsidingly right in the middle of things. " The Boston Globe"
""
This is an effortlessly gorgeous and rich book. Its prose is lovely and precise, alternately luminous and direct; its observations of people and families and the physical world are poignant and a delight. The dialogue is sharp, funny, and true. This is a triumphant debut Jonathan Ames, author of "Wake Up, Sir "
Comparisons of Jacob to Jhumpa Lahiri are inevitable; . . . both write with naked honesty about the uneasy generational divide among Indians in America and about family in all its permutations. "Kirkus Reviews "(starred review)
About the Author
---
Mira Jacob is the founder of Pete s Reading Series in New York City and has an MFA from the New School for Social Research. She lives in Brooklyn with her husband and son. "The Sleepwalker s Guide to Dancing "is her first novel."
Praise For…
---
Advance praise for The Sleepwalker's Guide to Dancing
 
"[An] emotionally bountiful debut . . . The author has a wonderful flair for recreating the messy sprawl of family life, with all its joy, sadness, frustration, and anger."—Publishers Weekly

"Punchy, clever, and stuffed with delicious chapatis, Mira Jacob's first novel jumps effortlessly from India to the States, creating a vibrant portrait of a world in flux."—Gary Shteyngart, author of Little Failure
 
"The Sleepwalker's Guide to Dancing seizes the reader early and never lets go. Its electricities reside in Mira Jacob's acute details and the sadness, anger, and humor of her characters. This novel tells many wonderful stories while also telling, beautifully, the story that counts the most."—Sam Lipsyte, author of The Fun Parts
 
"Mira Jacob has written an utterly dazzling, epic debut. The story of an Indian American family is at once completely relatable and totally fresh. A beautifully timed novel, The Sleepwalker's Guide to Dancing is intricately woven and sparklingly played out, and it triumphs. I did not want this breathtaking book to end."—Julie Klam, author of Friendkeeping
 
"I read this in one sitting. I couldn't have stopped—wouldn't even have noticed—if my house had caught fire. Mira Jacob is a born storyteller and a fantastic writer. The Sleepwalker's Guide to Dancing is a truly great book."—Abigail Thomas, author of A Three Dog Life
 
"The Sleepwalker's Guide to Dancing is a time-traveling multigenerational saga that still remains intimate in its feel and central focus. For all of its witty and loving attention to the power of familial bonds, it is most eloquent on the subject of a grief so profound that its everyday weight pulls the grievers closer to the dead than to the living. And yet the overall effect, miraculously, is celebratory."—Jim Shepard, author of You Think That's Bad
 
"The Sleepwalker's Guide to Dancing is an effortlessly gorgeous and rich book. Its prose is lovely and precise, alternately luminous and direct; its observations of people and families and the physical world are poignant and a delight. The dialogue is sharp, funny, and true. This is a triumphant debut!"—Jonathan Ames, author of Wake Up, Sir!
 
"What a thrill to discover Mira Jacob, a warm, witty new voice in American fiction. The Sleepwalker's Guide to Dancing is both rich and wise. I savored every page."—Amanda Eyre Ward, author of How to Be Lost