A Thousand Pardons (Hardcover)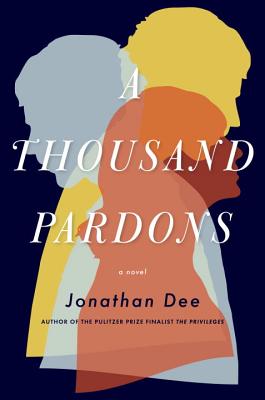 Email or call us for information about purchasing this item.
March 2013 Greenlight First Editions Club Selection
March 2013 Indie Next List
---
"Dee is a master at capturing the portrait of a contemporary family on the page. Manhattan attorney Ben, his wife Helen, and their teenager, Sara, live in the New York suburbs. A lust-driven and disastrous misstep on Ben's part destroys his already bedraggled marital relationship. The totally absorbing story of 'what happens next' to all three protagonists is told with riveting intensity by Dee. The emotional credibility of this novel will ensure that it finds a wide audience."
— Marian Nielsen, Orinda Books, Orinda, CA
Description
---
NAMED ONE OF THE BEST BOOKS OF THE YEAR BY KIRKUS REVIEWS

For readers of Jonathan Franzen and Richard Russo, Jonathan Dee's novels are masterful works of literary fiction. In this sharply observed tale of self-invention and public scandal, Dee raises a trenchant question: what do we really want when we ask for forgiveness?
 
Once a privileged and loving couple, the Armsteads have now reached a breaking point. Ben, a partner in a prestigious law firm, has become unpredictable at work and withdrawn at home—a change that weighs heavily on his wife, Helen, and their preteen daughter, Sara. Then, in one afternoon, Ben's recklessness takes an alarming turn, and everything the Armsteads have built together unravels, swiftly and spectacularly.
 
Thrust back into the working world, Helen finds a job in public relations and relocates with Sara from their home in upstate New York to an apartment in Manhattan. There, Helen discovers she has a rare gift, indispensable in the world of image control: She can convince arrogant men to admit their mistakes, spinning crises into second chances. Yet redemption is more easily granted in her professional life than in her personal one.
 
As she is confronted with the biggest case of her career, the fallout from her marriage, and Sara's increasingly distant behavior, Helen must face the limits of accountability and her own capacity for forgiveness.

Praise for A Thousand Pardons
 
"A Thousand Pardons is that rare thing: a genuine literary thriller. Eerily suspenseful and packed with dramatic event, it also offers a trenchant, hilarious portrait of our collective longing for authenticity in these overmediated times."—Jennifer Egan, Pulitzer Prize–winning author of A Visit from the Goon Squad

"Hugely enjoyable . . . Dee is a snappy, cinematic writer. . . . A Thousand Pardons moves fast. It's a mere 200 or so pages, and it packs a lot of turns of fate within there."—The Boston Globe
 
"Dee's gifts are often dazzling and his material meticulously shaped. . . . [He] articulates complex emotional dynamics with precision and insight."—The New York Times Book Review
 
"Some stories begin with a bang. And some begin with a roaring fireball of truth. Jonathan Dee's latest novel belongs in the latter camp."—O: The Oprah Magazine
 
"Dee bounds gracefully among Helen's, Ben's, and Sara's points of view as they try to reassemble their lives. Their stories feel honest, and the prose is beautiful."—Entertainment Weekly
 
"A page turner . . . What a triumph."—Kirkus Reviews (starred review)
 
"Graceful prose and such a sharp understanding of human weakness that you'll wince as you laugh."—People
 
"Propulsively readable."—The Millions
 
"Dee continues to establish himself as an ironic observer of contemporary behavior. . . . The plot is energetic. . . . But most compelling is the acuteness of the details."—The Atlantic
About the Author
---
Jonathan Dee is the author of five previous novels, most recently "The Privileges, " which was a finalist for the 2010 Pulitzer Prize and winner of the 2011 Prix Fitzgerald and the St. Francis College Literary Prize. He is a contributing writer for "The New York Times Magazine, "a National Magazine Award-nominated literary critic for "Harper's, " a former senior editor of "The Paris Review, " and the recipient of fellowships from the National Endowment for the Arts and the Guggenheim Foundation.
Praise For…
---
"A Thousand Pardons is that rare thing: a genuine literary thriller. Eerily suspenseful and packed with dramatic event, it also offers a trenchant, hilarious portrait of our collective longing for authenticity in these overmediated times."—Jennifer Egan, Pulitzer Prize–winning author of A Visit from the Goon Squad
 
"Hugely enjoyable . . . Dee is a snappy, cinematic writer. . . . A Thousand Pardons moves fast. It's a mere 200 or so pages, and it packs a lot of turns of fate within there."—The Boston Globe
 
"Dee's gifts are often dazzling and his material meticulously shaped. . . . [He] articulates complex emotional dynamics with precision and insight."—The New York Times Book Review
 
"Some stories begin with a bang. And some begin with a roaring fireball of truth. Jonathan Dee's latest novel belongs in the latter camp."—O: The Oprah Magazine
 
"Dee bounds gracefully among Helen's, Ben's, and Sara's points of view as they try to reassemble their lives. Their stories feel honest, and the prose is beautiful."—Entertainment Weekly
 
"A page turner . . . What a triumph."—Kirkus Reviews (starred review)
 
"Graceful prose and such a sharp understanding of human weakness that you'll wince as you laugh."—People
 
"Propulsively readable."—The Millions
 
"Dee continues to establish himself as an ironic observer of contemporary behavior. . . . The plot is energetic. . . . But most compelling is the acuteness of the details."—The Atlantic