Comfort Me with Apples: More Adventures at the Table (Paperback)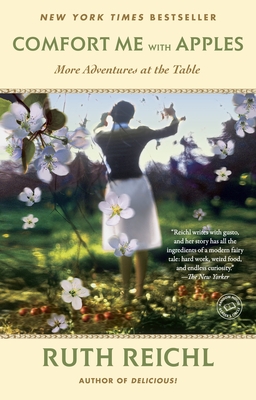 Reichl's second memoir begins in a commune in Berkley in the late 1970s as she embarks on a career as a food writer, marrying her love of storytelling and food. What follows is an intimate, witty first-hand account of the birth of an American food revolution. She candidly writes of her first marriage and its dissolution, her various lovers along the way, and her journey to the modest door steps and early first restaurants of young Alice Waters, Wolfgang Puck, Johnathan Waxman, and other world-renowned chefs. With each chapter accompanied by an emotionally corresponding recipe, Reichl continuously reminds us that food and life go hand in hand.
Picked by Kate in Ft. Greene
Description
---
In this delightful sequel to her bestseller Tender at the Bone, Ruth Reichl returns with more tales of love, life, and marvelous meals. Comfort Me with Apples picks up Reichl's story in 1978, when she puts down her chef's toque and embarks on a career as a restaurant critic. Her pursuit of good food and good company leads her to New York and China, France and Los Angeles, and her stories of cooking and dining with world-famous chefs range from the madcap to the sublime. Through it all, Reichl makes each and every course a hilarious and instructive occasion for novices and experts alike. She shares some of her favorite recipes while also sharing the intimacies of her personal life in a style so honest and warm that readers will feel they are enjoying a conversation over a meal with a friend.
About the Author
---
Ruth Reichl is the editor in chief of Gourmet and the author of the bestselling Tender at the Bone, a James Beard Award finalist. She has been the restaurant critic at The New York Times and the food editor and restaurant critic as the Los Angeles Times. Reichl lives in New York City.
Praise For…
---
"Reichl writes with gusto, and her story has all the ingredients of a modern fairy tale: hard work, weird food, and endless curiosity."
—The New Yorker

"So many memoirs annoy by telling either too much or too little. This one tells just enough....The book reads not like life described but like life lived and then shaped....Each story affirms [Reichl's] desire to get beyond the surface, even as she celebrates its unlikely depths."
—The New York Times

"Magnificent, riotous, erotic...[Comfort Me with Apples] is an extended, lilting song about lovesickness and the restorative succor of good food....Two courses of Reichl's literary cooking will leave still-ravenous readers hoping for a third serving soon. [Rating:] A."
—Entertainment Weekly