Alice & Oliver: A Novel (Paperback)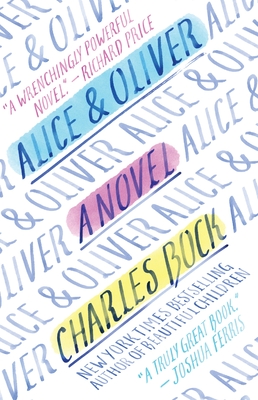 $18.00
Email orders@greenlightbookstore.com for information about this item.
April 2016 Greenlight First Editions Club Selection
Description
---
The award-winning and New York Times bestselling author of Beautiful Children has created an unflinching yet deeply humane portrait of a young family's journey through a medical crisis, laying bare a couple's love and fears as they fight for everything that's important to them.

New York, 1993. Alice Culvert is a caring wife, a doting new mother, a loyal friend, and a soulful artist—a fashion designer who wears a baby carrier and haute couture with equal aplomb. In their loft in Manhattan's gritty Meatpacking District, Alice and her husband, Oliver, are raising their infant daughter, Doe, delighting in the wonders of early parenthood.

Their life together feels so vital and full of promise, which makes Alice's sudden cancer diagnosis especially staggering. In the span of a single day, the couple's focus narrows to the basic question of her survival. Though they do their best to remain brave, each faces enormous pressure: Oliver tries to navigate a labyrinthine healthcare system and handle their mounting medical bills; Alice tries to be hopeful as her body turns against her. Bracing themselves for the unthinkable, they must confront the new realities of their marriage, their strengths as partners and flaws as people, how to nourish love against all odds, and what it means to truly care for another person. 

Inspired by the author's life, Alice & Oliver is a deeply affecting novel written with stunning reserves of compassion, humor, and wisdom. Alice Culvert is an extraordinary character—a woman of incredible heart and spirit—who will remain in memory long after the final page.

Praise for Alice & Oliver

"This hauntingly powerful novel follows a family's fight for survival in the face of illness. A stirring elegy to a marriage."—O: The Oprah Magazine

"A rewarding reading experience . . . a testament to the resilience of humans and our willingness to forgive."—San Francisco Chronicle

"The novel's power is in its two characters' messy negotiation of their fears, errors and shifting affections. . . . Bock offers a forceful reminder that there are plenty of roiling emotions underneath that till-death-do-us-part."—Los Angeles Times

"[A] heart-wrenching story of a young couple whose lives change when Alice gets diagnosed with cancer . . . a refreshingly unsentimental look at the vicious disease."—Entertainment Weekly

"Alice & Oliver [has a] tough-minded commitment to truth-telling."—The Washington Post

"Even more than the meticulous details of drugs, treatments and side effects, Bock's tender portrayal of [his characters] in all their desolation gives [Alice & Oliver] its ring of truth. . . . I loved this novel."—Marion Winik, Newsday

"Alice & Oliver shows that, even in a situation that's about as terrible as it can be, there can still exist happiness, surprise, and life, that strange strong spirit that's with us until the end."—The Boston Globe

"The most honest, unsentimentally powerful novel about cancer that I've ever read."—Michael Christie, The Globe & Mail

"Wrenchingly powerful . . . Bock chronicles the daily struggles of a young wife and mother facing her own imminent mortality. This is a soul portrait of a family in crisis, written with a fearless clarity and a deep understanding of the bonds that can hold two people together even in the darkest hour."—Richard Price
About the Author
---
Charles Bock is the author of the novel Beautiful Children, which was a New York Times bestseller and Notable Book, and which won the Sue Kaufman Prize for First Fiction from the American Academy of Arts and Letters. His fiction and nonfiction have appeared in Harper's, The New York Times, the Los Angeles Times, and Slate, as well as in numerous anthologies. He lives with his wife, Leslie Jamison, and his daughter in New York City.
Praise For…
---
"This hauntingly powerful novel follows a family's fight for survival in the face of illness. A stirring elegy to a marriage."—O: The Oprah Magazine
 
"A rewarding reading experience . . . a testament to the resilience of humans and our willingness to forgive."—San Francisco Chronicle

"The novel's power is in its two characters' messy negotiation of their fears, errors and shifting affections. . . . [Charles] Bock offers a forceful reminder that there are plenty of roiling emotions underneath that till-death-do-us-part."—Los Angeles Times
 
"[A] heart-wrenching story of a young couple whose lives change when Alice gets diagnosed with cancer . . . a refreshingly unsentimental look at the vicious disease."—Entertainment Weekly
 
"Alice & Oliver [has a] tough-minded commitment to truth-telling."—The Washington Post

"Even more than the meticulous details of drugs, treatments and side effects, Bock's tender portrayal of [his characters] in all their desolation gives [Alice & Oliver] its ring of truth. . . . I loved this novel."—Marion Winik, Newsday
 
"Alice & Oliver shows that, even in a situation that's about as terrible as it can be, there can still exist happiness, surprise, and life, that strange strong spirit that's with us until the end."—The Boston Globe

"Alice & Oliver is the most honest, unsentimentally powerful novel about cancer that I've ever read."—Michael Christie, The Globe & Mail

"Alice & Oliver is a wrenchingly powerful novel. Charles Bock chronicles the daily struggles of a young wife and mother facing her own imminent mortality. This is a soul portrait of a family in crisis, written with a fearless clarity and a deep understanding of the bonds that can hold two people together even in the darkest hour."—Richard Price
 
"I was amazed that such a heartbreaking narrative could also affirm, on every page, why we love this frustrating world and why we hold on to it for as long as we can. Alice Culvert is a character of such fight and such spirit, such thrumming aliveness, that she takes on an epic dimension. Charles Bock has stared down life's most difficult questions to write a truly revelatory, truly great book."—Joshua Ferris
 
"The sun is rising, and I am only now looking up from the closing lines of Charles Bock's astonishing Alice & Oliver. I can't remember the last time I stayed up all night to finish a book. This novel laid me waste. It was so beautiful, so perfectly realized, so lavishly and gorgeously written, so eviscerating, and, most of all, so very true."—Ayelet Waldman
 
"Desperately moving and beautifully life-affirming, Alice & Oliver is a study in the power love has to give purpose to existence. Bock dramatizes what we all hope for in our lives: that the love we give will be stronger than the limits of our personality. This luminous and unforgettable novel will leave an indelible mark on the literature of our time."—Matthew Thomas
 
"Alice & Oliver is a scorchingly honest description of cancer's indignities and the toll they take on human relationships; it is, equally, an unparalleled narrative description of intimacy, of how devotion can by turns exalt and humiliate its victims. The book chronicles betrayal: how we betray one another and how our bodies betray us. Like other fine elegies, it is redemptive and devastating, testimony to a love so violently real that it seems to obliterate any other possible truth."—Andrew Solomon
 
"Charles Bock has written a profound and radiant novel, and what particularly amazes me is that he has created such beauty from the fluorescent lights of hospital corridors, from uncomfortable New York City apartments, from a family doing what it takes to survive. Alice & Oliver is at once a very sad novel, and also a happy one, full of the hope of finding ways to love each little moment of our lives. It shows us how love and compassion can always serve as guides whenever we feel most lost."—Rivka Galchen