The Last Samurai (Paperback)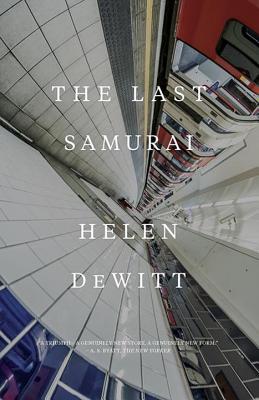 $18.95
On Our Shelves Now (while supplies last)
Helen DeWitt's THE LAST SAMURAI hinges on coincidences and chance but is never sentimental.  Sibylla is a struggling single-mom, who works as both a secretary at a British publishing house and transcribes old issues of dated magazines after hours. Her ten-year-old son, Ludo, reads Homer in Greek on the Tube and speaks some half dozen languages, which appear throughout the novel.  Ludo wants to know who his father is, but Sibylla refuses, referring to the man only as Liberace.  Its eccentricity and odd structure is seductive, and DeWitt's disruption, rejection really, of what defines a novel, makes is proudly idiosyncratic, fragmented and intertextual. 
Picked by D. in Fort Greene
Description
---
Called "remarkable" (The Wall Street Journal) and "an ambitious, colossal debut novel" (Publishers Weekly), Helen DeWitt's The Last Samurai is back in print at last
Helen DeWitt's 2000 debut, The Last Samurai, was "destined to become a cult classic" (Miramax). The enterprising publisher sold the rights in twenty countries, so "Why not just, 'destined to become a classic?'" (Garth Risk Hallberg) And why must cultists tell the uninitiated it has nothing to do with Tom Cruise?
Sibylla, an American-at-Oxford turned loose on London, finds herself trapped as a single mother after a misguided one-night stand. High-minded principles of child-rearing work disastrously well. J. S. Mill (taught Greek at three) and Yo Yo Ma (Bach at two) claimed the methods would work with any child; when these succeed with the boy Ludo, he causes havoc at school and is home again in a month. (Is he a prodigy, a genius? Readers looking over Ludo's shoulder find themselves easily reading Greek and more.) Lacking male role models for a fatherless boy, Sibylla turns to endless replays of Kurosawa's masterpiece Seven Samurai. But Ludo is obsessed with the one thing he wants and doesn't know: his father's name. At eleven, inspired by his own take on the classic film, he sets out on a secret quest for the father he never knew. He'll be punched, sliced, and threatened with retribution. He may not live to see twelve. Or he may find a real samurai and save a mother who thinks boredom a fate worse than death.
About the Author
---
Author of The Last Samurai and Lightning Rods, "Helen Dewitt knows, in descending order of proficiency, Latin, ancient Greek, French, German, Spanish, Italian, Portuguese, Dutch, Danish, Norwegian, Swedish, Arabic, Hebrew, and Japanese: 'The self is a set of linguistic patterns,' she said. 'Reading and speaking in another language is like stepping into an alternate history of yourself where all the bad connotations are gone' (New York Magazine)."
Praise For…
---
[...] a Molotov cocktail of a book, an incendiary experience for readers
that breaks through the mundanity of life, work, and love to achieve
greatness.

A triumph—a genuinely new story, a genuinely new form.
— A. S. Byatt

The Last Samurai is an original work of brilliance about, in part, the limits of brilliance.


The book has been a great source of motivation for me. I must outdo Ludo, because he is younger than I am but smarter than I am. My father says that this is ridiculous, as Ludo is a fictional character. But this is precisely my point: how can I let a character who isn't even real outdo me?
— Daniel (age 14)