Fire Is Not a Country: Poems (Paperback)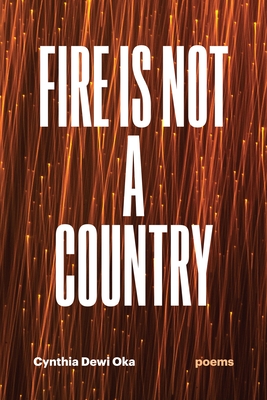 $17.00

Available In Store Now (while supplies last)
Description
---
In her third collection, Indonesian American poet Cynthia Dewi Oka dives into the implications of being parents, children, workers, and unwanted human beings under the savage reign of global capitalism and resurgent nativism. With a voice bound and wrestled apart by multiple histories, Fire Is Not a Country claims the spaces between here and there, then and now, us and not us.

As she builds a lyric portrait of her own family, Oka interrogates how migration, economic exploitation, patriarchal violence, and a legacy of political repression shape the beauties and limitations of familial love and obligation. Woven throughout are speculative experiments that intervene in the popular apocalyptic narratives of our time with the wit of an unassimilable other.

Oka's speakers mourn, labor, argue, digress, avenge, and fail, but they do not retreat. Born of conflicts public and private, this collection is for anyone interested in what it means to engage the multitudes within ourselves.
About the Author
---
CYNTHIA DEWI OKA is the author of Salvage: Poems and Nomad of Salt and Hard Water. Originally from Bali, Indonesia, she has most recently been awarded the Leeway Foundation's Transformation Award, the Tupelo Quarterly Poetry Prize, and an Amy Clampitt Residency. She lives with her son and partner in New Jersey.
Praise For…
---
"Across a range of playful styles, Oka's third collection favors talkative lines that chew on themes of global unrest and the Indonesian American heritage that 'lives like a witch in my house, turning the rice / yellow.'" —Gregory Cowles, the New York Times

"At a moment in contemporary poetry when there is so much rousing energy for strength and calls to action, there is something exceptionally brilliant about this collection's attention to fatigue, to the body overwhelmed, to the idea that one should not have to be or perform super humanness in order to survive." —Megan Fernandes, Harriet Books

"Fire Is Not a Country is a personal triumph, a prophetic and damning truthsayer for our times, and an essential read for the revolutionary and the poet. We're holding a line and we're losing, I am aware, but from a certain vantage, Cynthia Dewi Oka's poems fill me with hope, which unlike fire, is in short supply." —Rogan Kelly, The Night Heron Barks

"Reading Cynthia Dewi Oka is an EXPERIENCE. In Fire Is Not a Country, the devotional is alive and freed from those who have abused it. Reverence is as honorable as irreverence. Sorrow is subterranean and always fighting valiantly to come to the surface. Ghosts live vicariously through the living. The ancestors are calling and calling and calling. Sometimes images precede meaning and sometimes meaning creates images. Memory 'is long / and bendy.' This book is full of prisms to behold and textures to touch and so the rewards are manifold and delicious. How to describe something that is best experienced in the bodies we are in? 'I have just begun to love / the little knives of which I'm made.' I kept this book by my pillow for weeks. Night after night, I returned, wanting to experience it again." —Jenny Zhang, author of My Baby First Birthday

"Cynthia Dewi Oka is a filmmaker. And yes there are screenplays in this text. But Oka is a filmmaker because of what she does with poetry, how she uses image to bring us in close, to make a whole landscape out of a grain of sand, out of the collar of a shirt. How does she bring us so close and yet show us everything. These poems are intimate worlds of political possibility. Cynthia Dewi Oka is directing these cinematic lifeworlds, but she is also the grip holding us so we can see, she is also the set designer taking everything apart and putting it back together so we know, so we know that this world is not given, it is made. And we can remake it." —Alexis Pauline Gumbs, author of M Archive: After the End of the World 

"In this fiercely brilliant book, Cynthia Dewi Oka cements her position as a poet who every single one of us should be reading and learning from. Funny, heartbreaking, filled with terror and degree of rigorous compassion one rarely sees in poems, Fire Is Not A Country achieves a formal range and virtuosity that really brought me to understand what the idea and practice of witness can mean in the hands and heart of a truly visionary poet. There's so much to learn from Oka. So many ways to be in conversation with this book and, in turn, the world. Collaborative, theatrical, experimental, open-hearted. We need the poetry this book invites us into right now." —Gabrielle Calvocoressi, author of Rocket Fantastic

"Aphoristic and vivid, wise and wise-cracking, in Fire Is not a Country, Cynthia Dewi Oka makes a theater of language, and we stan, collaborators and audience at once, inside these world-conjuring poems. Sensitive to the ways women often wear all of the hats—here poet, critic, director, and dramaturge—Oka is an auteur allergic to pre-packaged emotions. She traces the globe in gothic dimensions, revealing designs in the culture that would be transparent if not for the 'brief . . . malevolent shadow[s]' they cast. She invokes history's ghosts to reckon with self-sovereignty, and these poems help us map ourselves in a society where 'having a body is not the same thing as being seen.'" —Gregory Pardlo, author of Digest