Guardians of Idolatry: Gods, Demons, and Priests in Hernando Ruiz de Alarcón's Treatise on the Heathen Superstitions (Hardcover)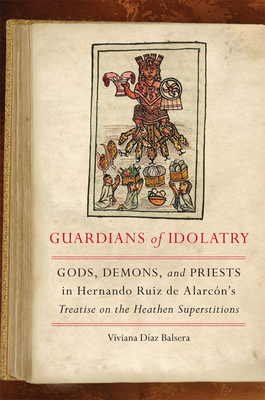 Click on "Ask A Bookseller" to contact us via email for more information about this title.
Description
---
In 1629, Catholic priest Hernando Ruiz de Alarc n produced the Treatise on the Heathen Superstitions That Today Live among the Indians Native to This New Spain to aid the church in its abolishment of native Nahua religious practices. The bilingual Nahuatl-Spanish Treatise collected diverse incantations, or nahualtocaitl, used to conjure Mesoamerican deities for daily sustenance and medical activities. Today this work is recognized as one of the most significant firsthand records of indigenous religious practices in postconquest Mexico. Yet, as Viviana D az Balsera argues in Guardians of Idolatry, the selection process for the incantations recorded in the Treatise reflects two sites of agency: Ruiz de Alarc n's desire to present the most flagrant examples of Nahua "demonic" practices, and Nahua efforts to share benign nahualtocaitl in order to preserve their preconquest traditions while negotiating with colonial Christian hegemony. Guardians of Idolatry offers readers a rare, in-depth look at the nahualtocaitl and the native cosmogonies, beliefs, and medical practices they reveal. Through close reading of four incantations--for safe travel, maguey sap harvesting, bow-and-arrow deer hunting, and divination through maize kernels--D az Balsera shows the nuances of a Nahua spiritual world populated by intelligent superhuman and nonhuman entities that directly responded to human appeals for intercession. She also addresses Jacinto de la Serna's Manual for Ministers of These Indians (1656), an elaborate commentary on the Treatise. Guardians of Idolatry tells a compelling story of the robust presence of a unique form of Postclassic Mesoamerican ritual knowledge, fully operative one hundred years after the incursion of Christianity in south Central Mexico. Together, Ruiz de Alarc n's Treatise and de la Serna's Manual reveal the highly sophisticated language of the nahualtocaitl, and the disparate ways in which both colonizers and resilient indigenous agents contributed to the conservation of Mesoamerican epistemology.