Literary Brooklyn: The Writers of Brooklyn and the Story of American City Life (Paperback)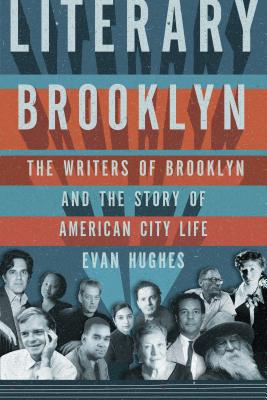 Description
---
For the first time, here is Brooklyn's story through the eyes of its greatest storytellers.
Like Paris in the twenties or postwar Greenwich Village, Brooklyn today is experiencing an extraordinary cultural boom. In recent years, writers of all stripes—from Jhumpa Lahiri, Jennifer Egan, and Colson Whitehead to Nicole Krauss and Jonathan Safran Foer—have flocked to its patchwork of distinctive neighborhoods. But as literary critic and journalist Evan Hughes reveals, the rich literary life now flourishing in Brooklyn is part of a larger, fascinating history. With a dynamic mix of literary biography and urban history, Hughes takes us on a tour of Brooklyn past and present and reveals that hiding in Walt Whitman's Fort Greene Park, Hart Crane's Brooklyn Bridge, the raw Williamsburg of Henry Miller's youth, Truman Capote's famed house on Willow Street, and the contested streets of Jonathan Lethem's Boerum Hill is the story of more than a century of life in America's cities.
Literary Brooklyn is a prismatic investigation into a rich literary inheritance, but most of all it's a deep look into the beloved borough, a place as diverse and captivating as the people who walk its streets and write its stories.
About the Author
---
Evan Hughes, author of Literary Brooklyn, has written articles about literature for such publications as The New York Review of Books, The New York Times, The Boston Globe, n + 1, and the London Review of Books. He lives in Brooklyn, New York.
Praise For…
---
"Smart…[Hughes] has perceptive things to say about Brooklyn's tangled relationship to American lit. He traces the way writers have absorbed Brooklyn's scruffy, somewhat persecuted mindset...Literary Brooklyn is at its best in the details and quotations Mr. Hughes plucks from Brooklyn writers' lives; his book becomes a pleasure-delivery system." —The New York Times
"In a way, the literary history of Brooklyn is like a literary history of America itself -- not because America is like Brooklyn, which it isn't, but because it is a story of a certain set of writers describing what they knew as America came into being, as the country invented a literature of its own...[Hughes] lays in the facts and brightens them with solid literary critique." —Los Angeles Times
"Lively...Urban history and literary history often brush up against each other to profound effect." —The New York Times Book Review
"The rich history of literary life in "America's first suburb" is very enjoyably explored...Hughes is good at forging connections between the many Brooklyn authors whose stories he tells...even as he gives the arcs of their careers fresh context by setting them against the dramatic ups and downs of the borough they all called home." —The Christian Science Monitor
"Engaging..." —Newsday
"Highbrow' and 'Brilliant" —New York Magazine's Approval Matrix
"One of the many fine points in Literary Brooklyn; The Writers of Brooklyn and the Story of American City Life is that for decades writers wanted to escape Brooklyn for the glamour of Manhattan--it was one definition of success--and now they want to go the other direction, not just because of what's happening now but because of all the history." —Portland Oregonian
"An engrossing cultural memoir of what some consider our most intriguing borough today." —New York Daily News
"They say Brooklyn is the literary navel of the nation right now, but after reading Evan Hughes's book you'll ask, 'Wasn't it always?' It's a richly detailed, beautifully written history." —Luc Sante, author of Low Life and Kill All Your Darlings
"If you've ever lived in Brooklyn, this book will make you see your experience in an entirely different and mythic light. And if you're thinking about moving to Brooklyn, this book will make it hard not to rent the U-Haul. Evan Hughes has written an incredibly engaging and thoughtful history of how Brooklyn became the heart of America's most literary city. I stayed up way too late getting to the last page." —Tom Bissell, author of Extra Lives and The Father of All Things
"It seems Evan Hughes has read every book by --or about -- every writer who's ever so much as stepped into the borough. Did you know that as young men just beginning to write, Norman Mailer and Arthur Miller lived in the same brownstone, and occasionally eyed each other while getting the mail? Literary Brooklyn is immensely readable, hugely informative, and thoroughly enjoyable. Once here, you won't want to leave." —Charles Bock, author of Beautiful Children
"Whether you love Brooklyn from afar or live there, you know it's a critical part of America's artistic heart. In Literary Brooklyn, Evan Hughes tells a moving and important story you haven't heard and shows us how and why literature will continue to thrive in the American city." —Touré, author of Who's Afraid of Post-Blackness?
"A well-researched urban history book and a comprehensive literary biography that brims with fresh insights." —Booklist
"A hybrid of urban history and literary biography and analysis, this engrossing, perceptive book makes a valid case for the richness of Brooklyn as a site of the literary imagination." —Publishers Weekly
"Wonderfully illuminating...Hughes charts this tumultuous, two-century urban history through the lives and works of important writers who, for their own reasons and for a time at least, called Brooklyn home. Elegantly, the author slides in and out of eras, identifying the sometimes surprising geographical and spiritual connections among an impressive list of writers...Whether they used it as subject, setting, or inspiration, saw it as a refuge, hideout or merely as a patch of relative green convenient to Manhattan, these writers are part of a rich artistic procession Hughes brings vividly to life." —Kirkus Reviews