Cambodian Cooking: A Humanitarian Project in Collaboration with ACT for Cambodia (Paperback)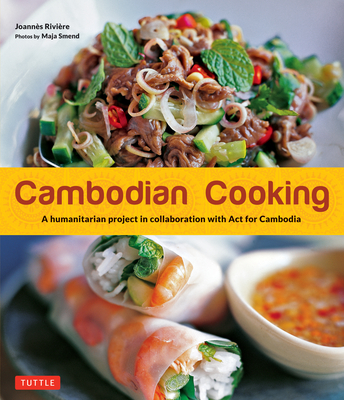 $15.95

Not In Store / Available To Order (allow for shipping time to bookstore or direct-to-home)
Description
---
Prepare all your favorite Cambodian foods with this easy-to-follow and informative Cambodian cookbook.
New cookbooks on Asian cuisines are much easier to find now than in years past. However, it's still very difficult to find a useful cookbook that focuses on the foods of Cambodia. Now, for the first time,
Cambodian Cooking
brings a previously untapped culinary tradition to the table for everyone to enjoy. Influenced over the years by a wide variety of cooking styles, Cambodian cuisine presents a particularly broad range of flavors to surprise the palate and stimulate the taste buds. Salty and sweet, downright bitter and sour go hand in hand or are blended subtly, sometimes within a single dish, to create a deliciously harmonious and original result. The recipes included feature favorites such as Curry Fish Cakes, Consomme with Caramelized Beef and Star Anise, Stir-fried Chicken with Chilies and Cashews, and Banana Sesame Fritters. Also included is an ingredients section that includes the Cambodian names as well as the Vietnamese or Thai names of the ingredients whenever necessary for ease of shopping.
Authentic Cambodian recipes include:
Sweet Potato Rolls with Ginger
Pineapple and Ginger Ceviche
Rice Porridge with Fish
Khmer Curry
Soy Glazed Spare Ribs with Star Anise
Sweet Coconut Waffles
And many more
Take a chance and try a whole new cooking experience with
Cambodian Cooking
About Act for Cambodia:
Cambodia was a country at war for many years. Genocide claimed millions of lives and orphaned and deprived many children. Antipersonnel mines still threaten their safety, and despite these bleak conditions, Cambodian children still smile. If you visit Cambodia, you'll still find people who know how to open their arms in welcome. The French association
Act for Cambodia
founded and now runs the Sala Bai Hotel and Restaurant School. This association has been helping Cambodians since 1984 when it brought aid to the crowds of refugees crossing the borders of Thailand to flee the cruelty of the Khmer Rouge and all the terrible events that struck their nation at that time.
About the Author
---
Joannes Riviere is a highly talented young French chef who was formerly a pastry chef in the US. He went to Cambodia in 2002 to take charge of the training courses at the Sala Bai Hotel and Restaurant School. Most recently he was Executive Chef at Meric, the restaurant at Hotel de la Paix in Siem Reap where he became a specialist in Cambodian cuisine. Joannes wrote the recipes in this book in collaboration with the teachers at Sala Bai and the help of his Cambodian friends. Dominique De Bourgknecht and David Lallemand have a diploma from the European School of Management in Paris. They both worked for several years in France (Dominique as a financial analyst and David as a consultant in business strategy), before going to Cambodia for a year. Heads of this project, Dominique and David put all their energy and enthusiasm into every stage--from looking for financial backing to negotiating the publishing contract and organizing the photography sessions. David also wrote the accompanying texts in the book. Maja Smend specializes in culinary and travel photography. After winning the Best Media and Student Photography Award in the UK in 2000, she founded her own company. German by birth, but based in London, she has a wide clientele in the UK and the rest of Europe, including major food manufacturers, publishers, advertising and design agencies. Maja loves everything and anything to do with cooking, markets and travel...and photography, of course!