A Path Appears: Transforming Lives, Creating Opportunity (Large Print / Paperback)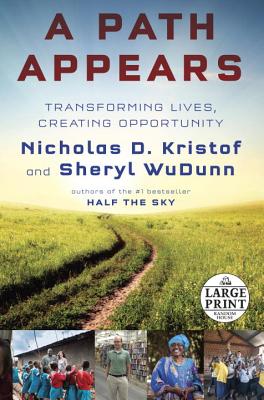 Email or call us for information about purchasing this item.
Special Order; please call or email to confirm availability
Description
---
An essential, galvanizing narrative about making a difference here and abroad a road map to becoming the most effective global citizens we can be.
In their number one "New York Times "best seller "Half the Sky, "husband-and-wife team Nicholas D. Kristof and Sheryl WuDunn brought to light struggles faced by women and girls around the globe, and showcased individuals and institutions working to address oppression and expand opportunity. "A Path Appears "is even more ambitious in scale: nothing less than a sweeping tapestry of people who are making the world a better place and a guide to the ways that we can do the same whether with a donation of $5 or $5 million, with our time, by capitalizing on our skills as individuals, or by using the resources of our businesses.
With scrupulous research and on-the-ground reporting, the authors assay the art and science of giving, identify successful local and global initiatives, and share astonishing stories from the front lines of social progress. We see the compelling, inspiring truth of how real people have changed the world, upending the idea that one person can t make a difference.
We meet people like Dr. Gary Slutkin, who developed his landmark Cure Violence program to combat inner-city conflicts in the United States by applying principles of epidemiology; Lester Strong, who left a career as a high-powered television anchor to run an organization bringing in older Americans to tutor students in public schools across the country; MIT development economist Esther Duflo, whose pioneering studies of aid effectiveness have revealed new truths about, among other things, the power of hope; and Jessica Posner and Kennedy Odede, who are transforming Kenya's most notorious slum by expanding educational opportunities for girls.
"A Path Appears "offers practical, results-driven advice on how best each of us can give and reveals the lasting benefits we gain in return. Kristof and WuDunn know better than most how many urgent challenges communities around the world face today. Here they offer a timely beacon of hope for our collective future.
About the Author
---
NICHOLAS KRISTOF and SHERYL WUDUNN, husband and wife, have coauthored three previous books: "Half the Sky," "Thunder from the East," and"China Wakes." They were awarded a Pulitzer Prize in 1990 for their coverage of China and the 2009 Dayton Literary Peace Prize. Now an op-ed columnist for"The New York Times," Kristof was previously bureau chief in Hong Kong, Beijing, and Tokyo. He won his second Pulitzer in 2006 for his columns on Darfur. WuDunn worked at the"Times"as a business editor and foreign correspondent in Tokyo and Beijing, and now works in banking."
Praise For…
---
"This is a lyrical guide that addresses the deep human yearning to make a difference. It's full of indelible stories reminding us that, yes, helping people is hard—but it's both possible and infinitely rewarding. A Path Appears offers practical steps that any of us can take to empower others, and ourselves."
—Anne Rice 
 
"Nobody clarifies the social challenges of our time, or the moral imperative to help meet them, better than Nick Kristof and Sheryl WuDunn. Their latest book, A Path Appears, offers an inspiring roundup of the many simple and effective ways in which we can lend our hearts and talents to grow hope and opportunity both at home and around the globe—and an important reminder that just because we can't do everything doesn't mean we shouldn't do something."
—President Bill Clinton
 
"Nick Kristof and Sheryl WuDunn have done us all a great service by shining a light on the problems faced by the poor. These stories of real people struggling for survival and opportunity serve as a powerful reminder that poverty is complex and painful, but the call to action doesn't need to be. With insight, compassion and optimism, Kristof and WuDunn show us that we can all play a role in making the world a better place. A Path Appears is a compelling read that can't help but to educate and energize."
—Bill and Melinda Gates, co-chairs of the Bill and Melinda Gates Foundation
 
 "Cold facts, flesh and blood stories - the written word is their loud hailer. They write, we read, and our world view is not the same. Nick and Sheryl's meticulous arguments and free flowing eloquence is what inspires their readers to become activists…myself included."
—Bono, lead singer of U2 and Co-Founder of ONE and (RED)

"A Path Appears is an insightful book focused on how individuals can contribute to positive change and the remarkable people behind the organizations that make it happen. The authors' desire to motivate people to support good causes, learn about the situation in other countries, and find the best way to help their fellow men and women is inspiring."
—Angelina Jolie
 
"This book is a class act. Its insights and honesty touch me on the deepest of levels and inspire me to raise my game to help the poor."
—Bill Hybels, founding pastor, Willow Creek Community Church

"Helping suffering people around the world to transform their own lives is a rewarding challenge we all share as citizens of a global community. A Path Appears is a helpful and inspiring guide for anyone who wonders what difference a single person can make in building a more hopeful world."
— President Jimmy Carter, founder of the not-for-profit Carter Center