Tasting Rome: Fresh Flavors and Forgotten Recipes from an Ancient City: A Cookbook (Hardcover)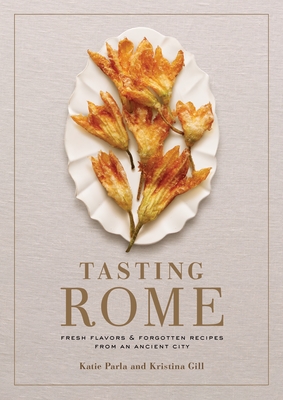 $32.00

Not In Store / Available To Order (allow for shipping time to bookstore or direct-to-home)
Description
---
A love letter from two Americans to their adopted city, Tasting Rome is a showcase of modern dishes influenced by tradition, as well as the rich culture of their surroundings. 
 
Even 150 years after unification, Italy is still a divided nation where individual regions are defined by their local cuisine. Each is a mirror of its city's culture, history, and geography. But cucina romana is the country's greatest standout.
 
Tasting Rome provides a complete picture of a place that many love, but few know completely. In sharing Rome's celebrated dishes, street food innovations, and forgotten recipes, journalist Katie Parla and photographer Kristina Gill capture its unique character and reveal its truly evolved food culture—a culmination of two thousand years of history. Their recipes acknowledge the foundations of Roman cuisine and demonstrate how it has transitioned to the variations found today. You'll delight in the expected classics (cacio e pepe, pollo alla romana, fiore di zucca); the fascinating but largely undocumented Sephardic Jewish cuisine (hraimi con couscous, brodo di pesce, pizzarelle); the authentic and tasty offal (guanciale, simmenthal di coda, insalata di nervitti); and so much more.
 
Studded with narrative features that capture the city's history and gorgeous photography that highlights both the food and its hidden city, you'll feel immediately inspired to start tasting Rome in your own kitchen.
About the Author
---
Katie Parla moved to Rome in 2003 after graduating from Yale. She holds a sommelier certificate and a master's degree in Italian gastronomic culture. She writes about Roman food and beverage culture, and has contributed to and edited many travel guides. She often appears as a Rome expert on the History Channel and the university lecture circuit.

Kristina Gill is the food and drinks editor at Design*Sponge, a home and lifestyle site with over 1.2 million readers per month. Her original recipes, and those she hand-selects from celebrated authors, chefs, and readers have appeared weekly as the "In the Kitchen With" column since 2007. She is also a food and travel photographer. Kristina transferred to Rome in 1999 after earning her BA from Stanford and her MA from Johns Hopkins SAIS.
Praise For…
---
"Cooks who value history and context as crucial ingredients in their recipes will treasure Tasting Rome...One of the book's many strengths is its ability to translate several thousand years of the city's cuisine for today's reader and home cook...The authors cover some major territory here, culling the best of Rome from peripheral neighborhoods and downloading kitchen wisdom from both the city's more innovative restaurants and generations-old institutions." —New York Times Book Review

"You'll see Rome though the eyes and taste buds of Katie Parla and Kristina Gill in this attractive new cookbook. They lightly sketch Roman history through its neighborhoods and their culinary specialties, like offal in Testaccio, Jewish foods from the ghetto and the cooking of Libyan immigrants. Along the way, they describe old recipes that have gone out of fashion and how chefs innovate based on them." —New York Times

"A lively and educational read for anyone who has visited and fallen in love with the Eternal City, anyone planning a trip there (whether soon or someday), food history buffs, and fans of flatbread." —Epicurious

"A fantastically detailed look into Rome's most remarkable dishes… a new classic in the Italian food library."  —Saveur

"Tasting Rome explores both modern Roman cuisine as well as the history of flavors and recipes that have evolved with the city's population." —Eater 

"The survey of Roman food culture [in Tasting Rome] highlights traditional and contemporary dishes alike, proving that you don't need to parlare italiano to master classics like cacio e pepe." —InStyle

"When we think Rome, we think pizza and pasta (and can't get there soon enough). But Katie Parla and Kristina Gill, two Americans who have each lived in the Italian capital for more than a decade, want us to know that there's so much more to their adopted city."  —PureWow

"[In Tasting Rome], journalist Katie Parla and photographer Kristina Gill go deep on the ancient and modern foods of Italy's capital city, where the traditions are as unique as the city is historic. Recipes run from the city's classic cacio e pepe and fried rice suppli to contemporary contributions from Rome's new generation of chefs." —Epicurious

"This book captures the beauty of artisan food! The combination of recipes and photographs make me feel as if I am back in Rome."—Alice Waters, chef/owner of Chez Panisse and author of The Art of Simple Food
 
"Tasting Rome is the definitive vehicle for viewing Roman culture through its food. It is filled with exquisite recipes, fascinating craftspeople, accomplished chefs and stunning photography. They all make for a must have book for any food lover or home cook." —Andrew Zimmern, chef and author
 
"This book is as much a comprehensive study as it is a love affair with one of my favorite cities in the world." —Marc Vetri, chef/owner of the Vetri Family of Restaurants and author of Mastering Pasta