Penelope Fitzgerald: A Life (Paperback)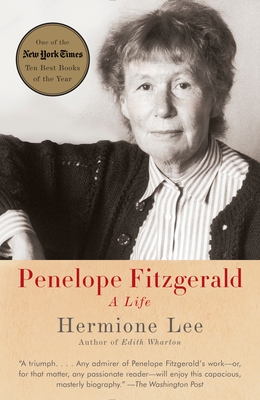 Click on "Ask A Bookseller" to contact us via email for more information about this title.
December 2014 Indie Next List
---
"As always with Lee's work, her latest biography offers a detailed and fascinating view of her subject's life. Penelope Fitzgerald was a teacher, a scholar, a world-class novelist, a two-time winner of Britain's Man Booker Prize, and a devoted mother and wife. Fitzgerald came late to fame, and this meticulously researched and beautifully written biography reveals every facet of her life in the most intimate way. I loved it!"
— Kathy Ashton, The King's English, Salt Lake City, UT
Description
---
ONE OF THE NEW YORK TIMES BOOK REVIEW' S 10 BEST BOOKS OF THE YEAR
A Best Book of the Year: San Francisco Chronicle, Seattle Times
Winner of the Plutarch Award for Best Biography

Penelope Fitzgerald, one of the most quietly brilliant novelists of the twentieth century, was a great English writer whose career didn't begin until she was nearly sixty. Her life was marked by dramatic twists of fate, moving from a bishop's palace to a sinking houseboat to a last, late blaze of renown. Her exquisite novels—short, spare masterpieces—would go on to win some of the most coveted awards in literature: the Booker Prize and the National Book Critics Circle Award. Now, in an impeccable match of talent between biographer and subject, Hermione Lee gives us this remarkable writer's story.
About the Author
---
Hermione Lee is a biographer, critic, teacher of literature, and president of Wolfson College, University of Oxford. Among her many works are literary biographies of Willa Cather, Virginia Woolf and Edith Wharton, and Penelope Fitzgerald, which won the James Tait Black Prize and the Plutarch Award for the best biography of 2014. She is also the author of critical books on Elizabeth Bowen and Philip Roth. She is a Fellow of the British Academy and the Royal Society of Literature, and a Foreign Honorary Member of the American Academy of Arts and Sciences. She was made a CBE in 2003 for services to literature, and a DBE in 2013 for services to literary scholarship. She lives in Oxford and Yorkshire.

www.hermionelee.com
Praise For…
---
"A triumph. . . . Any admirer of Penelope Fitzgerald's work—or, for that matter, any passionate reader—will enjoy this capacious, masterly biography." —The Washington Post

"Excellent. . . . Riveting. . . . Will send you racing back to read the subject's works." —The New York Times

"[A] superbly intelligent biography. . . . Remarkable. . . . A revelation." —The New Yorker
 
"A championing critical biography. . . . Richly illuminating. . . . It is, very movingly, a picture of a whole past life . . . with a reverence for her subject that is felt on every page." —The New York Review of Books

"Rarely has a literary biography been more needed or necessary than in Fitzgerald's case. . . . She was a writer of genius. . . . [Lee's] research is meticulous. . . . Her conclusion is a statement of biographical honesty." —The Wall Street Journal

"The life and times of that elusive, original miracle worker, the English novelist and biographer Penelope Fitzgerald, have been brilliantly captured by Lee. . . . [Fitzgerald's] fiction, when it finally emerged, had a tamped-down force and intense compression, as if the decades-long wait had worked its own clarifying, crystallizing magic." —The New York Times Book Review

"[A] sumptuous biography. . . . Thrilling. . . . Pithy. . . . Pleasingly impressionistic." —Slate

"A captivating read about a woman who lived most of her life on the sidelines. . . . With great respect, and an innate sense of the underappreciated, Lee shines a brilliant light on Fitzgerald's long life of making do, and making art in the process." —Minneapolis Star Tribune

"Brilliant . . . Lee catches not only the tempo of each decade, but how values from Fitzgerald's past constantly inform her present." —Financial Times

"Hermione Lee's sensitive, respectful biography traces the life of a woman as elusive and enigmatic as her fiction. . . . Moving. . . . Mak[es] palpable the weight of experience Fitzgerald transmuted into fiction of such remarkable grace and deceptive ease." —Newsday

"Gloriously illuminates the separate talents of two distinguished ladies of letters." —The Economist

"Marvelous. . . . Brilliant. . . . Master biographer Hermione Lee illuminates the life of Fitzgerald." —The Seattle Times

"Literary biography at its best—a masterly discussion of the work of that fine novelist." —Penelope Lively

"Deliriously entertaining. . . . Beautifully evoked. . . . [Lee's] intense, close-up analyses of each book would have thrilled Fitzgerald." —The Sunday Times (London)

"The biography of the year, an extraordinary portrait of an English literary life." —Robert McCrum, The Observer (London)

"Richly satisfying . . . It will send you back to the subject's own piquant and elusive novels."
—Hilary Mantel

"Excellent . . . Lee was a perfect choice as Fitzgerald's biographer. She has done a superb job, capturing an elusive personality and a complex, sometimes rather harrowing story." —The Guardian (London)

"A luminous masterpiece of life-writing . . . Lee's magisterial work is inseparable from warmth, intimacy, humaneness, and love for the subject of her biography." —New Statesman

"This book will hold insights and treats for any admirer of her fiction, and recruit converts to this reticent, witty, ferocious champion of the utterly downtrodden." —The Independent on Sunday