Filipino Homestyle Dishes: Delicious Meals in Minutes [Filipino Cookbook, Over 60 Recipes] (Learn to Cook) (Spiral)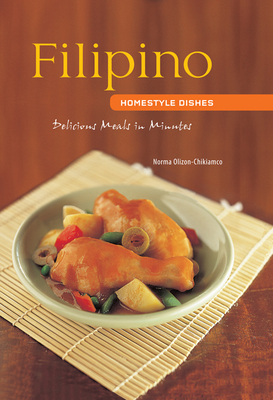 $13.95

Not In Store / Available To Order (allow for shipping time to bookstore or direct-to-home)
Description
---
Cook delicious and authentic homemade dishes with this easy-to-use Filipino cookbook.
Filipino food is one of the least well-known of all Southeast Asian cuisines. Strongly influenced by the historical presence of the Spaniards, Chinese and Americans, it lacks the singular national identity that characterizes the food of other nations. Yet it is precisely that indefinable quality, this veil of mystery surrounding it, that makes Filipino food such an interesting and delicious discovery.
Filipino Homestyle Dishes
offers the best of Filipino cuisine--more than 60 classic Filipino recipes as they are prepared in Filipino homes. From delightful snacks to delectable seafood, rice and noodle dishes, this wonderful Filipino cookbook is full of utterly delightful Filipino fare. Making these classic Filipino dishes has never been easier--a quick trip to your local supermarket for some basic ingredients is all you need to enjoy these mouthwatering recipes. Clear recipes, step-by-step photographs and a glossary of ingredients ensure fantastic results every time
Authentic Filipino recipes include:
Tasty Pork and Shrimp Spring Rolls
Braised Vegetables with Fish
Shrimp Rice Noodles
Chicken and Pork Adobo
Stuffed Beef Roll
Iced Fruit Mix (Halo-Halo)
And many more...
Many of the dishes are personal favorites of the author; all have been kitchen tested and are representative of true Filipino cuisine, in all its diversity, simplicity and complexity. They are a magical discovery of the food of a resilient people who, while adopting foreign influences, have managed to create a cuisine that is truly their own--part Western, part Asian, and uniquely Filipino.
About the Author
---
Norma Olizon Chikiamco is a co-founder of Food Magazine, of which she was editor in chief for 12 years. She won first prize at the Carlos Palanca Memorial Awards for Literature for her short story for children Pan de Sal Saves the Day, published by Tuttle Publishing. In addition, she has won an Outstanding Journalism Award from the Australian-New Zealand Chamber of Commerce and a National Book Award from the Manila Critics Circle.