The Jewish Way: Living the Holidays (Hardcover)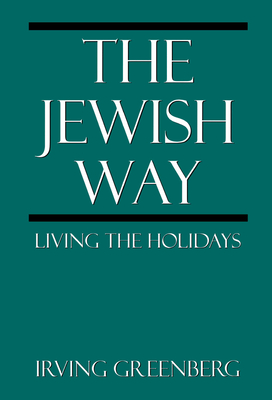 Click on "Ask A Bookseller" to contact us via email for more information about this title.
Description
---
The author writes: "The focus of this book is on Judaism as it expresses itself in the Jewish holidays. Through these days Judaism is most visible and most easily accessible. But this is meant to be more than a book about the holidays; rather, it is a book about the Jewish way through life and history. To celebrate the holidays is to relive by reliving the Jewish way. Over the centuries Jewish thought and values have been crystallized in religious behavior. Judaism's underlying structures of meaning-the understanding of the world, the direction of history, the values of life-have come to their classic expression in the holidays. This book seeks to uncover those patterns. "All halachic behaviors are dramatic/mimetic gestures articulating a central metaphor of living. Grasping the metaphor adds depth to action and joy to life. Entering into the holidays with this understanding widens the range of emotion and brings a whole new set of roles and personae into even the most conventional life. Living the Jewish way calls for a highly developed capacity for fantasy and playacting. If you will, one must be a bit of a ham to be a kosher Jew. I hope that by pointing out the roles we are summoned to play, this book will help release the creative imagination for religious living present in every person. "This is not to suggest that practice of the Jewish faith is all play, all fun and games. There have been times when this religion has brought painful memories, moral problematic conflicts with others, oppressive minutiae, and obligations so great I felt guilty no matter what I accomplished. Yet on balance the overwhelming effect has been to fill my life with a sense of Divine Presence and human continuity, bondedness, joy, textured living experiences full of love that make everything worthwhile. No wonder that over the course of history millions of Jews were willing to die, if necessary, for this faith. Through this book, I hope to show others why it is worth living for this faith. "This book is written for different types of readers: nonobservant Jews who seek new experiences to deepen their Jewish identity; observant Jews who wish to avoid the pitfall of practicing the details while missing the overarching goal; those lacking Jewish education who search for more information; learned Jews who search for new insights; and non-Jews who wish to understand the underlying visions of Judaism and who may find that it resonates in their own religious living.
About the Author
---
Rabbi Irving Greenberg is the Founding President of CLAL--The National Jewish Center for Learning and Leadership, an organization dedicated to the renewal of clal Yisrael--the unity and totality of the Jewish people. He has been a pioneer in leadership education and a leading figure in intra-Jewish dialogue and the development of pluralism. An Orthodox rabbi and Harvard Ph.D., Rabbi Greenberg has been a seminal thinker in confronting the Holocaust as an historical transforming event and Israel as the Jewish assumption of power and the beginning of a third era in Jewish history. Rabbi Greenberg has published articles and monographs on Jewish thought and religion, and is the subject of a book, Living in the Image of God: Jewish Teachings to Perfect the World (Conversations with Rabbi Irving Greenberg as Conducted by Shalom Freedman), published by Jason Aronson Inc. He is currently President of CHAverIM Kol Yisrael/Jewish Life Network, a Michael and Judy Steinhardt Foundation, which develops new institutions and projects in religion, education, and culture to strengthen the inner life of American Jewry.