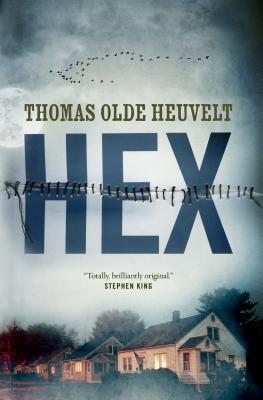 Description
---
"This is totally, brilliantly original." —Stephen King

"HEX is creepy and gripping and original, sure to be one of the top horror novels of 2016." —George R.R. Martin

The English language debut of the bestselling Dutch novel, Hex, from Thomas Olde Heuvelt--a Hugo and World Fantasy award nominated talent to watch

Whoever is born here, is doomed to stay 'til death. Whoever settles, never leaves.

Welcome to Black Spring, the seemingly picturesque Hudson Valley town haunted by the Black Rock Witch, a seventeenth century woman whose eyes and mouth are sewn shut. Muzzled, she walks the streets and enters homes at will. She stands next to children's bed for nights on end. Everybody knows that her eyes may never be opened or the consequences will be too terrible to bear.

The elders of Black Spring have virtually quarantined the town by using high-tech surveillance to prevent their curse from spreading. Frustrated with being kept in lockdown, the town's teenagers decide to break their strict regulations and go viral with the haunting. But, in so doing, they send the town spiraling into dark, medieval practices of the distant past.

This chilling novel heralds the arrival of an exciting new voice in mainstream horror and dark fantasy.
About the Author
---
Born in 1983, Thomas Olde Heuvelt is the much praised Dutch author of several novels and many stories of the fantastic. BBC Radio called Thomas "One of Europe's foremost talents in fantastic literature." Olde Heuvelt is a multiple winner of the Paul Harland Award for best Dutch Fantasy. His story "The Boy Who Cast No Shadow" received the Honorable Mention in the Science Fiction & Fantasy Translation Awards.
Praise For…
---
"This is totally, brilliantly original." —Stephen King

"HEX is creepy and gripping and original, sure to be one of the top horror novels of 2016." —George R.R. Martin

"Thomas is a great writer, the next genre superstar." —Paul Cornell

"[A] touch of strangeness, of alienness, avoiding sub-Stephen King clichés. [Olde Heuvelt] has written five novels already, and publishers should be lining up to translate them." —The Wall Street Journal

"HEX is reminiscent of vintage Stephen King, and I can think of no higher praise. Chilling, moving and . . . profound." —John Connolly

"Olde Heuvelt's HEX sets ancient magic against contemporary technology to create a kind of dark fairy tale that seems ultimately believable in today's world. A terrific debut novel." —Jeffrey Ford

"HEX is a thoughtful horror story, and one that is all the more chilling for its uncompromising view of humanity. . . . I found the story and its ending uncompromising and inevitable." —Robin Hobb

"HEX takes the horror/thriller genre to a whole new level. It's deeply unsettling, wholly original, brilliantly written and contains scenes that will haunt you for a long time to come. I dare you to read it." —Sarah Lotz

"Thomas Olde Heuvelt's HEX is a treat for all fans of dark fiction . . . a modern spin on the witch's curse story that forces us to take a closer look at ourselves. Who is really evil after all? It's may not be who you think. This is just the beginning and I can't wait to read his next one." —Ann VanderMeer)

"Hidden tensions and human weakness trigger a witch-hunt that boils over into persecution, scapegoating and a shocking denouement. A powerfully spooky piece of writing." —Financial Times

"The best horror debut since John Ajvide Lindqvist's Let the Right One In." —Alan Kelly, Rue Morgue

"Equal parts Stephen King and The Cabin in the Woods, Thomas Olde Heuvelt's novel is a pop page-turner with an intriguingly weird ambience . . . a funny, surprising and eerie novel." —SFX Magazine

"Olde Heuvelt offers up a truly terrifying parable about mankind's depravity and the depths of evil of which we are capable. The story is not merely unsettling, it is horrifying" –Kirkus Reviews

"[I]ntriguing premise . . . Heuvelt develops his characters enough to give their tragic lives resonance" —Publishers Weekly

[S]imilarities to early Stephen King . . . Spielbergian in the way Olde Heuvelt shows supernatural goings-on in the midst of everyday life . . . It's a fabulous, unforgettable conceit and Olde Heuvelt makes the most of it." —The Guardian

"Heuvelt's masterfully frightening debut will haunt the reader for days afterward." —Book Riot

"A great read for fans of The Blair Witch Project or The Crucible. " —Booklist

"[O]ne of the most original, clever, and terrifying books to be published in the 21st century". —New York Journal of Books

"An entertaining read with a chilling concept. Not for the faint hearted." —Brave New Words

"Truly absorbing and keeps you locked into the horrifying events as they unfold." —Fantasy Book Review