Cherry Money Baby (Hardcover)
* Is the book you're looking for not currently on the shelves at our stores? Consider placing your order for shipping rather than in-store pickup; orders are currently being fulfilled FASTER via our warehouse's direct-to-home shipping option than for store pickup (and shipping is free for orders over $125)!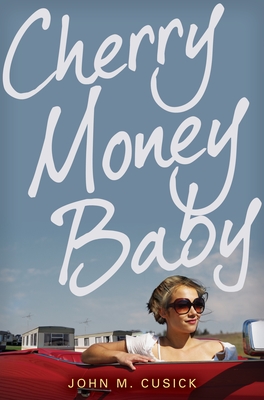 Email or call us for information about purchasing this item.
Special Order; please email orders@greenlightbookstore.com for more information
Description
---
Hollywood glitz collides with workingclass aspirations in this satirical tale of an impulsive starlet and a sharp-witted small-town teen.

Cherry Kerrigan loves her simple life, her family's tiny trailer, even working at Burrito Barn. Forget college — she's marrying her sweetheart from next door. But here comes Ardelia Deen, a glamorous starlet who sweeps Cherry into a world of fast cars and penthouse parties. Now Cherry's small-town life just seems so . . . small. When Ardelia drops a bomb of an offer — one involving a baby — Cherry knows her life will change forever, no matter what she decides. John M. Cusick focuses his signature wit on Hollywood royalty and the wide-eyed dreams of Small Town, U.S.A. in a novel about discovering who you are . . . and changing your mind.
About the Author
---
John M. Cusick is a literary agent for authors of young-adult and middle-grade novels and the author of Girl Parts, his debut novel. About Cherry Money Baby, he says, "Class is a touchy subject in this country. I wanted to explore how our assumptions about money, sophistication, and self-worth can cloud our vision." He lives in Brooklyn.
Praise For…
---
The supporting cast ... round out a plot that continually surprises. Cherry is a highly memorable character, prone to violent outbursts but possessing a strong moral compass, a rare smalltown girl who isn't consumed by anxiety over getting into college or out of town—even when she has the chance to dip her toe into the pool with some big-time celebrities.
—Publishers Weekly (starred review)

There is plenty to like in this novel that maintains a mostly light tone while it riffs on weighty questions about class and the pressures of fame. ... Smart and often funny.
—Kirkus Reviews

Cherry is an irresistible heroine: she's brimming with energy and joyful appreciation for the things that really matter, and she's unafraid of speaking her mind, often in vulgar terms, or of suffering the consequences. ... Readers will be right there with her as she enjoys the perks of being a friend of the obscenely rich and famous while calculating the risks and benefits of each decision that would take her away from her core values. Her volitional poverty, lack of traditional ambitions, and immunity to the popularity game make her a rare bird indeed in contemporary YA, but it's the aplomb she brings to the table that will attract readers of all classes.
—Bulletin of the Center for Children's Books

"Cherry Money Baby" represents new-adult fiction with a female protagonist tackling adult concerns like college and a career... Young adult and new adult readers will relate to Cherry's evolving personality and life plan.
—VOYA

I'm going to warn you right now: I enjoyed John M. Cusick's Cherry Money Baby so much that this column may very well morph into a list of Alice "Cherry" Kerrigan's Finest Moments. I'll try to rein myself in, but it's not going to be easy. ... Cherry Money Baby celebrates the fact that not everyone wants exactly the same sort of life, and that one person's life-altering disaster could well be another person's life-altering joy.
—Kirkus Reviews Online

Cusick has created an unlikely role model in sassy Cherry and added generous amounts of humor to her story.
—School Library Journal

Though Cherry's perspective, the reader is forced to consider the issues of class more honesty, without patronizing or moralizing. At the heart of this story is Cherry and Ardelia's relationship, but what makes this a spectacular read is the skill with which Cusick builds suspense. It is rare to find a realistic fiction novel with such stellar characters, and even rarer to find one that leaves the reader so curious as to how the action will resolve and so satisfied when it finally does.
—TeenReads.com