The Great Divide: A Mathematical Marathon (Paperback)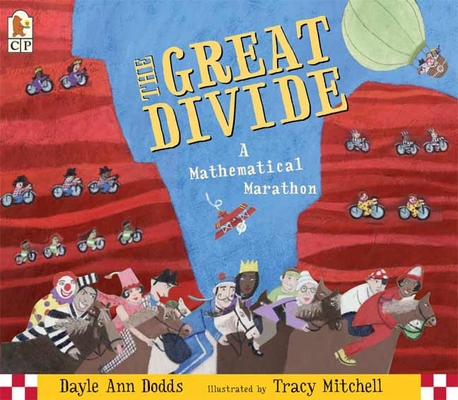 $7.99
Email or call for price.
Description
---
"In this crafty story of a cross-country race, numerical division accounts for the narrowing of the field. . . . All lessons should be this gratifying." — Publishers Weekly (starred review)

"Bang!" goes the gun. The race is on.

Eighty racers explode from the starting gate, determined to win The Great Divide. They surge ahead, rushing toward — OH NO! — the wide hungry mouth of a grand canyon that claims half the racers. And this is only the beginning. More dangers lie ahead, waiting to divide the group once, twice, three times, and more. Will there be anyone left to cross the finish line?
About the Author
---
Dayle Ann Dodds is a former elementary school teacher with a degree in early childhood development. As she does in THE GREAT DIVIDE, Dayle Ann Dodds often writes in rhyme because "it is so natural to kids' ears. Rhyme, rhythm, and pattern help kids remember small revelations in entertaining stories," she says. Embedded in the exciting contest of THE GREAT DIVIDE, readers will find grouping, adding, subtracting, and multiplying, and discover how they form the foundation of division. Dayle Ann Dodds lives in Palo Alto, California.

Tracy Mitchell was born in Boston but grew up in New Orleans, a city whose influence is evident in her art style. THE GREAT DIVIDE is Tracy Mitchell's first picture book, and she says that working with such a large number of characters was just one of the many challenges she faced in creating her paintings for the book. "Dividing the racers into crazy groups, like clowns, pirates, and dancers, definitely helped," she says. Tracy Mitchell lives in Somerville, Massachusetts.