Design the Long Life You Love: A Step-by-Step Guide to Love, Purpose, Well-Being, and Friendship (Hardcover)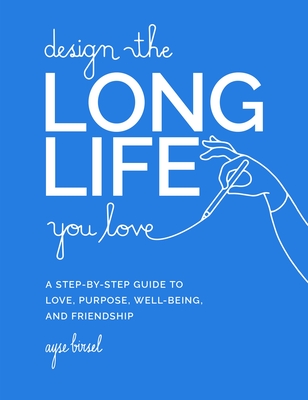 $26.00

Not In Store / Available To Order (allow for shipping time to bookstore or direct-to-home)
Description
---
Design a long life full of love, purpose, well-being, and friendship, at any age, using the creative tools of award-winning product designer, author, and world's #1 life coach Ayse Birsel.
What does it mean to craft the life you want, as you grow older? For industrial designer and author Ayse Birsel, the answer draws on key principles of design—like optimism, empathy, collaboration, open-mindedness, and holistic thinking—as well as the experiences of older people on the pioneering frontiers of long life. Longer life is a thrilling, modern opportunity, and like so many parts of life it needs to be thoughtfully designed.
Thinking about a long life is very exciting indeed. It's also a new phenomenon. Fifty years ago, living into one's seventies was considered the mark of a long life. Today, seventy feels young, eighty feels normal, and ninety is within reach. Birsel believes this new horizon of life is as important and exciting as the invention of moving pictures. Or that of automobiles, or even space travel. Her point is, when a change this big happens, innovation follows.
This book is for everyone who is interested in defining their long life, using design thinking tools. It's an interactive book with exercises that will help you think creatively by asking you to visualize your life. It is full of insights  learned from wise people who have lived the longest. It is organized into the four themes of Love, Purpose, Well-Being, and Friendship, and contains insights that will help you love better, find purpose, practice well-being, and make friends.
Drawing on Birsel's  year-long codesign research with older people,
Design the Long Life You Love
offers readers of all ages—from those in their twenties and thirties just starting out, to those in mid-life looking for a change, to those in later life who are the experts for us all—thought-provoking questions, exercises for self-exploration, and interviews with innovative  entrepreneurs and thought-leaders to guide them on their own journeys of crafting the next phase of life. Focusing on four keys areas—Love, Purpose, Well-Being, and Friendship—this book pairs life lessons from people who've lived the longest with design tools to help you plan your own long life, whether you're looking ahead to retirement, a home post-children, or  starting a new project that makes you come alive.
Playfulness is key to creating a long life, and readers will find that reflected in this joy-filled book. Whimsical, two-color drawings, illustrated interviews with thought-leaders, and interactive exercises will put you in the mindset of a designer as you foster creativity and explore what your own long life can look like. When it comes to our lives, we are our own innovators—so let's begin to learn how to do just that.
Welcome to
Design the Long Life You Love
!
About the Author
---
Ayse (pronounced Eye-Shay) Birsel is one of the world's leading industrial designers. She has designed hundreds of products, from toilet seats to office systems to potato peelers to concept cars. You've probably held or sat on something she has designed for Herman Miller Knoll, Target, or Toyota, among many others. Her work has earned her several nicknames—Queen of Toilets, Queen Bee (for offices), and Design Evangelista. Interior Design Magazine awarded her Best of Year Industrial designer of 2020. She is one of the Most Creative People in Business according to Fast Company. She was recognized as one of the top eight coaches in the world by Thinkers50 Marshall Goldsmith Distinguished Achievement Award for Coaching and Mentoring. She is the author of Design the Life You Love and is recognized as "The #1 Coach for Life Design." Her work can be found in the permanent collection of the Museum of Modern Art (MoMA). Ayse was born in Turkey and came to New York City with a Fulbright scholarship, where she now lives and works.
Praise For…
---
People casually use this term; this changed my life. In reality, they're usually exaggerating, or it's hyperbole. I can say for Ayse Birsel and her program, it did change my life in a huge way.—Marshall Goldmisth, New York Times best selling author of The Earned Life and What Got You Here Won't Get You There

This is a most unusual book both in its message and design. The message? Take charge of your life to ensure happiness and contentment, for all ages and lifestyles. The design? Big and bold to match the message, easy to read big letters to compensate for all that tiny unreadable lettering on medicine and instructions where some company wants to save some money on paper. A thoughtful, powerful book in both message and design.—Don Norman, author of Design of Everyday Things

Design the Long Life You Love makes visible a profound revelation—across our lives, what we want, what brings meaning and joy, remains fundamentally the same. HOW we experience these truths—Friendship, Love, Purpose, and Wellbeing—changes! The tools in this book allow all of us to make these truths visible in our own lives. Take a moment and be your own "Designer for a Day," a week, a month, a lifetime.—Bruce Chernof, former President and CEO, The SCAN Foundation

If you want to create the long game for your life, read this book. Ayse Birsel turns her research on aging into essential life lessons we can all use, at any age.—Dorie Clark, Wall Street Journal best selling author of The Long Game

You'll likely have a long life. Don't leave making it a good life up to chance.—Michael Bungay Stanier, best selling author of The Coaching Habit and How to Begin