Art Hiding in Paris: An Illustrated Guide to the Secret Masterpieces of the City of Light (Hardcover)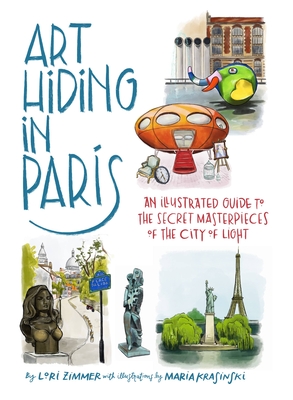 $24.00

Not In Store / Available To Order (allow for shipping time to bookstore or direct-to-home)
Description
---
Explore masterpieces hidden in plain sight, historic artist enclaves, and iconic works of public art in this charmingly illustrated exploration of Paris, from the authors of Art Hiding In New York.

Paris is the city of light, the city of love, and the city of more art than you could possibly explore in a lifetime—and not just in museums. Tucked away in tree-lined parks, preserved in world class restaurants, emblazoned on Metro station walls, and hidden in the most unexpected places are masterpieces worthy of the Louvre, if you know where to look! 

In this whimsically illustrated celebration of Parisian art and artists, author and curator Lori Zimmer highlights more than 100 treasures. From the gorgeous remnants of the Art Nouveau era to the homes of some of the world's most influential artists—including Vincent Van Gogh, Pablo Picasso, and more—to an introduction to the modern masters of urban art, there are endless riches to be explored. Discover art that was hidden for decades inside cafes, shops and even a Belle Époque brothel! Paris will surprise you.

Illustrated by artist Maria Krasinski, this book provides curated itineraries for dreaming up your next urban exploration, and is perfect for displaying on any art lover's shelf. 
 
About the Author
---
Lori Zimmer is a New York-based author, curator and amateur historian. She is the author of five books: Art Hiding in Paris: An Illustrated Guide to the City of Light (Running Press, 2022),  Art Hiding in New York: An Illustrated Guide to the City's Secret Masterpieces (Running Press, 2020), Logan Hicks: Still New York (Workhorse Press, 2022), The Art of Spray Paint (Rockport, 2017), and The Art of Cardboard (Rockport, 2015).  Zimmer is passionate about travel, food, and artists' rights- she consults as an artist liaison in copyright infringement cases for Kushnirsky Gerber PLLC.

Maria Krasinski is an illustrator, designer, and aspiring accordionist. She's worked in public diplomacy, media literacy, and arts education in Chicago, Paris, Tbilisi, and Washington, D.C. Most recently she came in second place on Jeopardy!, where she answered a French art history clue wrong.
Praise For…
---
"Author Lori Zimmer and illustrator Maria Krasinski show how art has so permeated Paris that works of beauty and invention can be found beyond and between the expected places...Zimmer's informative, accessible text and Krasinski's charmingly detailed illustrations cover more than 100 spots, many of them free to visit and all connected to or created by great artists of the past or their modern-day successors."—Zac Thompson, Frommer's