Frog and Toad are Doing Their Best [A Parody]: Bedtime Stories for Trying Times (Hardcover)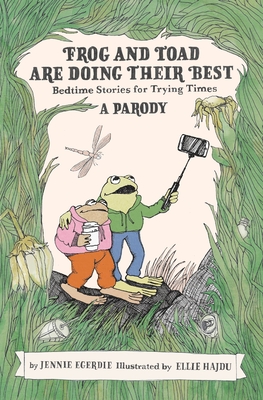 Staff Reviews
---
shurmi: Once upon a time I was doing a dramatic read-aloud of this book in the store, and the UPS worker who was delivering our daily loot was so taken that he stopped what he was doing and purchased himself a copy to keep in his little pinchers. "Wow!" he said. "I need a copy of that in my little pinchers!" He really said that! (He didn't. But he did buy the book!) Needless to say, if you're on the fence about buying this book, just summon me and I'll dramatic read you into an alternate demention. For real. You will not leave here without this book. Even if I'm not working, just whisper "frog and toad" to yourself three times with as much humidity in your breath as you can and a vision of me will appear before your eyes to deliver those literary goods. Come along with me, friends. And let's discover the beautiful adventures of these quaint little homos. Hop to it!
— From
Staff Picks
Description
---
At home, work, and out in our ever-changing world, we're all just doing our best. In this modern parody, Frog and Toad are here to commiserate and lend some laughter.

Full of wry humor and deep compassion for our modern vulnerabilities, the stories in Frog and Toad Are Doing Their Best perfectly capture the heartwarming authenticity of Lobel's famous amphibian friends while revealing razor-sharp truths about the world we live in today. Through Frog and Toad, we see the anxieties that are woven throughout our everyday existence, from our well-meaning but often-failed attempts at practicing self-care to our struggle to balance the gifts and burdens of technology. Toad ponders a variety of questionable schemes to pay off his credit cards, while Frog spends too much time scrolling through the newsfeed on his phone. But despite their daily frustrations and existential concerns, they know that having a friend to share life's burdens makes even the darkest days brighter.
About the Author
---
Jennie Egerdie is a New York-based Canadian writer, humorist, and performer whose writing has been featured in McSweeney's, Weekly Humorist, The Belladonna Comedy, Points in Case, and more. Jennie is currently the Assistant Editor for Funny Women, a literary feminist humor column on The Rumpus.
Praise For…
---
"The perfect gift for a good friend with a sense of humor."  —
Amazon Book Review, "Editors' Picks: Gift Books Under $25"
"…Jennie Egerdie recasts pandemic life in all its virtual messiness by reimagining Arnold Lobel's enchanting amphibians working from home, futzing with their FitBits, and donning sheet masks in an attempt at proper self-care." —
The Boston Globe
"This book is hilarious, and I also want to wear it like a cozy, friendly sweater."
—
Emily Flake, New Yorker cartoonist and author of That Was Awkward: The Art and Etiquette of the Awkward Hug
 "Jennie's book reminds us that while most millennials do not live in a pastoral fairy-tale lily pad, it is always better to approach our 21st-Century problems like timeless, whimsical, clothed amphibians: with humor, honesty, and with a generous dose of kindness toward others and ourselves."
 —
Felipe Torres Medina, writer for The Late Show with Stephen Colbert
"If you like to laugh, this book is for you. If you like nostalgia, this book is for you. If you want coziness, this book is for you. If you don't like any of those things, may I recommend a rusty nail to the thigh?"
—
Johnathan Appel, writer for Last Week Tonight with John Oliver
"This book is like a cup of chamomile at bedtime, but one that makes you laugh out loud and feel soothed and understood. So, I really recommend picking up this rather than a cup of tea."
—
Julie Vick, author of Babies Don't Make Small Talk (So Why Should I?)
 "In these unprecedented times, it makes sense that we would turn to the classic characters of Frog and Toad for laughs, joy, and the soothing pleasures of two amphibians who love to be friends. I've scream-laughed at and obsessively shared Jennie's amazing short pieces, and this book is a perfect vehicle to reintroduce these characters to a modern context."
 —
Caitlin Kunkel, co-author of New Erotica for Feminists and co-founder of The Satire and Humor Festival
"If Jennie Egerdie isn't on your all-time best satire writers list, you need to get yourself a new list. I laughed, I cried, I felt hopeful and mad and tired and seen. But mostly I felt jealous because who writes this well all the time?"
—
Brooke Preston, co-author of New Erotica for Feminists and co-founder of The Belladonna
"From dealing with crappy Wi-Fi to wanting everyone to like you, this modern take on a truly great classic had us laughing out loud. We've never related more to our favorite amphibian duo!
Frog and Toad Are Doing Their Best
is just the laugh we need these days."
 —
Laura Lane and Ellen Haun, authors of Cinderella and the Glass Ceiling: And Other Feminist Fairy Tales
"This book will be famous, so I'm glad my name is on it."
—
Elissa Bassist, editor of the Funny Women column on The Rumpus