Tropical Plants and How to Love Them: Building a Relationship with Heat-Loving Plants When You Don't Live In The Tropics - Angel's Trumpets – Lemongrass – Elephant Ears – Red Bananas – Fiddle Leaf Figs – Gingers – Hibiscus – Canna Lilies and More! (Paperback)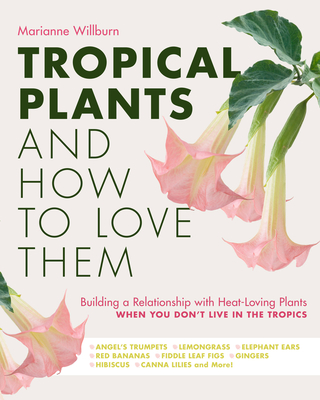 $27.00

Available In Store Now (while supplies last)
Description
---
Adventurous Gardener seeks relationship with Tropical Plant…
*Winner of the GardenComm 2022 Media Awards Silver Award of Achievement in the Publisher/Book General Readership Category*
Tropical plants are energizing. They awaken a tired summer garden with
lush, sensuous foliage and fascinating flowers
and
turn a suburban patio into a sophisticated, late-night paradise
. But if you garden in a temperate climate and have been reluctant to commit to what you're sure will be too much work, it's time to let
Tropical Plants and How to Love Them
author Marianne Willburn act as your tropical matchmaker.
Using five relationship types to help you understand the
different levels of care required for many common (and uncommon!) tropicals
, Marianne introduces you to an impressive array of
outstanding tropical plants
by providing care instructions,
easy tips for seeing these tropical beauties safely through the winter
, and advice for
designing a tropical paradise of your own
.
Tropical Plants and How to Love Them
gives you permission to jump headfirst into:  
A summer romance that ends with the first frost.
A long-term commitment to beautify indoor and outdoor spaces.
A friends-with-benefits relationship that yields exotic flavors and fragrances.
A breakup with that high-maintenance beauty.
A best friend relationship that lasts a lifetime.
From the striking red leaves of the Abyssinian banana to the unusual flowers and healing powers of turmeric, there are
hundreds of tropical plants
worth loving. Find your new sweetheart in the pages of
Tropical Plants and How to Love Them
.
About the Author
---
Marianne Willburn is a gardening columnist, speaker and author of Big Dreams, Small Garden, and one of the six-person writing team at GardenRant.
A regular contributor to Better Homes and Gardens, The American Gardener, and other national gardening magazines, Marianne has also been a weekly newspaper columnist for over a decade and is the recipient of several Gold and Silver Media Awards from Garden Communicators International (formerly GWA).
Marianne also guides European garden tours with CarexTours, a D.C. based tour company dedicated to exploring public and private gardens in a small group experience. 
She believes strongly that you should never wait for the 'perfect space' to create a restful garden oasis for yourself and your family; and she has spent much of her gardening life in small city and suburban gardens in places as diverse as California, England and the Mid-Atlantic. In 2013, she began gardening intensively and exhaustively on ten acres in a rural corner of Northern Virginia and shares her gardening life each week on her blog, smalltowngardener.com. .
Praise For…
---
"This playfully and passionately written book is filled with fresh ideas, not only for enhancing your garden and home with tropical plants, but for helping you adapt your own mindset so you can experience much more enjoyment from this exciting corner of the botanical world."
 —Viveka Neveln, Garden Editor, Better Homes and Gardens

"Marianne Willburn is an extraordinary writer, teacher, and gardener. This book is a must for anyone who loves gardening with 'Exotica'. The pages are littered with good tips and expertise, and all of it done through the hand of a passionate plantsperson and communicator."
 —Fergus Garrett, Head Gardener, Great Dixter, UK

"Marianne never fails to inspire, educate, and entertain with her writing. Tropical Plants and How to Love Them is a joy from cover to cover. She speaks from experience, weaving humor and empathy with a love of tropicals while challenging readers to reconsider their relationships with the plants they hold dear."
 —Dan Scott, Director of Horticulture, American Horticultural Society

"This is a book we need today more than ever. Marianne Willburn gives us practical advice on how to grow tropical plants outside and later enjoy inside as houseplants. She writes like a trusted friend giving you helpful dating advice, including how to find the best match and evaluate it for maintenance and long-term possibilities. Like any good dating site, the photos are important and hers are beautiful."
 —R. William Thomas, Executive Director, Chanticleer Garden, USA

"I am really impressed with this book. It's accessible, inspirational, and packed full of excellent advice. I love the idea of categorizing plants in a practical, fun, and relatable way, and admired Marianne's decision to challenge many of the arbitrary divisions often trotted out in gardening books between houseplants and garden plants. It's sparked a renewed excitement about using tropical plants in my own garden and giving my houseplants a summer holiday outside too."
 —Jane Perrone, host of On The Ledge podcast

"Marianne has managed to make me fall in love with tropical planting even deeper than ever before. I feel full of inspiration and have so many new ideas for my tropical plantings here in Hunting Brook."
 —Jimi Blake, Horticulturist, Hunting Brook Gardens, Ireland

"A delight to read and such a comprehensive guide to my passion. Playfully written with inspirational images and accessible practical advice that will encourage the reader to experiment themselves. I particularly enjoyed the guilt-free Summer Romance plants, mocktrops, and the entertaining plant relationship guidance."
 —Emma Allen, Garden Manager, Glasshouse and Exotic Garden, RHS Garden Wisley, UK

"In Tropical Plants and How to Love Them, Marianne shows temperate gardeners they need not strictly relegate tropical plants to windowsills. Instead, she coaxes us outdoors and demonstrates how to practically use them to grace our garden beds, containers, and water gardens. Whether it's a dramatic Canna lily or a colorful coleus, Marianne covers a range of common and not-so-common plants that will undoubtedly give any garden a 'wow' factor."
 —Summer Rayne Oakes, author of How to Make a Plant Love You and host of Plant One On Me

"The more I read, the more I wanted to stop reading and drive immediately to my local garden center! Marianne's passion for these plants is contagious, and her expertise will undoubtedly inspire a new generation of "tropical" gardeners. Tropical Plants and How to Love Them is full of inspiring plant combinations, gorgeous photographs, and excellent technical advice. I'm ready to plant!"
 —Ellen Zachos, author of Tempting Tropicals

"Tropical Plants and How to Love Them is fantastic! I love the layout, I love the premise, and I love the little stories that each chapter creates."
 —Dan Benarcik, Horticulturist, Chanticleer Garden, USA

"It's the only book you'll need on bringing some great pizazz to your landscape."—Jane Berger, Garden Design Online

"This book is a great read for spring, or on the beach in the summer — full of inspiration and ideas that get gardeners juiced up. It will help you gain confidence while taking a walk on the wilder side." —Andrew Messinger - The Hampton Gardener, The Southampton Press/27East.com

"Everything you need for gardening with tropical plants is in this lovely book, including how to choose, maintain, and design with them—all presented in crisp, unintimidating language and great photography. Beyond the practical info (all aimed at gardeners in climates like ours), it's Willburn's attitude that won my heart:"—Sally Cunningham, Buffalo Spree Magazine