Containers in the Garden (Hardcover)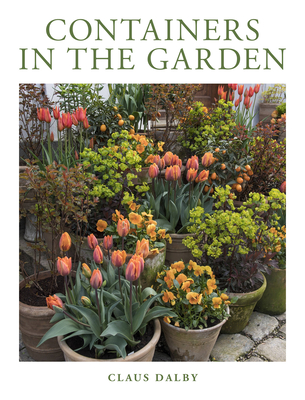 $30.00

Not In Store / Available To Order (allow for shipping time to bookstore or direct-to-home)
Description
---
Beauty, charm, and simplicity are the hallmarks of the Scandinavian planting techniques featured in Containers in the Garden.
*Winner of the GardenComm 2023 Laurel Media Awards Gold Award in the Book Publisher/Producer General Readership Category*
Celebrity gardener and Danish floral designer Claus Dalby shares his signature container gardening style in this
gorgeously illustrated book
.
His distinctive use of a single plant species in each pot, with dozens of planted pots collected together,
creates elegant and eye-catching garden displays
. Partnered with
an abundance of textures
and often
a monochromatic color palette
, Claus's container gardens change with the seasons. By combining flower and foliage colors with beautiful pottery and layered displays,
the results are nothing short of extraordinary
.
In
Containers in the Garden,
 the English-language version of his top-selling Danish gardening book, Claus shares his
best-kept secrets
so that you, too, can
create the container garden of your dreams
. Season by season and color by color, you'll learn
how to plant, organize, tend, and share your potted plantings
. Whether your display is on the front steps or the back patio, the
simple yet bold design methods
found here create unique garden features that are a joy to behold.
The
breathtaking photography
found within, coupled with Claus's descriptive and personal text, features:  
Early season container plantings of tulips, primroses, narcissus, and other spring-flowering beauties
Lush summer pots, overflowing with dahlias, roses, hydrangea, and foxgloves
Colorful and textural foliage-only containers to add structure and interest to the collection
Unusual container plants such as spikemosses, wintergreen, oxalises, and even edible plants
Tropical beauties bring a summer explosion, including cannas, Brugmansia, and hibiscus
Autumnal fireworks of bronze, gold, and rust round out the seasonal display
Step inside Claus Dalby's Danish garden, and
find ideas and inspiration
for bringing a bit of lykke and hygge to your home with
Containers in the Garden
.
About the Author
---
Claus Dalby has been called "the Scandinavian Martha Stewart." He is a designer, florist, and Danish gardener who has amassed a huge fan base in Scandinavia, the US, and around the world. He is also a successful publisher, television personality, and designer of glass vases for Holmegaard. His signature style of gardening uses densely packed plants and changing seasonal displays, often in monochromatic color palettes. Claus also runs an online garden club with monthly subscribers from around the world.
Praise For…
---
"Claus has been a constant source of inspiration for me, and I love seeing what he's up to next. This book is one of the best I've seen on container gardening and is packed with stunning displays of texture and color. Containers in the Garden is filled with inspiration for any size garden and even the smallest of spaces."—Erin Benzakein, Floret Flower Farm

"Claus Dalby is the Monet of container gardening. His use of color, texture, and composition in creating his potted gardens is simply brilliant. This book is a must-have for anyone hoping to paint their own container garden vignettes. It's filled with practical and artistic tips, insights, and inspiration."—Linda Vater, garden stylist and author of The Elegant & Edible Garden

"Such a joy to finally have a book by Claus Dalby translated into English where he generously shares tips and advice on how to achieve a potted garden. Claus's use of color and plant combinations, demonstrated through superb photography, provide aspiring gardeners with inspiration and practical advice. A book to treasure. Bravo Claus and thank you!"—Jenny Rose-Innes, interior and garden designer, author of Australian Designers at Home and British D

"No one does containers quite like Claus Dalby. His displays are always beautifully color coordinated and immaculately maintained – a photographer's dream."—Clive Nichols, garden and flower photographer

"The author offers plant combinations for every season, teaches you how to style a container in a multi-color or monochromatic color palette, and how to reduce maintenance and keep your pots lush and beautiful. It's an invaluable guide to creating stylish planters for every season."—Veranda.com

"Containers in the Garden...is one of the best I've seen on container gardening and is packed with stunning displays of texture and color. If you're pressed for garden space, you'll definitely want to pick up a copy!"—FloretFlowers.com

"This lovely publication will not only bring reading joy, but also that great kind of inspiration that comes bundled with the right kinds of "how to" so that anyone can enliven their tiniest (or biggest) of spaces with wonder-inspiring flowering and accent plants."—Splash Magazines

"Containers in the Garden is a beautiful book worth reading for a newbie or a seasoned container gardener for the inspiration it provides."—Midwest Garden Stories