Black Leopard, Red Wolf (The Dark Star Trilogy #1) (Paperback)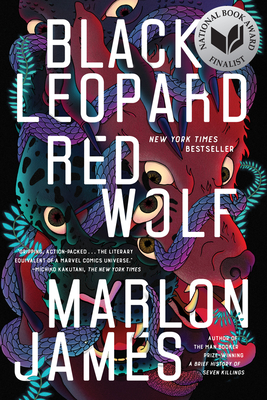 $18.00

Available In Store Now (while supplies last)
Other Books in Series
This is book number 1 in the The Dark Star Trilogy series.
February 2019 Indie Next List
---
"Marlon James' Black Leopard, Red Wolf is a shot across the bow of fantasy literature: bold, fresh, and filled with brutal wonder and endless imagination. James'tale set in a fantastical ancient Africa follows a hunter known only as Tracker as he trails the scent of a lost boy, meeting a shape-shifting leopard along the way. At turns hallucinatory, dreamlike, and nightmarish, Black Leopard, Red Wolf's world envelops the reader in its stink, grime, sweat, and blood. Never has a magical world felt quite so otherworldly and yet frighteningly tactile at the same time. This is literary fantasy as you've never encountered it before and a truly original tale of love, loss, power, and identity."
— Caleb Masters, Bookmarks, Winston-Salem, NC
Summer 2020 Reading Group Indie Next List
---
"Black Leopard, Red Wolf is an amazing epic that launches from a familiar framework of the fantasy genre. Lovingly crafted, it immediately steals you away from your world and steeps you in one of ancient yet familiar myth and magic. The language, the beasts, the people—James' writing is both brutal and beautiful. You'll get the journey you want from this fantasy, but it won't be the same trip around the block. Rather, it's a walk off the edge of the Earth. James' talent shines and his passion in this book is clear. This is a book to be GEEKED about, and I absolutely am."
— Olivia Valenza, Boswell Book Company, Milwaukee, WI
Description
---
One of TIME's 100 Best Fantasy Books of All Time

Winner of the L.A. Times Ray Bradbury Prize 

Finalist for the 2019 National Book Award

The New York Times Bestseller

Named a Best Book of 2019 by The Wall Street Journal, TIME, NPR, GQ, Vogue, and The Washington Post

"A fantasy world as well-realized as anything Tolkien made." --Neil Gaiman

"Gripping, action-packed....The literary equivalent of a Marvel Comics universe." --Michiko Kakutani, The New York Times

The epic novel from the Man Booker Prize-winning author of A Brief History of Seven Killings

In the stunning first novel in Marlon James's Dark Star trilogy, myth, fantasy, and history come together to explore what happens when a mercenary is hired to find a missing child. 

Tracker is known far and wide for his skills as a hunter: "He has a nose," people say. Engaged to track down a mysterious boy who disappeared three years earlier, Tracker breaks his own rule of always working alone when he finds himself part of a group that comes together to search for the boy. The band is a hodgepodge, full of unusual characters with secrets of their own, including a shape-shifting man-animal known as Leopard.

As Tracker follows the boy's scent--from one ancient city to another; into dense forests and across deep rivers--he and the band are set upon by creatures intent on destroying them. As he struggles to survive, Tracker starts to wonder: Who, really, is this boy? Why has he been missing for so long? Why do so many people want to keep Tracker from finding him? And perhaps the most important questions of all: Who is telling the truth, and who is lying?

Drawing from African history and mythology and his own rich imagination, Marlon James has written a novel unlike anything that's come before it: a saga of breathtaking adventure that's also an ambitious, involving read. Defying categorization and full of unforgettable characters, Black Leopard, Red Wolf is both surprising and profound as it explores the fundamentals of truth, the limits of power, and our need to understand them both.
About the Author
---
Marlon James was born in Jamaica in 1970. He is the author of the New York Times-bestseller Black Leopard, Red Wolf, which was a finalist for the National Book Award for fiction in 2019. His novel A Brief History of Seven Killings won the 2015 Man Booker Prize. It was also a finalist for the National Book Critics Circle Award and won the OCM Bocas Prize for Caribbean Literature for fiction, the Anisfield-Wolf Book Award for fiction, and the Minnesota Book Award. It was also a New York Times Notable Book. James is also the author of The Book of Night Women, which won the 2010 Dayton Literary Peace Prize and the Minnesota Book Award, and was a finalist for the 2010 National Book Critics Circle Award in fiction and an NAACP Image Award. His first novel, John Crow's Devil, was a finalist for the Los Angeles Times Book Prize for first fiction and the Commonwealth Writers' Prize, and was a New York Times Editors' Choice. James divides his time between Minnesota and New York.
Praise For…
---
Praise for Black Leopard, Red Wolf:

"Gripping, action-packed… The literary equivalent of a Marvel Comics universe — filled with dizzying, magpie references to old movies and recent TV, ancient myths and classic comic books, and fused into something new and startling by his gifts for language and sheer inventiveness." —Michiko Kakutani, The New York Times

"No novel this year was as intoxicated by the pleasures and possibilities of storytelling as this bloody, bawdy, profane, deliriously overstuffed work of high fantasy. The first part of a planned trilogy, Marlon James's book already boasts more swagger and invention than most multivolume epics dragging toward their 10th installment." —The Wall Street Journal, Best Books of 2019

"The first volume of a promised trilogy, a fabulist reimagining of Africa, with inevitable echoes of Tolkien, George R.R. Martin and Black Panther, but highly original, its language surging with power, its imagination all-encompassing. . . . Marlon is a writer who must be read." —Salman Rushdie, TIME 

"James' visions don't jettison you from reality so much as they trap you in his mad-genius, mercurial mind. . . . Drenched in African myth and folklore, and set in an astonishingly realized pre-colonized sub-Saharan region, Black Leopard crawls with creatures and erects kingdoms unlike any I've read. . . .  This is a revolutionary book." —Entertainment Weekly

"Marlon James is one of those novelists who aren't afraid to give a performance, to change the states of language from viscous to gushing to grand, to get all the way inside the people he's created... [Black Leopard, Red Wolf] looks like another great, big tale of death, murder and mystery but more mystically fantastical... Not only does this book come with a hefty cast of characters (like Seven Killings), there are also shape shifters, fairies, trolls, and, apparently, a map. The map might be handy. But it might be the opposite of why you come to James—to get lost in him." —The New York Times

"Fantasy fiction gets a shot of adrenaline." —Newsday

"Stand aside, Beowulf. There's a new epic hero slashing his way into our hearts, and we may never get all the blood off our hands. . . . James is clear-cutting space for a whole new kingdom. 'Black Leopard, Red Wolf,' the first spectacular volume of a planned trilogy, rises up from the mists of time, glistening like viscera. James has spun an African fantasy as vibrant, complex and haunting as any Western mythology, and nobody who survives reading this book will ever forget it. That thunder you hear is the jealous rage of Olympian gods. . . . 'Ocean's Eleven' has got nothing on this ensemble." —Washington Post

"Black Leopard, Red Wolf is bawdy (OK, filthy), lyrical, poignant, violent (sometimes hyperviolent), riotous, funny (filthily hilarious), complex, mysterious, and always under tight and exquisite control…A world that is both fresh and beautifully realized….Absolutely brilliant." —LA Times

"James is a professed fantasy nerd, so Black Leopard, Red Wolf will certainly appeal to fans of all the well-acknowledged authors with at least two initials — George R.R. Martin, J.R.R. Tolkien, J.K. Rowling, etc. But if you've read James' 2014 novel A Brief History of Seven Killings (decidedly not a sci-fi or fantasy book but a 700-page world-building epic about the attempted assassination of Bob Marley), you'll drag yourself to the midnight queue to buy Black Leopard regardless of the whole 'Game of Thrones' selling point." —Huffington Post

"Black Leopard, Red Wolf is the kind of novel I never realized I was missing until I read it. A dangerous, hallucinatory, ancient Africa, which becomes a fantasy world as well-realized as anything Tolkien made, with language as powerful as Angela Carter's. It's as deep and crafty as Gene Wolfe, bloodier than Robert E. Howard, and all Marlon James. It's something very new that feels old, in the best way. I cannot wait for the next installment." —Neil Gaiman

"This book begins like a fever dream and merges into world upon world of deadly fairy tales rich with political magic. Black Leopard, Red Wolf is a fabulous cascade of storytelling. Sink right in. I guarantee you will be swept downstream." —Louise Erdrich "The novel teems with nightmares: devils, witches, giants, shape-shifters, haunted woods, magic portals. It's terrifying, sensual, hard to follow—but somehow indelible, too." —Vogue 
"Black Leopard, Red Wolf aims to be an event, and to counter the dominant impression of the genre it inhabits. . . . Black Leopard delivers some genre-specific satisfactions: the fight scenes are choreographed with comic-book wit . . . But it deliberately upends others. When I first saw the news that James was writing a fantasy trilogy, I had assumed that, after reaching the pinnacle of critical acclaim, with the Booker, he was pivoting to the land of the straightforward best-seller. . . . Instead, he'd written not just an African fantasy novel but an African fantasy novel that is literary and labyrinthine to an almost combative degree." —The New Yorker
 
"He's produced a sprawling fantasy novel set in a dark-age Africa of witches, spirits, dazzling imperial citadels and impenetrable forests. In a genre dominated by imagery derived from the European middle ages, Black Leopard, Red Wolf feels new and exciting." —Wall Street Journal

"A miracle... If Charles R. Saunders' Imaro series opened the door to new ways of telling epic fantasy, and N.K. Jemisin's Inheritance trilogy leapt over the threshold, then Marlon James' Black Leopard, Red Wolf just ripped the whole damn door off its hinges." —Tor

"A sprawling, epic fantasy... Fuses mythology, fantasy, and African history into a sensual, psychological triumph." —Esquire

"Like the best fantasy, like the best literary fiction, like the best art period, Black Leopard, Red Wolf is uncanny." —Boston Globe

"Black Leopard, Red Wolf [will] surely redefine fantasy for many years to come." —Houston Chronicle

"A standard-bearer for future fantasies." —Minneapolis Star Tribune

"This is the kind of immersive fantasy saga that develops a devoted following, an impressive display of inspired storytelling that's only just getting started." —San Francisco Chronicle

"Perhaps no other contemporary fiction writer takes such risks and uses such provocative, sensual descriptions as James (who masterfully mixes in smells and sounds as well as sights to build a world)." —Interview Magazine "What marks James's tale as his own is the wonder evoked through descriptive, unrelenting prose along with a focus on a distinct mythology cobbled from history and folk tale. The propulsive narrative has already been optioned by Michael B Jordan, so expect to see this one coming to screens fairly soon." —The Guardian 

"James' sensual, beautifully rendered prose and sweeping, precisely detailed narrative cast their own transfixing spell upon the reader. He not only brings a fresh multicultural perspective to a grand fantasy subgenre, but also broadens the genre's psychological and metaphysical possibilities. If this first volume is any indication, James' trilogy could become one of the most talked-about and influential adventure epics since George R.R. Martin's A Song of Ice and Fire was transformed into Game of Thrones." —Kirkus Reviews (starred review)