Wild Watercolour: Connect to the natural world through the art of painting (Paperback)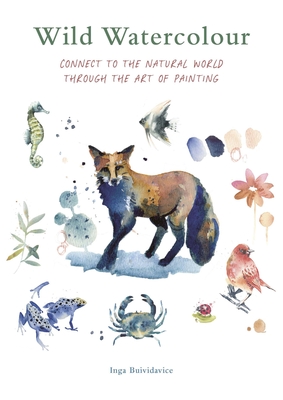 $19.00

Coming Soon - Available for Pre-Order Now
Description
---
Discover your inner artist and deep connection with nature with this striking project book on the basics of watercolor from Inga Buividavice.
This simple guide book starts with
the beginner basics of watercolor art techniques
, coaching you for painting success by showing you
how to recreate nature's wildlife and habitats
.
Experience how the practical medium of painting in watercolor can connect us to inner and outer nature, and be freeing, joyful, and wild! Each step-by-step project introduces a new watercolor technique.
Learn the basics with
guided exercises showing you how to depict your favorite animals in watercolor
, including:  
Dry brush on wet effect – red pandas
Wet brush on wet effect – beetles
Glazing – ladybirds
Blooms – hare silhouettes
Pulling technique – frogs
Watercolor and ink – koi fish
Using masking tape – snake
Using different textures – turtles
Expressive features – flamingos
Using space – dolphins
Different brush strokes – chameleons
Painting patterns – butterflies
With mindful reflections on the
meditative benefits of watercolor
, experiment and develop your skills, all whilst taking inspiration from the world around you. Once you've learned the power of the paintbrush, let your creativity blossom by stumbling into nature! This stunning project book guides you to
become an independent watercolorist
, painting what you see when the meditative moment strikes.
A book for anyone who wants to learn the calming art of watercolor
, connect with their inner artist and be inspired by the wonderful wildlife all around us. Create a space of mindful calm as you settle down with your brush and paper and learn how watercolor can open up a world of serenity, creativity and appreciation of nature.
About the Author
---
Inga Buividavice is a graphic artist and author based in Liverpool but originally from Lithuania. She graduated from Vilnius Academy of Arts with an MA in graphic design, and started hand drawing and painting in 2018. Her work centres on the natural world and its relation to the act of creating, and is inspired by plant and animal life around her.