Men, Women, and Chain Saws: Gender in Modern Horror Film (Paperback)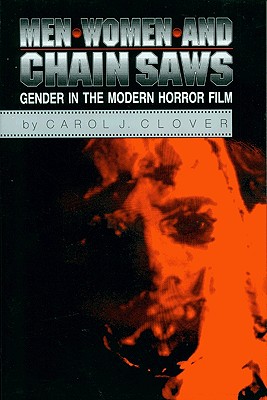 Email or call us for information about purchasing this item.
In case the title doesn't grab you... please, let me lend you a hand, welcoming you into the big ole black hole of gender in horror film studies! As a filmmaker, and a lover of horror, this book just makes me smile. There is a lot to unpack and let me tell you Men, Women, and Chain Saws dives in dissecting the slasher genre off the bat. Who doesn't love a hyper critical view on the male gaze within horror movies? There is just so much to talk about, read it, and let's dish.
Picked by Erika in Prospect Lefferts Gardens
Description
---
Do the pleasures of horror movies really begin and end in sadism? So the public discussion of film assumes, and so film theory claims. Carol Clover argues, however, that these films work mainly to engage the viewer in the plight of the victim-hero, who suffers fright but rises to vanquish the forces of oppression.
Clover, a medievalist, had written extensively on the literature and culture of early northern Europe, especially the Old Norse sagas. From her expertise in formulaic narrative grew her interest in contemporary cinema, which is, after all, yet another form of oral storytelling. Men, Women, and Chain Saws investigated the appeal of horror cinema, in particular the phenomenal popularity of those low genres that feature female heroes and play to male audiences: slasher, occult, and rape-revenge films. Such genres seem to offer sadistic pleasure to their viewers, and not much else. Clover, however, argued the reverse: that these films are designed to align spectators not with the male tormentor, but with the female tormented--with the suffering, pain, and anguish that the final girl, as Clover calls the victim-hero, endures before rising, finally, to vanquish her oppressor.
The book has found an avid readership from students of film theory to major Hollywood filmmakers, and the figure of the final girl has been taken up by a wide range of artists, inspiring not just filmmakers but also musicians and poets.
-- "The Modern Review.
About the Author
---
Carol J. Clover is Professor of Scandinavian and Comparative Literature at the University of California at Berkeley.