Permission Marketing: Turning Strangers Into Friends And Friends Into Customers (Hardcover)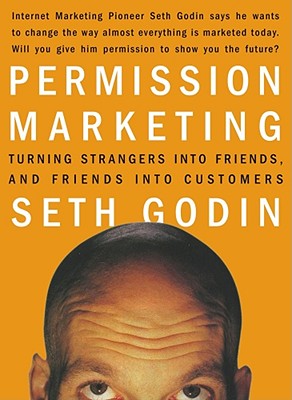 $28.00

Not In Store / Available To Order (allow for shipping time to bookstore or direct-to-home)
Description
---
The man Business Week calls "the ultimate entrepreneur for the Information Age" explains "Permission Marketing"—the groundbreaking concept that enables marketers to shape their message so that consumers will willingly accept it.

Whether it is the TV commercial that breaks into our favorite program, or the telemarketing phone call that disrupts a family dinner, traditional advertising is based on the hope of snatching our attention away from whatever we are doing. Seth Godin calls this Interruption Marketing, and, as companies are discovering, it no longer works.

Instead of annoying potential customers by interrupting their most coveted commodity—time—Permission Marketing offers consumers incentives to accept advertising voluntarily. Now this Internet pioneer introduces a fundamentally different way of thinking about advertising products and services. By reaching out only to those individuals who have signaled an interest in learning more about a product, Permission Marketing enables companies to develop long-term relationships with customers, create trust, build brand awareness -- and greatly improve the chances of making a sale.
About the Author
---
Seth Godin, Vice-President, Direct Marketing, Yahoo! Inc., is responsible for Yahoo!'s direct marketing, permission marketing and Internet promotions. Godin joined Yahoo! in 1998 from Yoyodyne, where he served as president and CEO. Yahoo! acquired Yoyodyne, a recognized leader in Internet-based interactive direct marketing, last year.
Recognized as the pioneer of Permission Marketing, Godin is a sought-after speaker on the conference circuit, having presented at the Direct Marketing Association's annual conference, Jupiter events, and ICE, as well as international marketing forums. Last year, Godin was one of the highest ranked speakers, among 403 presenters at Internet World. He is a featured speaker at Fall, Spring and Summer I-Worlds. Godin is also the recipient of the 1998 Momentum Award, honoring outstanding Internet industry accomplishments.
Godin received an M.B.A. from Stanford Business School in 1984. Prior to graduating from Tufts University in 1982 with a degree in both Computer Science and Philosophy, Godin co-founded and ran one of the largest student-run businesses in the coutnry. From 1983 to 1986 he worked as a brand manager at Spinnaker Software, where he led the team that developed the first generation of multimedia products, working with such forward-thinkers as Arthur C. Clarke and Michael Crichton. He managed 40 engineers and introduced more than 60 software and video products to the marketplace.
Godin is the author and co-author of a number of top-selling business books, including E-Marketing, the first book ever published on how to do business online; The Guerilla Marketing Handbook, part of the best-selling Guerilla Marketing series; The Information Please Business Almanacm, a ground-breaking business reference book; and Permission Marketing: Turning Strangers into Freinds, and Friends into Customers.
Praise For…
---
Tom Peters Seth Godin moves to the front ranks of Internet Marketing Gurus with this masterful book. It's trite to say it, but this is a real "must read."

Business Week Seth Godin is the ultimate entrepreneur for the Information Age.

Robert Tercek Senior Vice-President, Sony Pictures Entertainment The principles of Permission Marketing are incredibly valuable to everyone involved in media today.

Lester Wunderman Chairman-Emeritus of Wunderman Cato Johnson, the largest direct-marketing firm in the world; author of Being Direct. Advertisers are going to have to learn how to deliver messages with frequency and low cost if they are to cope with the increasing competition for the consumer's attention. Seth Godin's Permission Marketing is a big idea.

William C. Taylor Founding Editor, Fast Company Godin and his colleagues are working to persuade some of the most powerful companies in the world to reinvent how they relate to their customers. His argument is as stark as it is radical: Advertising just doesn't work as well as it used to -- in part because there's so much of it, in part because people have learned to ignore it, in part because the rise of the Net means that companies can go beyond it.

Mark Kwamme CEO, CKS Group Permission Marketing is a testament to Godin's profound grasp of digital marketing. "Interruption Marketers" everywhere would do well to read this book.

Eric Hippeau Chaiman, Ziff-Davis, Inc. Finally, here's a measurable method for marketing in a world filled with clutter.