The Slave Trade: The Story of the Atlantic Slave Trade: 1440 - 1870 (Paperback)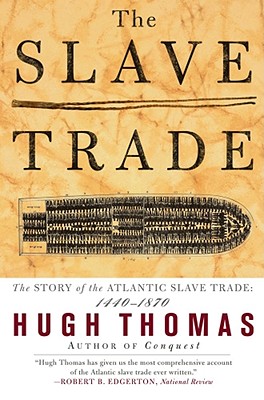 $27.00

Not In Store / Available To Order (allow for shipping time to bookstore or direct-to-home)
Description
---
After many years of research, award-winning historian Hugh Thomas portrays, in a balanced account, the complete history of the slave trade.

Beginning with the first Portuguese slaving expeditions, Hugh Thomas describes and analyzes the rise of one of the largest and most elaborate maritime and commercial ventures in all of history.

Between 1492 and 1870, approximately eleven million black slaves were carried from Africa to the Americas to work on plantations, in mines, or as servants in houses. The Slave Trade is alive with villains and heroes and illuminated by eyewitness accounts.

Hugh Thomas's achievement is not only to present a compelling history of the time, but to answer controversial questions as who the traders were, the extent of the profits, and why so many African rulers and peoples willingly collaborated.
About the Author
---
Hugh Thomas is the author of The Spanish Civil War, Conquest, and many other books. A former Chairman of the Centre for Policy Studies (U.K.), he was made Lord Thomas of Swinnerton in 1981. He lives in London.
Praise For…
---
Robert B. Edgerton National Review Hugh Thomas has given us the most comprehensive account of the Atlantic Slave Trade ever written.

Gregory Kane Baltimore Sun The Slave Trade is more than just a history of the transatlantic peddling of human flesh. It is the story, in microcosm, of four continents: Europe, Africa, North America, and South America. Thomas weaves a tale of merchants and slaves; of diplomats and clergymen; of philosophers, statesmen, abolitionists, and rulers that readers will find surprisingly engaging.

John Thornton The New York Times Book Review Well researched...engaging...a fine narrative history.

Hardy Green Business Week Masterly....With its uncompromising show of erudition drawn from a wealth of original and secondary sources, The Slave Trade is an indispensable account of a repugnant institution.

Barbara Stanton Detroit Free Press Thomas has taken a sprawling subject and turned it into a disciplined, compelling narrative.