Dinner with Persephone: Travels in Greece (Vintage Departures) (Paperback)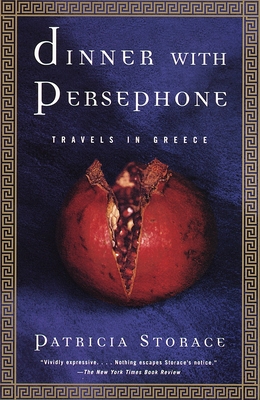 $18.00
Email or call for price.
Description
---
A New York Times Notable Book of the Year

"Full of insights, marvelously entertaining . . . haunting and beautifully written."
--The New York Review of Books

"I lived in Athens, at the intersection of a prostitute and a saint."  So begins Patricia Storace's astonishing memoir of her year in Greece. Mixing affection with detachment, rapture with clarity, this American poet perfectly evokes a country delicately balanced between East and West.

Whether she is interpreting Hellenic dream books, pop songs, and soap operas, describing breathtakingly beautiful beaches and archaic villages, or braving the crush at a saint's tomb, Storace, winner of the Whiting Award, rewards the reader with informed and sensual insights into Greece's soul. She sees how the country's pride in its past coexists with profound doubts about its place in the modern world. She discovers a world in which past and present engage in a passionate dialogue. Stylish, funny, and erudite, Dinner with Persephone is travel writing elevated to a fine art--and the best book of its kind since Henry Miller's The Colossus of Maroussi.

"Splendid. Storace's account of a year in Greece combines past and present, legend and fact, in an unusual and delightful whole. "
--Atlantic Monthly
About the Author
---
Born in Chicago, Illinois, and reared in Mobile, Alabama, Patricia Storace was educated at Columbia University and the University of Cambridge. She is the author of Dinner with Persephone, a travel memoir that won the Runciman Award; Heredity, a book of poems; and Sugar Cane: A Caribbean Rapunzel, a children's book. She received the Witter Bynner Poetry Prize from the American Academy of Arts and Letters in 1993. She has been a frequent contributor to the New York Review of Books and Condé Nast Traveler. Her latest novel, The Book of Heaven, was published by Pantheon in February 2014.